Middlebury to Offer Russian Language Immersion Program in Kazakhstan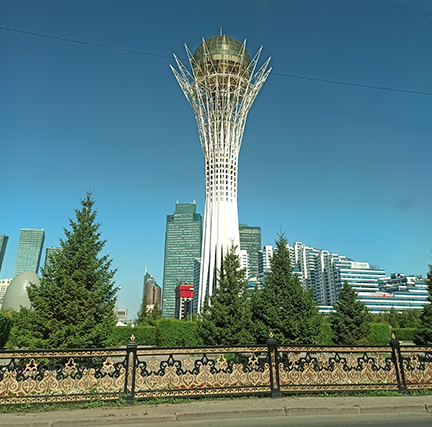 MIDDLEBURY, Vt. - Middlebury will begin a new Russian language immersion program in Astana, the capital of Kazakhstan, in spring 2023, the Middlebury Schools Abroad announced recently. 
Students in the program, which is open to students at Middlebury and other colleges and universities, will have the choice of enrolling in one of two local universities that are partnering with Middlebury: Nazarbaev University and Narikbaev KAZGUU University. Students will take Russian language courses as well as classes in other subjects. All classes will be held in Russian. 
Middlebury suspended its School in Russia after Russia's invasion of Ukraine began in February 2022, but the demand to study the Russian language abroad remains strong. Administrators chose Kazakhstan as an alternate site because the Russian language has an official status there and is widely spoken by the population. Kazakhstan and Russia also have many historical, economic, and cultural ties.
"We are excited to offer this program to students who want to study the Russian language abroad," said Carlos Vélez, dean of international programs. "Astana is a city of over one million people, and our students will be fully immersed in the Russian language there while also having the opportunity to experience the Kazakh culture." 
Nana Tsikhelashvili, director of the Middlebury School in Russia, noted that Middlebury's study abroad program in Russia was established in 1977 and was the first American program for undergraduates in what was then the Soviet Union. "Middlebury has a long history of offering students the chance to study Russian abroad. We're very glad we can continue to do this."
Students in the program will live in dormitories. They will be able to study different views on historical and contemporary events; discover the Kazakh culture, including art and music; and learn about the interaction between the Russian and Kazakh cultural traditions. They may also start learning the Kazakh language.
 
Staff from the Middlebury School in Russia will temporarily move to Astana to oversee the new program. Tsikhelashvili said that her office will help students with their needs, including those related to academics and health care. They also will assist with internships and organizing cultural activities, including some in Astana and group trips outside of the city. 
Students who were already admitted to study at the School in Russia for the spring semester were given the option to transfer their applications to the program in Kazakhstan.
More information about the program in Kazakhstan is available on the Middlebury website.