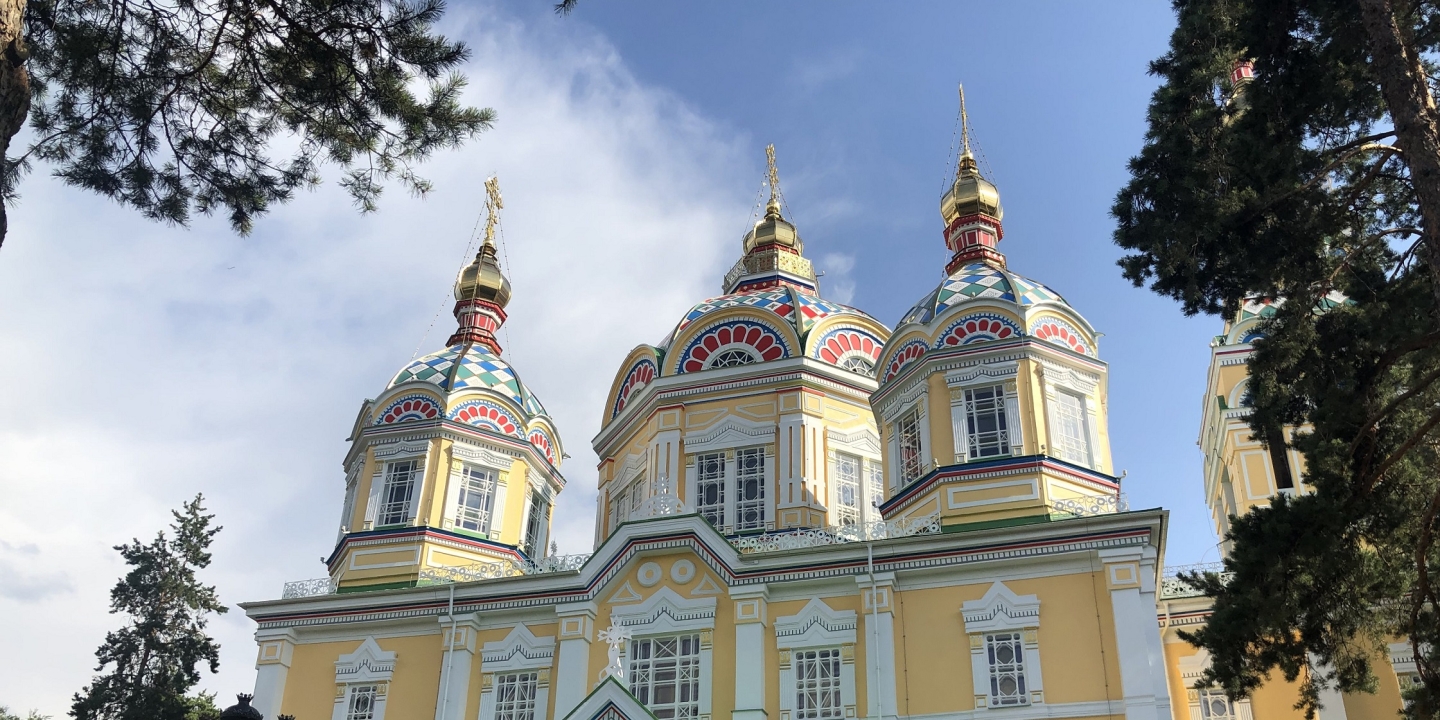 Study Abroad in Kazakhstan
While our School in Russia is on pause, students of Russian have the chance to study in Nur-Sultan, Kazakhstan, where Russian is an official language.
Kazakhstan is a state in Central Asia bordering Russia, Kyrgyzstan, China, Uzbekistan and Turkmenistan. А leader in the fields of economics, innovation, education, and international business in the post-Soviet space, Kazakhstan is in a period of dynamic development while striving to preserve its national flavor, its history, and its rich culture.
Our program will take place in the capital city of Nur-Sultan, a new city with extraordinary infrastructure and architecture. Taking inspiration from advanced megacities such as New York, Shanghai, Dubai, Moscow, and Tokyo, the country's government quickly built a vibrant, convenient, clean and safe city with a population of over 1 million people. The best architects in the world have been invited to carry out this ambitious project, and it now boasts wide avenues, modern buildings, skyscrapers, and excellent service.
Academics
Students will take Russian language courses and Middlebury-organized electives designed for language learners at our host university (more details coming soon), with the chance to take mainstream courses alongside Kazakh students. All coursework will be in Russian under the Middlebury Language Pledge. 
In addition to Russian language, examples of courses organized for our students may include:
Russian Intellectual History from the Enlightenment to Eurasianism
International Relations of Eurasia
Introduction to the Politics of Central Asia
Stalinist Central Asia
History of Kazakh Music
Housing
Students will live in dormitories.
2022-2023 Fees
Semester Tuition (includes health insurance): $17,270
Year Tuition (includes health insurance): $34,540
Middlebury College students pay an additional $1,900 study abroad fee per semester.
Out of pocket expenses coming soon.
Eligibility
This program is open to students with the equivalent of two years of college-level Russian or the equivalent. Students must have achieved an average of B or better in their major and language courses, and an overall average of B- or better. 
Applying
Final deadlines for complete applications are as follows:
 
Fall or Academic Year
Spring
 
Students from other institutions
March 15
October 1
 
Middlebury College students
February 1
February 1
Request Info
Fill out the inquiry form to get more information and updates from the program in Kazakhstan 
Request Info
Start Your Application
Review some important instructions so you'll know what to expect on the application.
Apply