Study Away at the Middlebury Institute
Get a head start on what comes next. Spend a semester or a year of study at the Middlebury Institute of International Studies at Monterey and start your master's degree before you graduate from college.
Take graduate-level courses at the Middlebury Institute of International Studies that apply to your undergraduate degree—and get a head start on your master's with our accelerated degree option. Meet professionals and gain practical experience in your academic concentration, and hone your language skills at one of the world's finest institutes of international studies.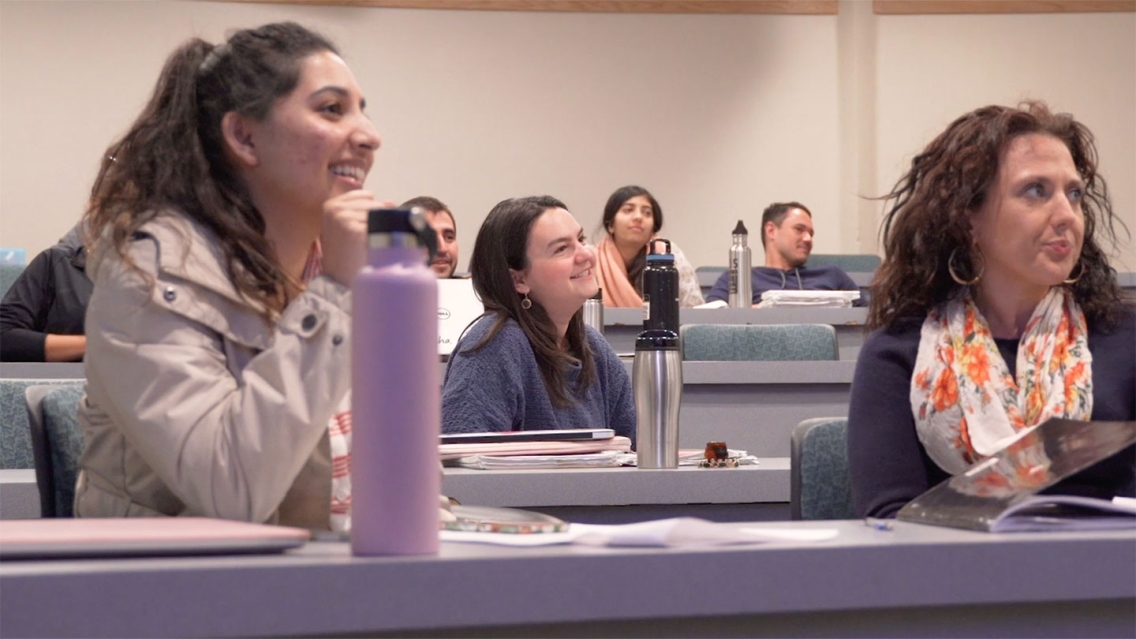 Get a head start on what comes next
Fast Facts about the Middlebury Institute of International Studies.
Highlights
Programs
The Middlebury Institute of International Studies at Monterey is a community committed to preparing students for professional roles in cross-cultural, multilingual environments.
Enhance your undergraduate degree with graduate courses in the following:
Admissions Requirements
Students must have achieved an average of B or better in their major courses, and an overall average of B- or better. Students are expected to have completed relevant course work for the academic program to which they're applying.
Apply Now
Calendar
Fall semester: late August to mid-December
Spring semester*: late January to mid-May
To view the current MIIS calendar, please click here.
*Middlebury students who study at MIIS for the spring semester may NOT be enrolled on the Vermont campus for J-term. These students will earn a Winter Term Equivalent credit (WTEQ) so they're not behind on credit when they return to Middlebury, assuming they enroll in a full load of courses at MIIS.
Credit
Students are expected to enroll in a full load of courses at MIIS, totaling at least 12 MIIS credits. As the Middlebury and MIIS credit systems differ, conversion information can be found below for MIIS and Middlebury credits. Since the credit equivalent assigned to each course is a matter of policy, not assessment, students may not appeal the determinations of credit values.
1 MIIS credit = 0.25 Midd credits
2 MIIS credits = 0.5 Midd credits
3 or 4 MIIS credits = 1 Midd credit*
*1 Midd credit = 4 semester credits
Weekend workshops may be taken for credit, however, all courses are individually evaluated to determine eligibility for undergraduate degree credit. Many weekend workshops are offered only on a pass/fail basis. If a Middlebury student enrolls in a course where pass/fail is the only available grade option for the course, the course may be considered for undergraduate degree credit and, if approved, will count as a non-standard grade (NSG). Middlebury students cannot opt to take a course at MIIS using the Pass/D/Fail option.
Housing
The Middlebury Institute, as a professionally focused graduate program, does not have on-campus housing. Students live off campus in residential Monterey.
The MIIS Housing Guide is a comprehensive resource on finding housing, including the following:
Beginning Your Housing Search
Middlebury Institute Housing Facebook Group
Other Places to Find Housing
Average Cost of Living
Utilities
Internet, Cable, and Telephone Services
Residential Parking Information
Understanding Your Lease
Furnishing Your Rental
Local Apartment Complexes
Monterey Peninsula Neighborhoods
Property Management Company List
If students live a mile or more from campus, they are entitled to a free on-campus parking permit.
Study Away Cost
The Middlebury Institute Study Away semester tuition cost can be found on the MIIS site. Middlebury students' financial aid package travels with them. Students with specific questions about whether their aid travels should reach out to their financial aid office.
Students can anticipate additional out-of-pocket expenses while attending the Institute which will be factored into your financial aid award:
Student Activity Fee
Books and Supplies
Housing and Food
Local Transportation
Personal Expenses
Health Insurance (All students must have health insurance)
For more information about Study Away, email Susan Parsons in the International Programs Office or call 802-443-5745. 
Upcoming MIIS Events on the VT Campus
Study Away at MIIS Info Session
Students interested in learning more about the opportunity to Study Away at MIIS as part of their undergraduate experience are encouraged to attend this information session.
 
Study Abroad
Sunderland Language Center, First Floor
356 College Street
Middlebury, VT 05753