Returning from Study Abroad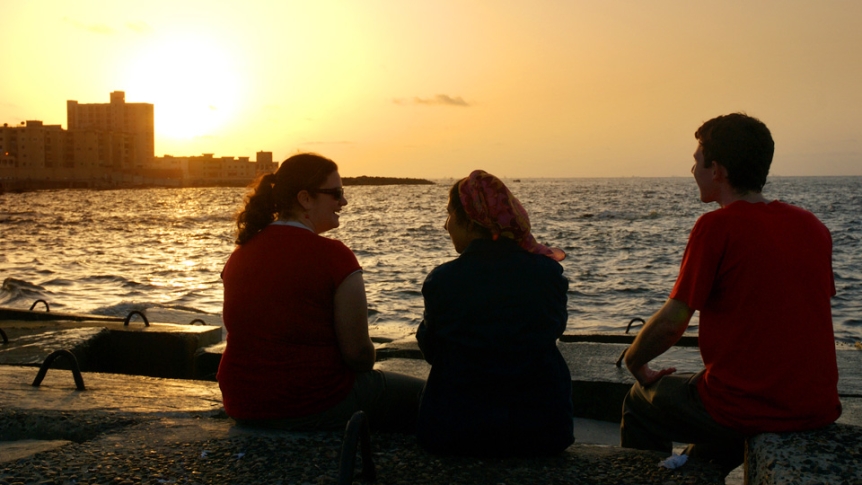 Returning home from study abroad can be a challenging and difficult time. For some, readjusting to life at home can be as difficult as adjusting to life in your host culture abroad.
This period of readjustment can also be the time when you learn the most from your cross-cultural experience. As you re-adjust to the culture of the United States and to the culture of college life in the U.S., it may be helpful to know a little more about what you are going through and some positive ways of dealing with it. We have developed the following pages specifically for students returning from study abroad. We also encourage you to come in and speak with any of the study abroad advisors in International Programs.
What is Re-entry?
Re-entry can be defined as the often unexpected and sometime difficult experience of re-adjusting to life in one's home culture after living abroad. Some study abroad returnees do not find re-entry to be difficult; however, most returnees experience some degree of stress upon returning home. In fact, for many students the process of re-adapting to home after study abroad is even more difficult than adjusting to the host culture! Re-entry is different for everyone, just as your experience abroad was unique and special. However, there are some common re-adjustment issues that study abroad students report:
Personal Growth and Change
You may have experienced a challenge to your beliefs, convictions, values and worldview while you were immersed in a different culture. You may have also experienced more academic freedom and personal independence while abroad. You may feel that you have matured and become more self-confident. You have undoubtedly changed in many ways. One of the greatest challenges of re-entry is having to adjust your "new" self to your "old" home. It is very common for returnees to experience loss of identity during this time.
New Knowledge and Skills
Just as your attitudes changed while you were abroad, you probably developed new knowledge, skills, and behavior patterns. For example, you probably developed competencies that helped you survive in your everyday life overseas, such as learning to find your way around a new city, to act in a culturally appropriate manner, and to converse about new subjects, and of course, foreign language skills. Other new competencies may include new knowledge about your major, new research skills, and new problem-solving skills. Some returnees feel frustrated if they feel these skills are of little use once they return home.
Relationships with Family and Friends
Some study abroad returnees say the most difficult issue to deal with when they return home is relationships with family and friends. It is important to realize that other people did not stay the same while you were gone. Also, all of your changes will undoubtedly affect your family and friends. Many returnees describe feelings of alienation, and some say they feel pressure from family and friends to revert back to the person they were before study abroad. Perhaps the most difficult, and most common, aspect of this issue is telling others about the overseas experience. Many returnees find that beyond polite inquiries and general questions, their friends and family do not seem to be very interested in hearing about their experiences.
How Does One Cope with Re-entry?
There are many positive ways of coping with re-entry. The process of re-adjustment can take weeks or months, and it is very important to give yourself time to cope with the experience. Perhaps the most vital coping strategy is to recognize that what you are going through is normal and very, very common. Expect a period of stress, and know that re-entry is a natural part of the re-adjustment process. The following are coping strategies suggested by study abroad returnees:
Talk with people who understand your situation.
All of us in International Programs have spent time abroad and love to hear about your experiences, and we can also help put you in touch with other returnees. Keep in touch with people from your host country and from your program.
Tell others about your study abroad experience.
Let International Programs know if you would be interested in speaking with prospective study abroad students or helping with pre-departure meetings or other international events. Write an article for the Campus, Middlebury Geographic, or other Middlebury publication. Write a review on Gooverseas.com, Abroad101.com, Goabroad.com, or Helpgoabroad.com. Talking with others who really want to hear about your experience can be a wonderful way to keep your study abroad experience alive.
Continue being a multicultural person.
Seek out situations in which international experiences and perspectives are appreciated. International Programs can tell you about opportunities to get involved in working on international events on campus, for example. Use your international perspective and skills to work on issues in the United States. There are volunteer opportunities right here in Middlebury; see the Office of Student Activities for information. Check out Continuing Your International Experience for more information.
In conclusion, re-entry can be a time of stress, confusion, and tremendous personal growth. As you go through this experience, remember that re-entry is just another phase of cultural adjustment, and just as you adapted to your host culture, you will be able to re-adapt to the United States and to Middlebury. Remember to look positively on your re-entry experience, and allow it to help you look at your own culture as if you were discovering it for the first time.
Additional Resources
For further reading on re-entry, see our bibliography of re-entry resources.
Study Abroad
Sunderland Language Center, First Floor
356 College Street
Middlebury, VT 05753