Information on this page is for Middlebury College undergraduates.
Interested in studying abroad next year? Watch the Study Abroad 101 video below to find out how to get started.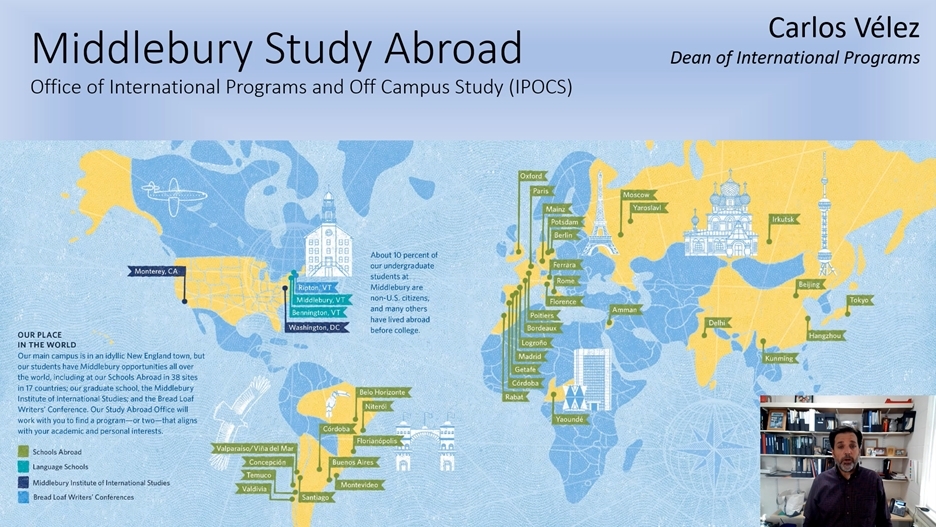 Each year more than half of the junior class at Middlebury College studies abroad in more than 40 countries at more than 90 different programs and universities.
Middlebury Schools Abroad
Middlebury has Schools Abroad at more than 40 universities in Argentina, Brazil, Cameroon, Chile, China, France, Germany, India, Italy, Japan, Jordan, Morocco, Puerto Rico, Russia, Spain, Uruguay, and the United Kingdom. All college undergraduates are eligible.
Externally Sponsored Programs
Each year a significant number of Middlebury College students study abroad on externally sponsored programs in countries such as Australia, Botswana, the Czech Republic, Denmark, Ecuador, Ghana, Greece, Ireland, Kenya, Madagascar, Mongolia, Nepal, New Zealand, Peru, South Africa, Tanzania, Thailand, the United Kingdom, among others. Find out more about suggested Programs and Locations.
Contact Us
International Programs 
Sunderland Language Center 
Middlebury College 
356 College Street 
Middlebury, Vermont 05753 
802-443-5745 
internationalprograms@middlebury.edu 
Monday through Friday 8:30 a.m. – 5:00 p.m 
International Programs Mission Statement
International Programs supports Middlebury's commitment to immersive learning. A student's study abroad experience should be an integral and coherent part of the academic program at Middlebury, enhancing the on-campus curriculum and supporting a liberal arts education. To achieve these ends, Middlebury students study abroad on academically substantive programs that foster cultural engagement.
Study Abroad
Sunderland Language Center, First Floor
356 College Street
Middlebury, VT 05753