Student-athletes have a lot to balance during their academic careers, and going abroad may feel difficult to add study abroad to the mix.  However, with careful planning, and open and frequent communication with coaches and advisors, many student-athletes find study abroad to be a feasible and worthwhile experience.
Below, two of Middlebury's athletic coaches share their thoughts on studying abroad as a student-athlete:
"I find that in many cases when athletes go abroad they come back to Midd with a completely different perspective.  Experiencing a different culture, stepping away from their normal routines, and using their time abroad to grow as a person allows them to better connect to teammates, appreciate the opportunity to compete in their sport, and strengthen the way in which they engage with the broader Middlebury community…The semester abroad really helps them to be grateful for the opportunity to play a sport they love and often times they come back and perform at a higher level." - Mike Leonard, Head Coach, Middlebury Baseball
"Students must understand that their junior year (when they travel) will look different as far as training goes and they must be willing to understand that and commit to some degree of training while away to ensure a seamless transition to senior year…As far as advice I would offer to student-athletes considering abroad programs is to discuss and communicate all the information possible with their coach to establish that connection to be sure there is a partnership. Our abroad programs are a very important part of the Middlebury experience and those that add athletics to the mix must understand the commitment it takes to balance it all." - Bob Rueppel, Head Coach, Middlebury Men's & Women's Swimming & Diving
A big thank you to Martin Beatty, Kelly Bevere, Dave Campbell, Alex Elias, Rachel Kahan, Peter Kim, Mike Leonard, Sarah Raunecker, Bob Ritter, and Bob Rueppel for their advice and input on this page!
Things to Consider Before Going Abroad
At what point in the year will it be best for me to be away? 
How will both my competition season(s) and my academic plan factor into my plans to study abroad?
Will going abroad affect my eligibility to practice or compete with my team when I return? 
Will I need to continue my training regimen while abroad? 
If I do need to continue training while abroad, will I have access to the equipment and facilities that I need in order to do that? Can I easily bring equipment or other tools with me to facilitate my training? 
How will I make sure I stay on track with my training regimen without my teammates or coaches there with me?
If I do need to continue training while abroad, how will I balance that commitment with the other things I may want to do (e.g., interning or volunteering, spending time with host family or roommates, weekend travel, etc.)?
If I do need to continue training, but am not able to abroad, is there a way I can work with my coach to "catch up" upon my return so that I am ready to compete with my team next season?
Is there an intramural or recreational team or club that I can join in my host city to continue with my sport, even if I am not formally training while abroad?**
How will I stay connected with my team while I am abroad? 
What advice do older teammates who previously went abroad have for me?
**Middlebury athletes should be in contact with their coach about playing or practicing with any organized club or team while abroad. Depending on the type of club and how it is organized, there could be potential amateurism issues.
Things to Consider While Abroad
Now that I am abroad, what equipment and facilities are available to me? Will I be able to continue my training as I had originally planned, or will I need to work with my coach to develop an alternative training regimen while I am abroad?
Do other aspects of my identity or perceived identity (e.g., my gender identity or perceived gender identity) make certain parts of my training regimen difficult or unsafe to perform as I normally would, such as running outdoors or exercising alone? How can I adapt my routine to keep myself safe?
View the gallery in a new window.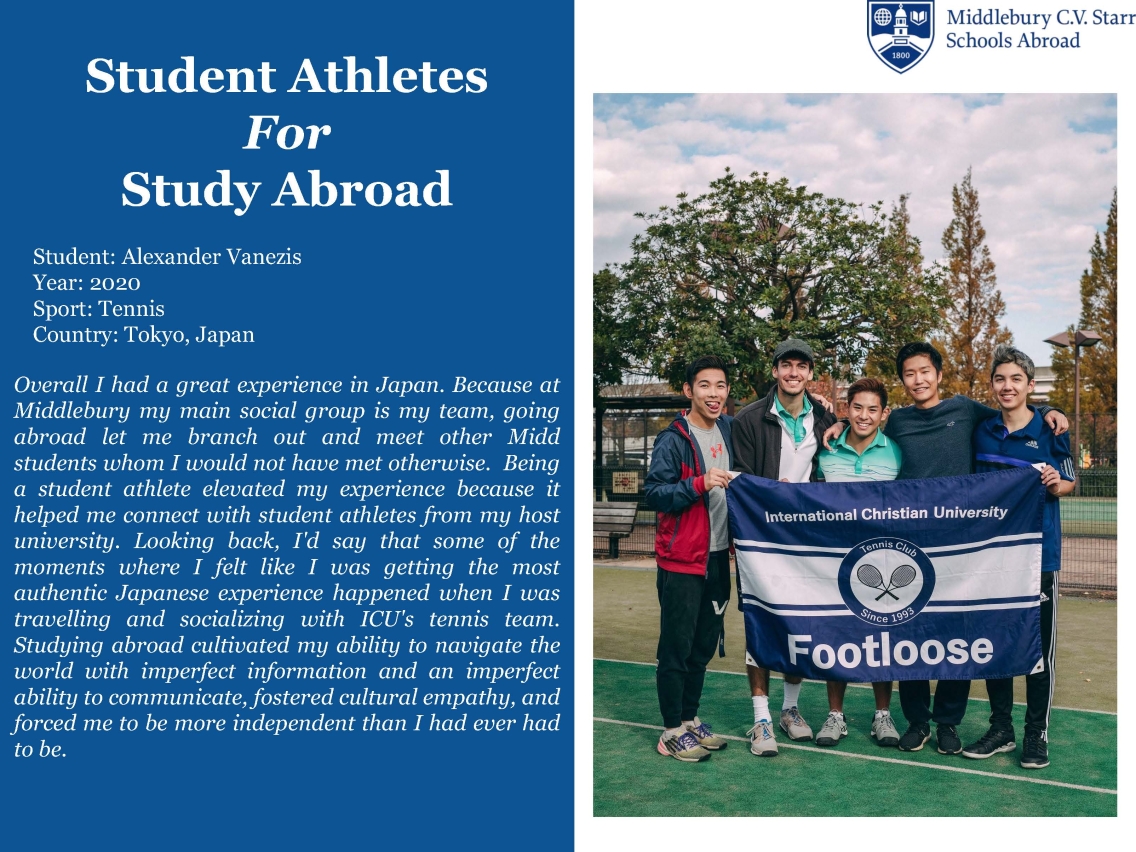 Middlebury Student Athletes for Study Abroad
Hear from four Middlebury student-athletes about their experiences studying abroad.
Didn't find what you were looking for? Have thoughts about how we might expand our resources?
We are always looking for ways to improve the information and support we offer to our students. If you have questions, comments, or suggestions, please complete our feedback form and we will do our best to assist you.