Middlebury Language Schools Award 109 Graduate Degrees at Commencement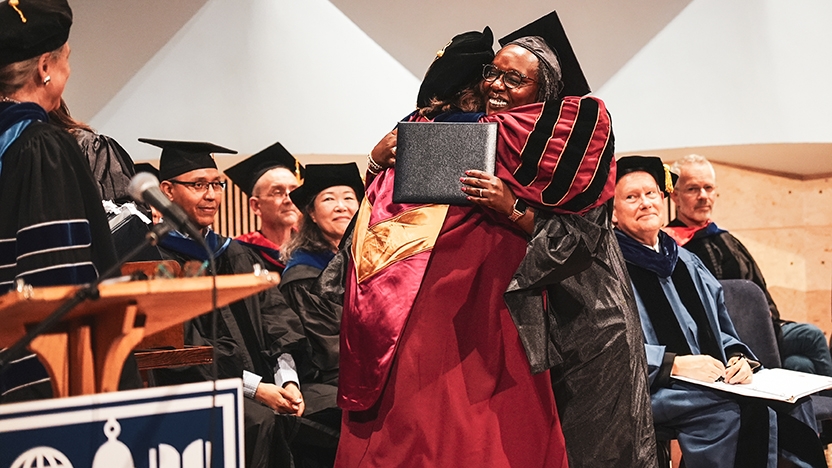 Attending Middlebury's Betty Ashbury Jones MA '86 School of French changed the way Ta-Nehisi Paul Coates thought about language and his life. His only regret is not having the same transformative experience while studying language as a middle school student growing up in Baltimore.
"The saddest part for me was growing up in Baltimore at a very difficult time," said the award-winning author. "If I could have understood that French class in seventh grade wasn't just a vocabulary list, not just a series of conjugations, but a passport out, I think I would have had a very different relationship with the language."
Coates offered these insights and others on the importance of language to an inclusive, open-minded society at the Middlebury Language Schools 109th Commencement, held on Aug. 16 at the Mahaney Arts Center (MAC) Olin C. Robison Concert Hall on the Middlebury College campus.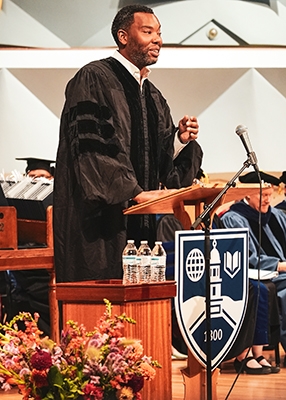 The Language Schools awarded 106 Master of Arts degrees and three Doctor of Modern Languages degrees at the ceremony. Since the establishment of the German School in 1915, more than 50,000 students have attended one of the schools, and more than 12,000 have received advanced degrees now offered in 12 languages.
Coates focused his comments on graduates planning to become teachers, noting that "Middlebury changed my life. I was fortunate enough to be here and study and it was just tremendous. In so many ways, my life is before Middlebury and after Middlebury."
Jesse Bruchac, director of the School of Abenaki, opened the ceremony with a land acknowledgment and invocation honoring the lives and sacrifices made by the Abenaki people.
Stephen Synder, dean of the Language Schools, thanked family, friends, staff, and directors of the Language Schools for the dedication, passion, and expertise they bring to their respective schools. He dedicated the Commencement to John Stokes, a former director of operations and staunch advocate of the Middlebury Language Schools for over 40 years, who died on August 6.
"Whether you go on to careers in teaching, journalism, government, or any other field, you will be, and in many cases already are, leaders who will shape the future of our globe in coming years," said Snyder. "We believe that your deep knowledge of other languages and other people's will allow you to lead in a more intelligent, open-minded, and humane fashion than would be possible without that knowledge."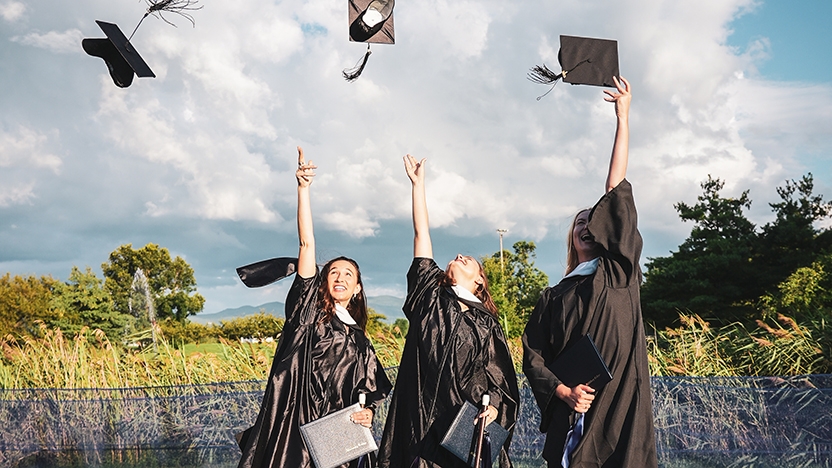 Middlebury president Laurie L. Patton spoke of the growing need for bilingual speakers during times of crisis to deliver instructions to those in need, often in many languages. It held special significance for many of the graduates who experienced historic flooding while studying in Vermont this summer.
"There are powerful things about floods that you endured and witnessed and went through this summer. Every one of you now has a flood story in English and another language, and maybe even a third language, and that is incredibly powerful," said Patton. "There will be more and more moments when you will be translating and speaking in your new language of the heart, and the head, and your dreams in emergency situations."   
Coates—a 2014 graduate of the Betty Ashbury Jones MA '86 School of French has written several bestselling books including The Water Dancer and Between the World and Me, winner of the 2015 National Book Award for nonfiction. He has written award-winning essays and articles for the Atlantic, the New York Times, and the New Yorker, and authored Marvel's Black Panther and Captain America comic series for several years.
He shared a compelling story about a teacher who let him know that she might get fired for using his book Between the World and Me in her classroom. After visiting her in South Carolina, Coates said it became apparent that—paraphrasing the words of political activist Grover Norquist—the book banning was really about "shrinking education down as far as possible so that one can drown it in a bathtub."
"You guys are crucial; you are the front line," Coates told graduates. "It's obviously very important for everyone to go and vote, but if you don't know what you are voting for, if you can't imagine a different world, you are in serious trouble. I can't think of another form—and I wouldn't have said this before I came here all those years ago—or another subject that is more important, another skill that is more important to expanding the imagination, than learning a second language."
Commencement was broadcast live for graduates and their families to watch from across the world. The English Language School is the newest Language School, located at the Middlebury Institute of International Studies at Monterey. All students took the Middlebury Language Pledge® committing them to communicating only in their language of study during their time on campus.