Middlebury Announces 2023 Virtue Award Winners
President Laurie L. Patton announced the recipients of the 2023 Virtue Family Exceptional Service Awards, in recognition of the varied contributions of faculty and staff in supporting students throughout Middlebury.  
This year, four recipients from Middlebury College and the Middlebury Institute of International Studies at Monterey were selected for going above and beyond their normal professional responsibilities to support and connect with students in the classroom, science lab, art studio, and other spaces.       
The 2023 Virtue Family Exceptional Service Award recipients are the following:
Colin Boyd, Director, Christian A. Johnson Memorial Building, and Manager, Johnson Gallery
Derek Doucet, Dean of Students
Katherine Punteney, Professor, International Education Management, Middlebury Institute
Jody Smith, Associate Director for Sciences Technical Support Services
"This year's recipients represent all that is great about Middlebury," said Patton. "They truly exemplify our commitment to supporting students and consequently, the entire Middlebury enterprise."    
Established in 2017 by Ted '82 and Dani Shaw Virtue '82, P'10, '15, the award recognizes individuals who have gone beyond their normal professional responsibilities to support and connect with students and build a more engaged and inclusive Middlebury. Each year, faculty, staff, and students of the College, Institute, Language Schools, Schools Abroad, Bread Loaf School of English, and the Bread Loaf Writers' Conferences are encouraged to submit nominations for this award.
Following is more information about the recipients: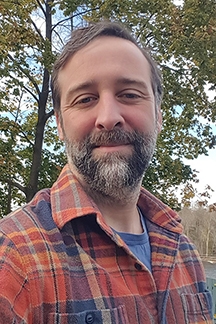 Colin Boyd, director of the Christian A. Johnson Memorial Building and manager of Johnson Gallery, has played a critical role in advancing the arts at Middlebury as a studio art technician and director for over a decade. In addition to overseeing the day-to-day functions of the newly renovated Johnson building—home to the Architectural Studies Program and Department of Studio Art—Colin advises students on projects, installs exhibitions, supports faculty initiatives, updates equipment, and manages budgets. "Colin Boyd is the finest staff member of Middlebury College I have worked with in over 40 years of teaching," said one nominator. "In many ways, he has been the glue that binds the Studio Art Department together." Another colleague called Colin "the heart of our department for the last several years," adding that "his commitment to students and faculty has been extraordinary." Colin played a key role in the curation of the highly successful Public Feminism Exhibit and the Reproductive Justice Mini Golf Course. He is also credited with making the renovation of the Johnson building as smooth as possible for students, staff, and faculty. "Colin worked tirelessly to make the transition both into the swing space and back into Johnson seamless, which was nothing short of a miracle," said one nominator. Colleagues emphasized Colin's dedication to students above all else.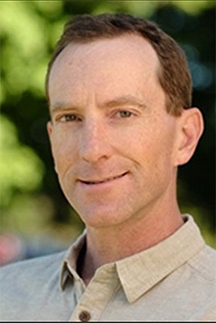 Derek Doucet, dean of students, has overseen a wide portfolio in Student Affairs since joining Middlebury in 2003. His unwavering support for students extends to his work in Residential Life, Community Standards, the Care Team, Student Activities, Orientation, and Outdoor Programs. As one nominator put it, "Derek has had a profound and transformational impact on the lives of countless students in his 20 years here at Middlebury, especially as dean of students. He has helped students navigate through profound challenges and barriers and supported them with empathy, care, and commitment." A number of colleagues noted Derek's work ethic, especially when it comes to students in need. "He has unwavering dedication to our students," said one colleague. "He is an incredible team member, thought partner, problem solver, and one of the warmest people and kindest people I have ever known." Nominees gave particular attention to Derek's dedication as dean and interim vice president of Student Affairs during a time when Middlebury had to respond quickly and adeptly to the COVID-19 pandemic. He "provided leadership on standing up a variety of systems and operations including a call center, housing protocols, and student activities." Current and former students cited Derek's support as critical to their success at Middlebury. "As a person of color and Posse Scholar who came through Middlebury," said one nominator, "I can say that Derek went above and beyond to try and make a positive change to my experience at Middlebury, which I very much appreciated. His dedication is unmatched and he will always put students first."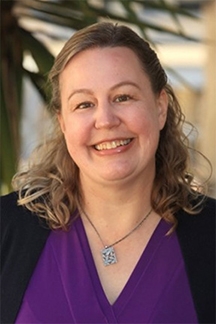 Katherine Punteney is a professor and founding chair of the Master of Arts in International Education Management (IEM) program at the Middlebury Institute of International Studies at Monterey. Colleagues describe her dedication to current students, recruitment of new students, and continued involvement with alumni as critical to the success of the IEM program and MIIS. "She's the backbone of the international management program," said one nominator. "As the founder, she is the reason for its existence, but also so much more." Katherine guided the program through its recent transition to online asynchronous education after receiving a certificate in online education management. "Her spring semester students observed her grading, teaching, learning, and doing homework, on top of other activities," said one colleague. An expert in pedagogical design, Katherine is known for her content-rich, well-organized, and engaging courses. "Dr. Punteney is a master of both theory and practice," said one nominator. "She uses knowledge of international education to design superb classes, advise students, and connect individuals around the world, all while exhibiting a confidence in students that is difficult to find anywhere else." In her ongoing effort to build community among students, Katherine started "Wednesday Lunches," where she talks with students about international education, work, travel, and other topics of the day. "She cares about each and every student and is an advocate for building community," said one nominator.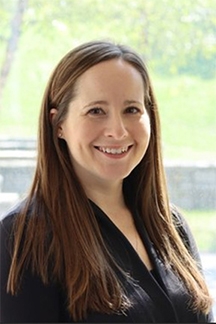 Jody Smith, associate director of Sciences Technical Support, provides training and support to undergraduate students and faculty in chemistry, biochemistry, geology, environmental science, and biology. Nominators credit her with raising the level of research by teaching students and faculty how to use highly technical scientific instruments that produce high-precision data that she helps to collect. "Jody supports research at the highest level, enabling us to maximize data quality and access to instrumentation," said one nominator. "She is the leader of an excellent team of technicians and support staff who make instrumental analysis in BiHall a world-class endeavor." Jody works directly with students to collect and analyze their own data rather than sending it to a commercial lab for results. "This is hugely important in terms of student understanding of what goes into scientific data generation and limitations associated with the data they collect," said a nominating researcher. "This is not a method commonly employed at similar institutions and is only possible because of Jody's dedication to understanding and maintaining the instruments, and her ability to teach students how to use them." Professors credit Jody's engagement of students in the data collection process with helping them land prestigious postgraduate opportunities. "Jody helped me conduct all of the lab analysis work for my senior thesis, which propelled me to apply to graduate school, where I am currently pursuing my doctorate in hydrology," said one nominator. "She made my time at Middlebury more robust with learning opportunities, scientific inquiries, and, of course, a focus on the mechanisms and methods that go into impactful results."