Virtue Family Exceptional Service Awards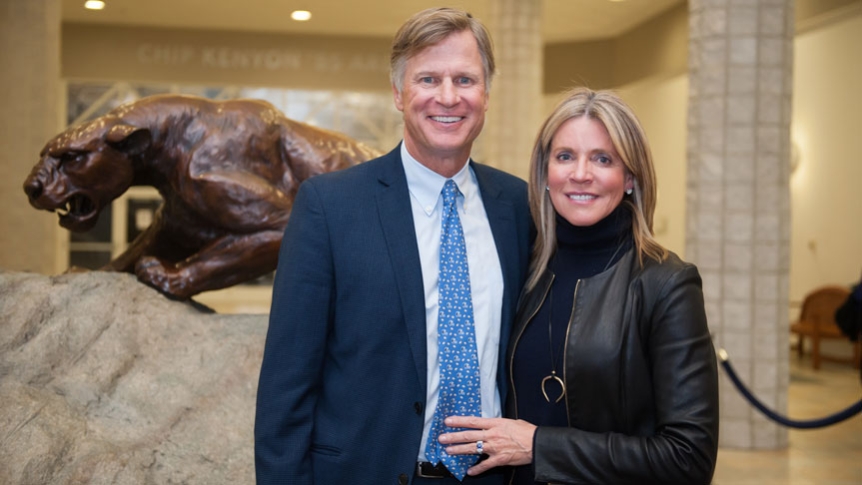 The Virtue Family Exceptional Service Awards recognize staff and faculty who make an exceptional difference in students' experiences at Middlebury.
Faculty and staff from all Middlebury programs—the College, Language Schools, Bread Loaf School of English, Bread Loaf Writers' Conference, and Middlebury Institute of International Studies—are eligible. The goal is to inspire employees to share their talents with students in ways that exceed the usual job expectations and to celebrate the successes that come from their collaborative efforts.
Established in 2017 by Ted '82 and Dani Shaw Virtue '82, P'10, P'15, the award is given each year to staff and faculty members who have gone beyond their normal professional responsibilities to support and connect with students in ways that build a more engaged and inclusive Middlebury. It can recognize extraordinary one-time service or service over many years. Through their work, the award winners enhance the community.
Eligibility
Nominees must be current staff or faculty members of any Middlebury program. Nominations may be made by students, faculty, or staff members. Previous award winners are not eligible for a second award.
The Process
To nominate an employee, please fill out the online form. The president will select the winners based on the recommendation of a committee chaired by the provost.
Nomination Deadline
The nomination deadline October 14.
Frequently Asked Questions
Previous Winners
2020
Lisa Apgar has worked as a custodian at the College just since 2018, but she is known to many students and fellow staff for her incredible thoughtfulness, outgoing personality, and positive attitude—qualities that her nominators noted. One said she should be recognized for "her outstanding kindness, eye for detail, and sheer will to accomplish the tasks she has before her, day in and day out." This nominator also observed that she strives to learn the names of everyone in her dorm buildings and that when she sees students she met two years ago, she calls out their names so they can catch up. Another commented, "Even in the worst weather, if a student was moving in, she would assist with helping them carry boxes or simply hold the door for them." 
Megan Brakeley joined the College's staff in 2015 and is the food and garden educator at the Knoll, the College's garden and gathering space. A nominator said, "The Knoll is about much, much more than just food production, gardening, and agriculture. Megan has cultivated in her students and visitors a deep respect for the land and each other." Several nominators commented on Megan's success at making the Knoll an inclusive place for all students. The importance of her hard work in this area was highlighted at the start of the fall semester during campus quarantine, when students gravitated toward the Knoll in large numbers, eager to spend time in a welcoming refuge away from the main campus. Many nominators also expressed appreciation for her joyful personality, deep knowledge, and efforts to get to know the students. 
Jeffrey Buettner, Christian A. Johnson Professor of Music and director of choral activities, arrived at Middlebury College in 2007. Nominators noted his Herculean efforts to create a choral experience for students amidst the pandemic protocols. One student nominator said, "Many other vocal and artistic pursuits have disappeared with COVID-19, but College Choir has survived and even thrived despite the challenges, thanks to Jeff's leadership." Multiple nominators commented on his passion for his work, the welcoming environment he has cultivated for the choir, and his role as a mentor. They also highlighted the strong sense of community he fosters among choir members—something he encouraged with Zoom rehearsals that he organized even during the summer after spring semester had ended. 
Caitlin Carr, laboratory stores and safety manager in Bicentennial Hall, joined the Middlebury College staff in 2017. One staff nominator said, "Caitlin has been, and continues to be, on the front lines in Bi Hall, taking on all kinds of tasks that would normally fall outside of her responsibilities. While working remotely, many of us need 'boots on the ground' to do things we couldn't, and she is always there, happy to help." Another credited all her work in Bi Hall, since the start of the pandemic, with making it possible for students to perform research on campus over the coming winter term, or J-term, a key experience for science majors. A faculty nominator marveled that during this busy time, when she was one of a limited number of employees in Bi Hall, she singlehandedly completed a chemical inventory for the building. 
Bob Cole, MATESOL '96, director of exploratory initiatives and partnerships at the Middlebury Institute, joined the staff in 2001. He played the leading role in the creation of the Digital Learning Commons (DLC) in 2011. Noting that this initiative has proved to be especially strategic in a year when the pandemic forced a rapid conversion to remote classes, a staff nominator said, "It's hard to imagine the transition would have been successful without the critical foundation laid under Bob's leadership. For years he and the DLC introduced faculty, staff, and students to new digital tools, platforms, and skills." The nominator added that his role on the DLINQ team and his position as vice president of Staff Council enable him to play "an important role in continued institutional collaboration and integration." 
Jennifer Kazmierczak, environmental health and safety officer, joined Middlebury in 2013. All nominators agreed that she was absolutely critical to the College's ability to bring students back in the fall—and to allow them to finish the semester on campus. As one staff nominator commented, "Few students, faculty, or staff members will understand the debt of gratitude they owe Jen K." Describing her far-reaching impact, another said, "She is an expert educator, a compelling writer, and an engineer, who has offered meaningful contributions to committees on numerous topics, including use of space, ventilation, signs, testing, dining, and crisis management." All describe her as patient, kind, calm, helpful, and someone who motivates others while working every day of the week to keep the campus safe. 
Dana Olsen, MA English '18, assistant director of the Middlebury Bread Loaf School of English (BLSE), has been a member of the staff since 2011. One nominator emphasized that it was Olsen who enabled the BLSE to hold its first-ever, online, tutorial-based Summer of Writing this year. Although it was only two months before the session was scheduled to begin when the BLSE had to completely redesign its curriculum due to the pandemic, the nominator said, "She singlehandedly anticipated and assessed everything we would have to do and then oversaw each part of the implementation process." Another noted: "Students and faculty have asked the BLSE to sustain the writing tutorials, even after the return to in-person teaching. Much credit for that remarkable success is due to Dana Olsen." 
Nate Orvis, custodian, has worked at Middlebury for four years since he arrived in 2016—he left in 2019 and returned in 2020. Student nominators praised him for his work ethic, selflessness, friendliness, and optimism. All mentioned that he works at night so that he can care for a family member during the day. One said, "Every night I do homework in the Giff classroom and have the pleasure of chatting with Nate. When I am cleaning up my stuff so he can clean the room, he makes me feel like my hard work matters. Nate makes me feel important and like all the late nights and homework assignments are worth it while he is actually doing the hard work." Another noted, "It is efforts like his that allow the College to continue to operate in a pandemic, and that allow the students and faculty to stay healthy every day." 
Kathleen Parent, curriculum information specialist, joined the staff at Middlebury in 2001. This summer she worked with faculty and administrators to create new course registration and schedule models that required numerous changes due to the pandemic, from type of modality to time and location. A staff nominator said, "It was like extreme sports for academic affairs," and a faculty nominator added, "This year, Kathleen was the single linchpin that kept the wheels from falling off our curricular processes." Multiple nominators noted that the work she does impacts every student on campus. Many mentioned her infectious laugh and described her as professional, cheerful, prompt, proactive, and efficient. 
Anna Vassilieva, professor of Russian studies, head of the Russian Studies Program, and director of the Graduate Initiative in Russian Studies, began her career at the Middlebury Institute in 1990. Multiple generations of alumni nominators expressed gratitude for her teaching skills, career guidance, and long-term interest in their lives. One said, "She was always there for every student in the Russian Department, ensuring that they understood and were exposed to the truths of the modern U.S.-Russian relationship." Another noted, "The summer I spent in Monterey was not only formative from a professional standpoint, it also fundamentally brought me into this community and network of Russian experts with Anna Vassilieva at the core center." 
2019
Dixie Goswami, Coordinator of Courses in Writing and founder of the Bread Loaf Teacher Network
Dixie Goswami has been part of the Bread Loaf School of English as a member of the faculty or staff every summer since 1979. She has held the Ruth and Lillian Marino Chaired Professorship and the Robert Frost Chair of Literature, and was awarded an honorary Doctor of Letters from Middlebury College in 1990. Across her years at Bread Loaf, she has inaugurated forward-looking courses that linked the practice and teaching of writing to cultural identity, new media, and social change. As a teacher, she revolutionized educational theory and practice by putting student voices and imaginations at the center of the learning process.
If her achievements had ended there, she would still be considered one of Bread Loaf's most influential teachers. But Dixie's impact on Bread Loaf and the lives it touches goes even further. She has transformed our cultural and educational landscape through service that has extended far beyond the classroom. In the 1980s, Dixie led the charge to bring public school teachers to the School of English, and now approximately 40 percent of our students come from public schools. In 1993, she founded the Bread Loaf Rural Teacher Network, which soon became the Bread Loaf Teacher Network. This unique professional development organization supports teachers as they build classroom projects and pedagogies from Bread Loaf coursework that create opportunities for diverse students. She was also the visionary who created the BTN Next Generation Youth Leadership Network in 2107, which provides a platform for vulnerable youth to lead together as advocates for social justice and social change.
For over 30 years, Dixie has been the Bread Loaf Teacher Network's heart and soul, working night and day, often on her own dime and time, to expand its impact and ensure its success. As anyone who has taught, studied, or worked with Dixie can attest, she is a force, a visionary, a change-maker, and an inspiration.
Bill Hegman, GIS Specialist and Teaching Fellow
Bill Hegman has been working with unfailing humor and energy for Middlebury since 1999. As the GIS specialist in the Geography Department, he's supported thousands of students as they navigate their way through spatial sciences and GIS technology. To a person, Hegman's nominators cited his sincere interest in students' well-being; his unflagging encouragement that helps them succeed; his expansive office hours, when he'll tackle any problem or discussion, no matter how long it takes; his help in organizing internships; his technological wizardry; and his joy in making life more fun—whether that's by organizing a scavenger hunt up Snake Mountain, making homemade ice cream for a department gathering, or mounting student work on the walls in Bi Hall.
Nominators described Hegman as the departmental shepherd, the department's institutional memory, and someone who flies under the radar but without whom "we would be truly lost." One nominator noted that this summer when the department moved, "Bill went even further above and beyond his call of duty when he spent his summer almost singlehandedly moving the department from the third to the sixth floor."
A student nominator said, "Bill's patience and care for others is astounding and has made geography majors out of people who otherwise would have dropped GIS 0120. My career and interests for the rest of my life have changed because of Bill, and I cannot thank him enough."
Wei Liang, Professor and Program Co-chair, International Trade and Economic Diplomacy
Wei Liang joined the Middlebury Institute faculty in 2007. Her research and teaching have concentrated on the governance of national and world economies—how foreign economic policy is made domestically and why governments and international organizations do what they do in international economic relations. She's conducted field research in Asia, Europe, Latin America, and the United States to learn directly from the policy practitioners.
Liang has been instrumental in linking the Institute and the College in a truly creative way. In summers, she leads a group of MIIS and Middlebury College students on a dynamic experiential-learning trip to China. For those participants who may not have the necessary Chinese language skills, she also brings along Institute translation and interpretation students, who can practice their interpretation skills while the other students observe professional language skills in action. There are opportunities for students to work in teams of both MIIS graduate students and College undergraduates so they can learn from one another.
Students have found these trips and many other opportunities to learn from Liang to be transformative and inspiring, impacting their overall educational trajectories. She's invested her time and resources to make sure students have access to these opportunities.
One nominator noted: "Wei thinks not only about the curricular experiences—which are truly excellent—but also about many other details. She is incredibly caring and willing to stay up with students all night to solve any problems that arise. She is amazingly dedicated to the student experience."
Tim Parsons, Landscape Horticulturist
Tim Parsons has been the landscape horticulturist at Middlebury since 2006. His infectious enthusiasm for the Vermont campus landscape has transformed the community into a hub of tree enthusiasts. Not only is Parsons responsible for the maintenance of the College's urban forest, landscape design and installation, and management of the turf athletic fields, he's an integral member of many essential committees. He currently serves as president of the Middlebury Staff Council.
Nominators described Parsons as an advocate and enthusiastic spokesperson for Middlebury's trees, who is always happy to work with faculty and students. He's helped students studying plant biology, teaching them about the trees on campus, tree-health assessment skills, census techniques to survey flora, and tree mapping. He's taught a well-received winter term course about trees in the urban forest.
Parsons is perhaps best known for his fascinating campus tree walks, which introduce groups to the campus environment in a new way. A student nominator said of the tree walk: "I've never looked at the landscape of the school in the same way after that. The diversity and abundance are truly spectacular, and each tree is rich with a history that is now woven into my experience here at the College."
Another said, "I've found that many Middlebury students I speak to share fond stories of Tim. When I talk with my friends who attend other institutions, they can't name their own horticulturists."
And another, about a special walk Parsons organized: "We perambulated around until it got dark, soaking up every word Tim had to say. When we eventually split, students from their first semester to their super-senior fall agreed that it ranked among their favorite events at Middlebury."
Sheila Schwaneflugel, Assistant Director of the Betty Ashbury Jones MA '86 School of French
Sheila Schwaneflugel has embodied the concept of going "above and beyond" throughout her career in the Language Schools.
Colleagues say she is a pillar of the Language Schools community, someone who not only profoundly impacts the Betty Ashbury Jones MA '86 School of French, but also the students who call it their own. As the first point of contact for nearly every student, Schwaneflugel ensures that every student, faculty, staff, and assistant has the best possible experience, even when doing so is not easy or convenient. With an indefatigable commitment to service, unflappable optimism, and love of students, plus an ever-present smile, Schwaneflugel strives to make everyone's work easier while doing her own excellent work.
This past year, she proved critical to the success of the Betty Ashbury Jones MA '86 School of French, thanks to her unwavering dedication. During a time of leadership transition, she stepped in to temporarily fill not just the assistant director role but also the director role. Once these position was staffed she then mentored the appointee and other new staff to ensure the school would run as smoothly as possible. She made it so easy for everyone to work in the best possible conditions that this year's challenges were almost imperceptible.
2018
Jennifer Herrera Condry, Associate Director, Intercultural Center
Jennifer Herrera Condry has worked for Middlebury in various roles since joining the College in 2002, with a particular focus over the last decade on multicultural student affairs. In her most recent role as associate director of the Anderson Freeman Resource Center (AFC), she manages the Posse program, helps to develop and staff cocurricular programs that serve underrepresented students, and supports a multitude of student cultural organizations. A fellow staff member shared that "Jennifer's presence and guidance are integral to the continued success and flourishing of the center and its operations."
Among many achievements over her Middlebury career, Herrera Condry spearheaded and managed the implementation of gender-neutral bathrooms in public buildings and the preferred name and gender pronoun procedures. She developed Middlebury's first comprehensive program to support the academic and social success of first-generation students, which includes First @ Midd, peer mentoring, monthly academic and community-building activities, and an annual graduation celebration. She also led public art initiatives at the AFC and more recently at McCullough Student Center.
Nominators described Herrera Condry as a role model for supporting and connecting with students, going beyond her job responsibilities to make "tremendous efforts to enhance and transform our community to become a more engaged and inclusive Middlebury."
Jonathan Miller-Lane, Associate Professor of Education Studies and Commons Head for Wonnacott Commons
Miller-Lane, who has taught at Middlebury since 2003, has worked to encourage fundamental changes in campus discourse about race. In September 2017, he gave the first talk of the Carol Rifelj Faculty Lecture Series for the academic year, titled "Discourse and Discord at Middlebury: A Way Forward," in which he asked the campus community for meaningful engagement with issues related to "whiteness." 
Miller-Lane has held several institutional service roles at Middlebury, including serving as director of education studies, faculty head of Wonnacott Commons, lead professor for the Mellon Foundation grant that supports the Sophomore Seminar in the Liberal Arts, and lead professor of the JusTalks initiative.
One of his nominators wrote, "I've had the pleasure of sitting in on various classes, workshops, Commons dinners, and informal gatherings that Jonathan has facilitated. His inclusive practices have strongly informed my own approach to pedagogy and community building. The high regard in which Jonathan is held—by colleagues and students—reflects our appreciation for his sustained intentional commitment to cultivating a deeply inclusive Middlebury community."
2017
Amy Holbrook, Academic Coordinator for the Economics Department
Amy Holbrook has served as the academic coordinator for the Department of Economics since 1993. Her nominators wrote that "although her official duties revolve around helping the Economics Department run smoothly and efficiently," she is "a mentor, supporter, and informal cultural facilitator for Middlebury students." Students and faculty remarked on Holbrook's deep commitment to supporting students outside her administrative role.
One nominator wrote, "As an international student, and in the absence of my family during important events in my life at Middlebury, she was my family; coming to ISO shows, accompanying me to my first Dolci dinner and joining me for Thanksgiving lunch at the College—even inviting me to her home one Thanksgiving. Her mere presence in Warner makes the building a more habitable place with a perpetually open door guiding lost first-years and welcoming familiar faces."
Another student nominator wrote, "Amy has always been there for me personally when times have been rough. I really do feel that there should be more people like her on this campus. It is hard coming to a place like Middlebury as a city-dweller; however I have seen Amy open her arms to many international students who have felt lost as well. I will miss Amy after my graduation, but I will be happy knowing that she will continue to be a positive force for other students coming to Middlebury."
Tiffany Nourse Sargent '79, Director of the Center for Community Engagement
Tiffany Sargent has worked at Middlebury since 1985 in various positions at the College that support students engaged in community service. In her current role as director of the Center for Community Engagement, Sargent and her staff work with 1,500 students each year who provide 65,000 hours of service in the local community and beyond.
And while her goal is to promote exceptional service in others, those who nominated Sargent say she herself "exemplifies what it means to unselfishly, consistently and relentlessly give back to all who are around her in ways that build a more engaged and inclusive Middlebury community."
One of Sargent's nominators, a faculty member, remarked on her powerful impact on teaching at Middlebury. "Tiffany has taught me important lessons about the benefits of integrative learning," the nominator wrote. "She has helped me to see the transformative effect that community engagement can have on students' exposure to a social problem like poverty. She has helped my teaching evolve from an over-reliance on the lecture model to a pedagogical approach in which students think in and beyond the classroom simultaneously."