Laurie L. Patton is the 17th president of Middlebury, and the first woman to lead the institution in its 222-year history.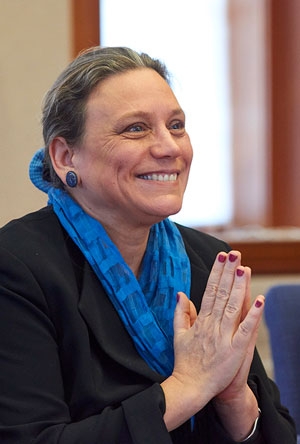 Patton joined Middlebury in 2015 after serving as dean of Duke University's Trinity College of Arts and Sciences and as the Robert F. Durden Professor of Religion.
In her inaugural address, Patton described a vision of a Middlebury that would actively engage with the most challenging issues facing society and challenged the community "to have more and better arguments, with greater respect, stronger resilience, and deeper wisdom."
In 2022, under Patton's leadership, Middlebury received a $25M grant to begin the Kathryn Wasserman Davis Collaborative in Conflict Transformation—the largest programmatic grant every received in the College's history. The initiative views the study and development of conflict transformation skills as a liberal art, and supports wide-ranging initiatives in high-school, undergraduate, graduate, global, and experiential learning, where students learn and practice different approaches to conflict management and resolution.
In 2020, her team launched the new residential learning program, Compass. Now in its pilot phase, Compass takes the core elements of Middlebury's entrepreneurship programs, including a focus on mentorship, creativity, financial literacy, and networking, and makes them accessible to all students. Under her leadership in the pandemic year, Middlebury had one of the lowest rates of COVID-positive cases in the nation.
In 2019, she announced Energy2028, Middlebury's bold plan to address the threat of climate change after its achievement of carbon neutrality in 2016. Energy2028 has put the institution on the path toward a complete shift to renewable energy.
In 2016 Patton launched Envisioning Middlebury, the planning effort that created a strategic framework to guide the institution over the coming decade. The plan was adopted by the trustees in October 2017.
Patton is an authority on South Asian history, culture, and religion, and religion in the public square. She is the author or editor of 10 books and more than 60 articles and has translated the classical Sanskrit text The Bhagavad Gita. She is also the author of three books of poems, most recently House Crossing in 2018 from Station Hill Press. 
From 1996 to 2011, Patton served on the faculty and administration at Emory University, where she was the Charles Howard Candler Professor of Religions and the inaugural director of Emory's Center for Faculty Development and Excellence in the Office of the Provost. Patton began her career at Bard College, where she was assistant professor of Asian religions from 1991 to 1996.
Patton earned her BA from Harvard University in 1983 and her PhD from the University of Chicago in 1991. She has served as president of the American Society for the Study of Religion in 2011, and the American Academy of Religion, made up of over 9,000 members, in 2019. She was elected to the American Academy of Arts and Sciences in 2018 in two categories: philosophy and religion, and educational leadership.