Virtue Field House Receives LEED Gold Certification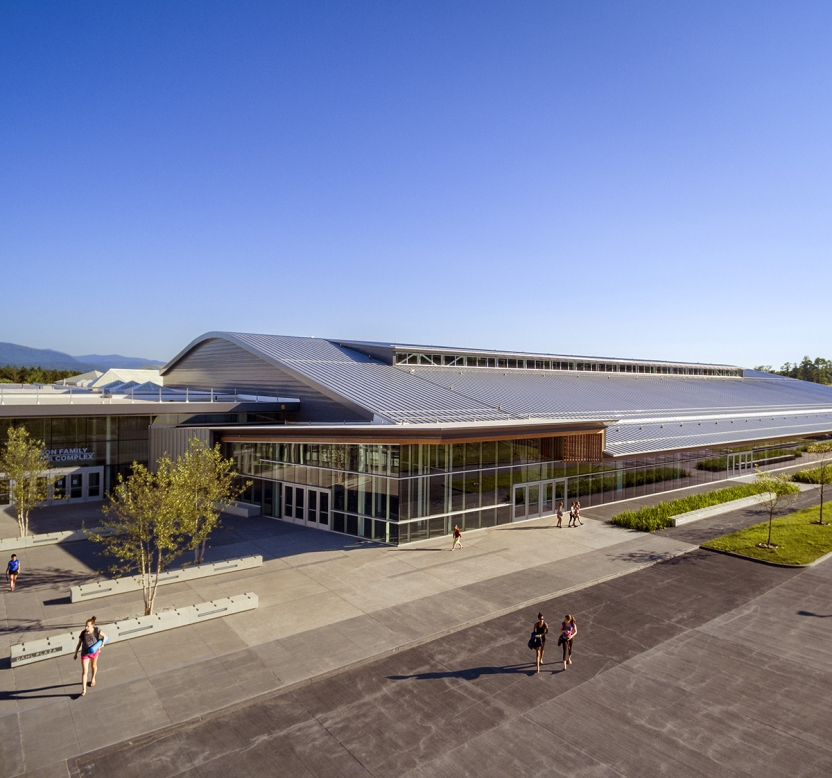 MIDDLEBURY, Vt. — Middlebury College's expansive, light-filled Virtue Field House, completed last year, has earned the U.S. Green Building Council's second-highest level of certification, LEED Gold.
The LEED stamp of approval came earlier this month. The LEED rating system (shorthand for Leadership in Energy and Environmental Design) is the most widely used third-party verification for green buildings, certifying and celebrating buildings that promote sustainability, resource conservation, and human health.
"The built environment has a profound impact on the natural environment," said Dean of Environmental Affairs Nan Jenks-Jay. "Buildings in the United States alone account for almost 39 percent of total U.S. energy consumption and 38 percent of U.S. carbon dioxide (CO2) emissions." Given that reality, she said, institutions of higher education have a responsibility to engage in the highest standard of building practices when undertaking construction projects — a responsibility Middlebury takes seriously."
"We incorporate sustainable features regardless of whether we're going for LEED certification," said Mark Gleason, the College's project manager for Virtue Field House. That said, Jenks-Jay and Gleason noted, the LEED program independently certifies these accomplishments.
"You not only say, 'We believe this is a sustainably designed, constructed, and operated building,'" said Jenks-Jay. "We can verify that through these assessments."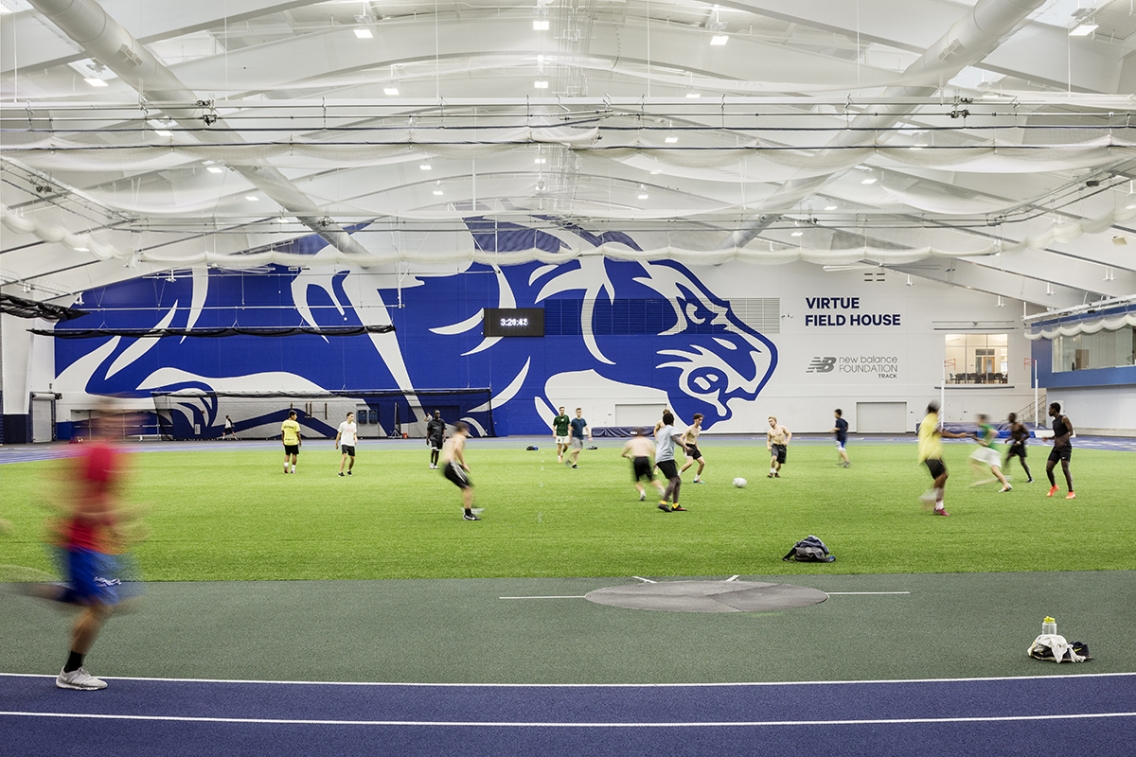 Virtue Field House has become a popular attraction for both recreational athletes and varsity teams.

At 110,000 square feet, Virtue Field House hosts varsity, club, intramural, and recreational sports. The facility includes a six-lane track and large indoor field, a glass-walled balcony for viewing events and working out on cardio equipment, and a multi-purpose lounge space. Designed by Boston-based Sasaki Associates, the field house also sports new locker rooms, office spaces, and expanded sports medicine facilities.
While more than twice the size of the previous facility–better known as "the bubble"–Virtue Field House actually uses less energy. The majority of building's materials, including steel, concrete, and wood, came from within a 500-mile radius of the College. The Field House is lit almost entirely with LED lights that can be raised or lowered to meet the demands of practices or competitions while still preserving energy.
The field house is set 11 feet into the ground, which helps moderate the temperature–and eight enormous fans circulate the air inside to distribute heat evenly during cool months, and provide moving air in warm seasons. A heat recovery system also strips as much heat as possible from air being vented out of the building, which is then used to preheat colder outside air being pumped in.
The building isn't about "flashy features," said Gleason, but rather about smart design, siting, and flexible use.
"A team can be practicing in one part of the field house, sports medicine folks can be working with injured athletes, and there can be a mini soccer game going on, all at the same time," said Gleason. "It's a dynamic place to be."
For Jenks-Jay, the project also illustrates Middlebury's comprehensive approach to sustainability. It's not just about constructing a green building, she said; it represents an ethos that permeates programming, educational opportunities, and campus life.
"Here we've got a building that says, we believe in this," said Jenks-Jay. "We have programs within Athletics that say we believe in sustainability too. We have educational opportunities for students interested in green building. Those three together really illustrate Middlebury's environmental leadership."
Reporting by Kathryn Flagg '08; Photos: Jeremy Bitterman
For More Information