College Launches Center for Creativity, Innovation, and Social Entrepreneurship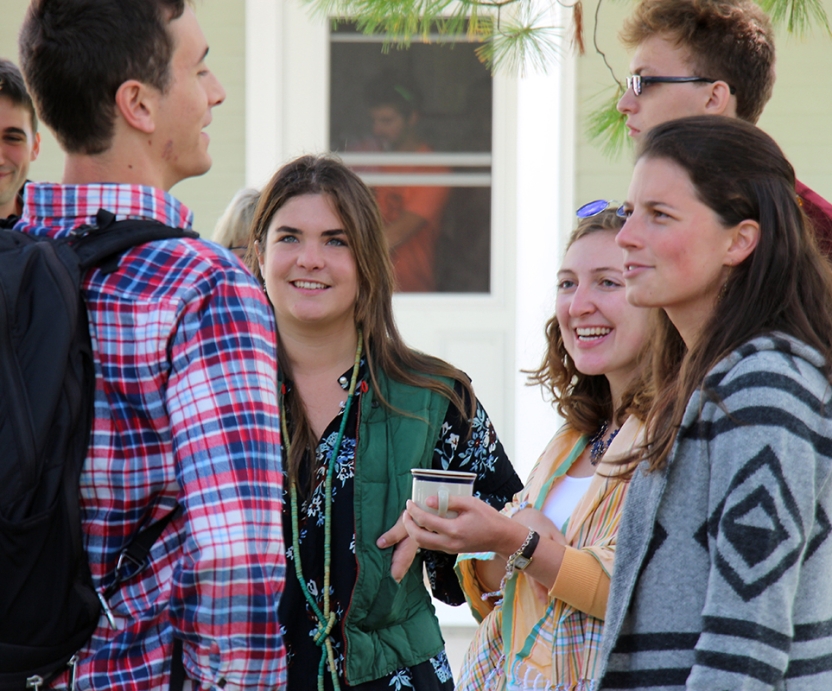 MIDDLEBURY, Vt. – For the first time in their history, Middlebury's programs in creativity, innovation, leadership, and social entrepreneurship will be housed under one roof. Over Homecoming weekend students, faculty, staff, and alumni celebrated the physical and programmatic integration of the popular engaged-learning programs with a ribbon-cutting reception at the 118 South Main Street headquarters.
The newly configured Center for Creativity, Innovation, and Social Entrepreneurship (CCISE) combines several programs that have been developed over the past decade to provide students with opportunities through classes, skill-building, funding opportunities, symposia, and mentoring, as well as workspaces for creative projects.
"Ten years after we began, we believe more than ever in the need to prepare our graduates to engage successfully with the world," said President Laurie Patton to the gathering of students, faculty, staff, and alumni. "Offering our students the opportunities, resources, and funding to support their most entrepreneurial ideals early on–when they are most in need of support–is an essential part of our work."
The new organization integrates programs related to MiddCORE, the College's leadership development program; the former Center for Social Entrepreneurship; and programs on creativity and innovation. In all, the center will oversee 15 programs.
Saturday's festivities featured student exhibits representing some of the diverse activities facilitated by the center. The displays gave a snapshot of students' creative ventures, including Middlebury Foods, a nonprofit start-up that provides high quality fresh food at wholesale prices to area families; a newly formed music group that rehearses at Old Stone Mill; a late-night macaroni and cheese food truck; an anti-texting-while-driving app; and a student-run gourmet cupcake business.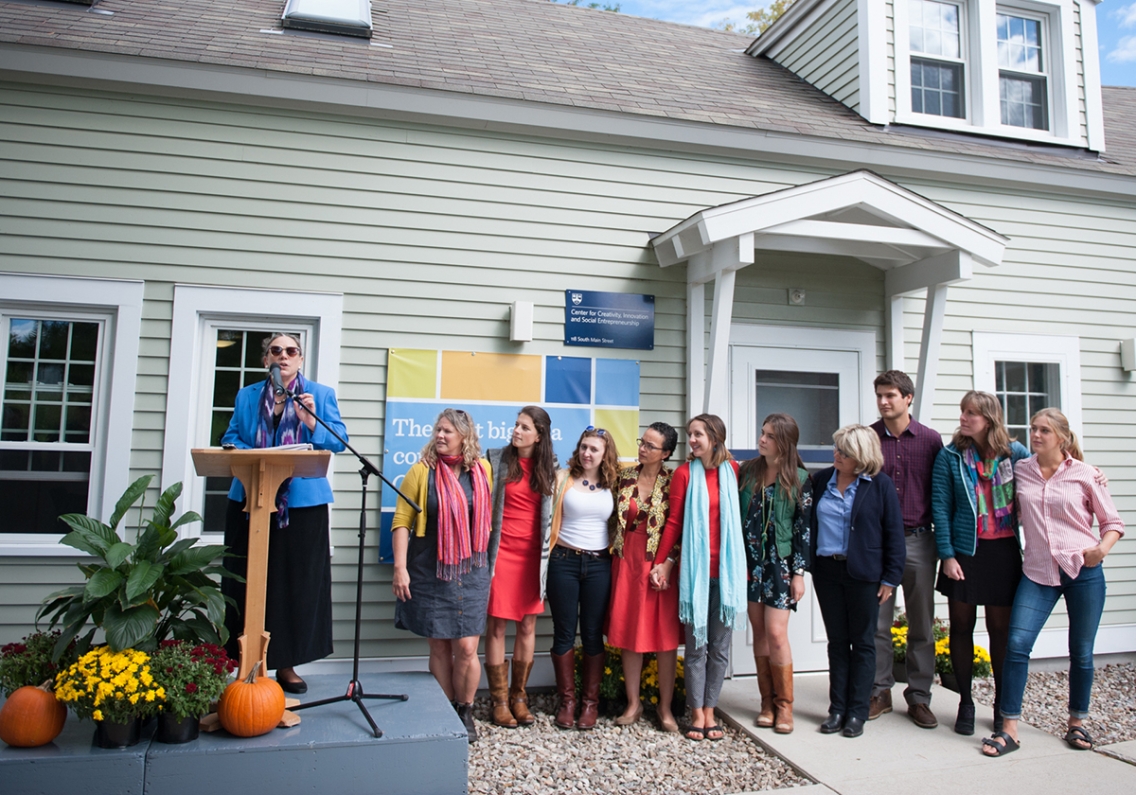 President Laurie Patton welcomes guests to the new Center for Creativity, Innovation, and Social Entrepreneurship.

CCISE Program Director Heather Neuwirth says the center will help students to build on their ideas over time. For instance, a computer science and geography major may complete MiddCORE with the idea to start a mapping company, spend their spring semester at the Old Stone Mill testing out demand for their services, then apply for a MiddChallenge grant to prototype and implement the idea over the summer. When they return to campus they could apply for the Middlebury Entrepreneurs winter term course to build on their idea and learn how to fundraise.
"Students have worked through multiple programs in the past, but we are excited to streamline the process in a way that will help them make the connections much more easily," said Neuwirth.
The announcement of the center corresponds with new faces in faculty leadership roles for two of the key programs. Nadia Horning, associate professor of political science, has been named faculty director of social entrepreneurship. She replaces Jon Isham, professor of economics, who founded the Middlebury Center for Social Entrepreneurship and grew it into a nationally recognized program in higher education.
Christal Brown, assistant professor of dance, has been named faculty director of MiddCORE, taking over from Jessica Holmes, professor of economics, who guided the program through a period of significant growth. Both Holmes and Isham, who is currently on sabbatical in Ghana, will resume their full-time teaching roles.
Patton told the gathering that the programs now consolidated at CCISE have given students a valuable complement to their academic focus. "These programs have helped students take their experience in developing new ideas, become comfortable with intellectual risk taking, and apply their liberal arts education in the world with self-awareness, humility, confidence and practical skills."
More information about the opportunities at the center is available online.
Reporting by Stephen Diehl; Photos by Jennifer Kiewit and EJ Bartlett
For More Information