Students Travel to Atlanta to Experience the Struggles of Refugee Resettlement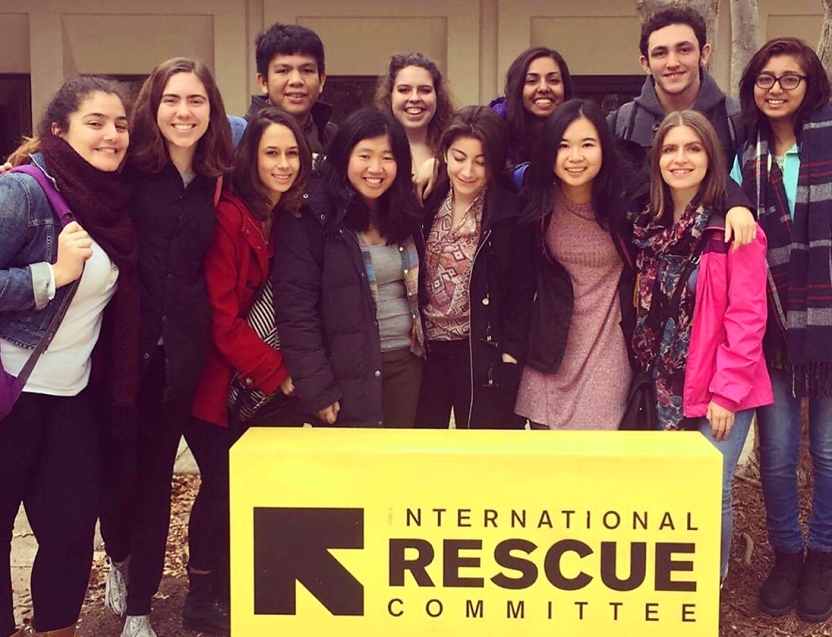 MIDDLEBURY, Vt. – The harsh reality of refugee resettlement became apparent to the 12 Middlebury students who volunteered to work side-by-side with refugee families in Atlanta during the week between winter term and the start of spring semester.
"There was something incredibly humanizing about being with the refugees in person," said Sandhya Sewnauth, a first-year student from Queens, N.Y. "The media constantly throws around the term 'refugee,' and the people associated with that term have been severely maligned by politicians. But after meeting refugees I realized they were people striving for better lives, the same way that European settlers once did in the Americas."
Sewnauth participated in one of six Middlebury Alternative (MAlt) break trips that took place February 4-11. Under the aegis of the Center for Community Engagement, MAlt trips enable Middlebury undergraduates to engage with communities, provide service where service is needed, and learn about the systems that shape communities around the world. The trips are designed and led entirely by students, and funded through a variety of means including the microphilanthropy site MiddStart.
At an elementary school in Atlanta, Sewnauth bonded with a first grader from Afghanistan. "We hula hooped and jumped rope together, and she dragged me over to sit next to her during snack time. Another young girl from Malaysia came up to me and inquired about my ethnicity, taking comfort in the fact that I 'looked Indian.' The girls wanted me to pick them up and they took me all over the school. I will never forget their faces and how it hurt when we had to say goodbye.
"Overall, my time in Atlanta opened my eyes to the stagnant process of resettlement, to issues about public education [for refugee children,] and to the hopeful accepting spirit that still resides in the United States," Sewnauth added.
Slide Show[view:embed_content==545258]
Students on the Atlanta trip spent Monday and Tuesday working with refugees through the International Rescue Committee (IRC). "While some of us worked in childcare others worked with adults on resume building, mock interview, and civics. We also worked in the resettlement shop organizing donations of clothing and other household items for refugee families to come and 'purchase' free of charge for their new homes," said Crystal Farkaschek '19, the group's co-leader from Chicago.
"We observed how language barriers often made it difficult for some refugees to get the most out of the IRC programs," she noted. "But fortunately many of us were able to speak another language, which had the effect of transforming the room into a space filled with [shared] cultures and happiness."
On Wednesday and Thursday the undergraduates were at an elementary school and a middle school in Atlanta via the nonprofit New American Pathways, and again they observed that language can be a difficult barrier to surmount. "I am interested in learning how [public school] curricula are being adapted to fit the needs of newly arrived American residents, and how refugees are supported as they move through the public education system," remarked a third Middlebury student, Andra Pascu '17, from Romania.
"I would also like to know how language acquisition is supported for refugee children who arrive in the United States at an older age. They face a larger gap in educational achievement when compared with their native-English-speaking peers," said Pascu.
Crystal Farkaschek agreed: "Where refugee students at the elementary school thrived with their reading and writing, the older students in the middle school were reading and writing at an elementary level. This contrast struck us, and it caused us to reflect on the cycle refugee children often go through with a public-school education."
Travis Sanderson '19, a co-leader from Las Vegas, talked in terms of refugees and American politics. "Our trip was perfectly timed to experience the brunt of the Trump Administration's policies. We worked with the International Rescue Committee and New American Pathways at a moment in history when the very notion of refugee resettlement was challenged by the American president. We saw first hand how politics affects human lives and grassroots operations.
"We had originally planned to serve New American Pathways by helping refugees on the front lines get set up in new apartments, but because of the Trump Administration's 'travel ban' we ended up working in schools. When there are no new refugees entering the country, there is no need to set up apartments."
Sanderson, who co-founded the Middlebury student organization go/refuge in 2015, also commented that most refugee children enter the public-school system "faced with more barriers than any other group" because resettlement agencies generally secure apartments for refugees in "poorer areas with fewer resources for public education." When educational deficiencies are combined with a language barrier and the mental trauma suffered by most refugees, "we see how social class segregates society," he said.
In addition to the refugee resettlement trip to Atlanta, there were five other college-sponsored MAlt trips this month: St. Louis (exploring education and poverty), Puerto Rico (empowerment through health education), Dominican Republic (housing access in rural areas), Guatemala (social impact of sustainable agriculture), and San Francisco (urban farming).
In preparation for the MAlt trips, which are completely peer-led with no staff or faculty present, participating Middlebury students do all their own research to design a trip, find partners in the field, arrange for transportation, meals, and lodging, and develop their week-long itinerary. The student leaders on each trip receive advice from the Center for Community Engagement and training in best practices from a national nonprofit organization named Break Away.
All six 2017 MAlt groups will give brief presentations about their experiences on Wednesday, March 8, at 4:30 p.m. in Axinn 229, and members of the college community are encouraged to attend, listen, and ask questions.
– Reporting by Robert Keren and photos by Crystal Farkaschek '19