Community Celebrates International Women's Day with Rally on Bridge [slide show]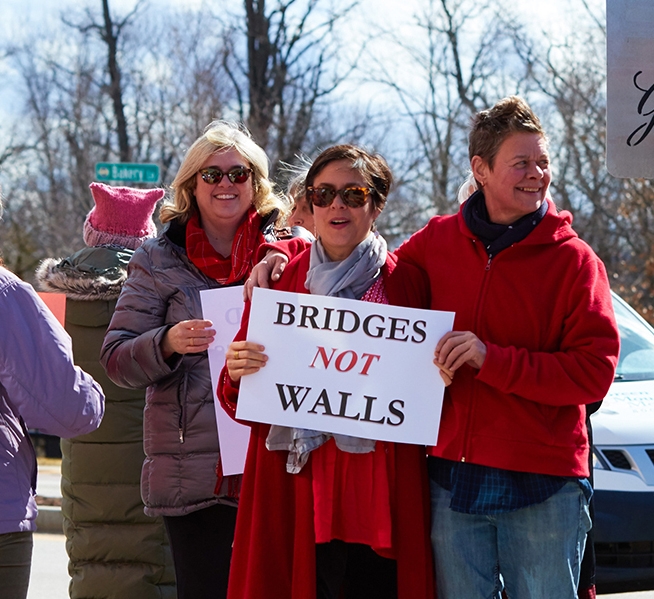 Slide Show
[view:embed_content==546230]
MIDDLEBURY, Vt. – Nearly 100 women, men, children–and even a few dogs–gathered on the Cross Street Bridge in Middlebury to celebrate International Women's Day on March 8. The intergenerational group gathered in solidarity for gender equality and justice issues. It made for a colorful scene, many wearing red in solidarity with the national "Day Without a Woman" protest.
On a beautiful spring-like day, the Middlebury rally felt energized and congenial. Demonstrators holding signs waved at passing cars, many of whom returned the greeting with a friendly honk. Many of the signs said "Build Bridges Not Walls" and "Support Planned Parenthood." One read, "Dogs Against Patriarchy."
Students, faculty, and staff from the college joined members of the community, including numerous Middlebury Union High School students, who made the short walk to the bridge during their lunch hour.
The rally on the bridge was one of several activities sponsored by Chellis House, Middlebury College's women's resource center, last week that included the awarding of the Fraker Prize for student writing on a topic related to gender, sexuality, or feminist studies and a talk by feminist activist and author Olga Lipovskaya.
International Women's Day traces its roots back to 1908 when 15,000 women marched through New York City demanding shorter hours, better pay, and voting rights. Currently, the day is described as "a global day celebrating the social, economic, cultural and political achievements of women. The day also marks a call to action for accelerating gender parity."
Photos by Todd Balfour
For More Information