Middlebury Names Jennifer Grotz as Next Director of Bread Loaf Conferences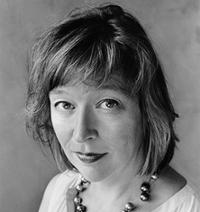 MIDDLEBURY, Vt. – The poet and translator Jennifer Grotz, who has been associated with the Middlebury Bread Loaf Writers' Conferences since 1995, has been named the seventh director of the renowned gathering of writers founded in 1926 by Robert Frost and others.
Grotz, 45, will replace Michael Collier, the director from 1995 through 2017, who announced his retirement effective October 1 of this year. She is the first woman to lead the cluster of Conferences that now includes the original Writers' Conference (the oldest in the country), the Orion Environmental Writers' Conference, the Translators' Conference, and the Bread Loaf in Sicily Conference.
A professor in the Department of English at the University of Rochester, Grotz has published three volumes of poetry: Cusp (Houghton Mifflin, 2003), The Needle (Houghton Mifflin Harcourt, 2011), and Window Left Open (Graywolf Press, 2016). She has received fellowships from the Guggenheim Foundation and the National Endowment for the Arts, and her poems have been included in numerous anthologies including The Best American Poetry for the years 2000, 2009, 2011, and 2016.
Her translations from French include the poetry of Patrice de La Tour du Pin, The Psalms of All My Days (Carnegie Mellon University Press, 2013) and a novel by Hubert Haddad, Rochester Knockings, (Open Letter, 2015). Grotz is translating from Polish the volume Everything I Don't Know: Selected Poems of Jerzy Ficowski (work in progress).
The new director's poetry has appeared in the New York Times, the New Yorker, the New Republic, Ploughshares, Kenyon Review, Blackbird, and on NPR's the Writer's Almanac with Garrison Keillor. She earned her bachelor's degree in English and French at Tulane University, a master's degree in English literature and Master of Fine Arts degree in poetry at Indiana University, and her PhD in literature and creative writing at University of Houston.
Jeffrey Cason, Middlebury's vice president for academic affairs and dean of the schools (which includes the writers' conferences), said Grotz was selected after a national search.
"We are delighted that Jennifer will be leading the Bread Loaf Conferences in the upcoming years," he said, "Not only is she an incredibly accomplished poet and translator, she knows the Conferences inside and out, given the breadth of her experiences with them. She is the ideal person to help us manage the growth that the Conferences have experienced in recent years.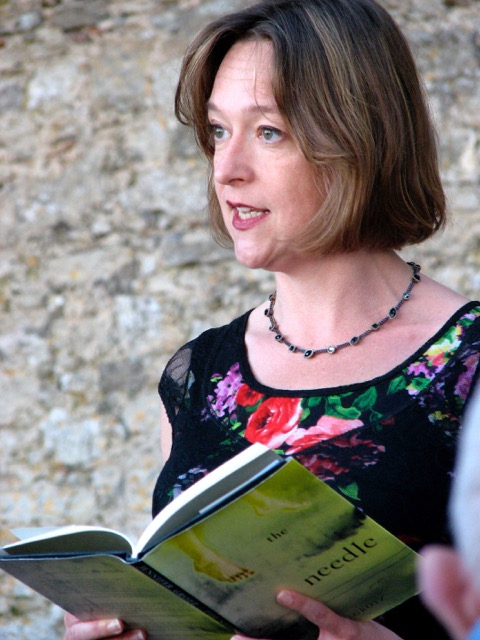 Jennifer Grotz reads from her latest volume of poetry, The Needle.
Grotz attended her first Bread Loaf Writers' Conference in 1995 as a waiter/scholar and has attended every summer session since, except one. She joined the Conference staff in 1997, was promoted to assistant director in 2005, and has served in that capacity and as the director of the Translators' Conference since its inception in 2014.
It was at the helm of the new Translators' Conference that Grotz discovered something about herself. "The experience of building the Translators' Conference from the ground up, developing innovative ways to adapt the writing workshop to literary translation, and creating a conference that fosters both training and community have all invigorated my interest in taking on more responsibility, artistic direction, and leadership of the Conferences," she explains.
Grotz also credits her predecessor for preparing her for the directorship of the Conferences. "I benefitted greatly from over a decade of shadowing – so to speak – Michael Collier, and for his willingness to allow me to play a consultative and supportive role to the director." Grotz also points to the administrative skills she gained as the associate director of an independent writing program in Portland, Ore., and as one of the organizers of a weeklong poetry seminar in Krakow, Poland.
"It might seem like administrative activity would draw away from my life work as a writer, but in fact I have found my writing to be deeply inspired by and reflective of the work I do for Bread Loaf and elsewhere as a teacher." She added, "Everything I do fulfills my life's two great passions: writing and the teaching of writing. I see my work at Bread Loaf and in all my teaching as strengthening a writer's grasp of literary craft and tradition."
The Writers' Conference's first director in 1926 was John C. Farrar, the Vermont-born writer and editor who later founded the publishing company Farrar, Straus and Giroux. He was succeeded as director by Robert Gay in 1929, Theodore Morrison in 1932, John Ciardi in 1956, Robert Pack in 1973, and Michael Collier in 1995.
In addition to Robert Frost, who was a faculty member or speaker at nearly every Writers' Conference until his death in 1963, the list of attendees has included Sinclair Lewis, Katherine Anne Porter, Willa Cather, Archibald MacLeish, Dorothy Canfield Fisher, John Gardner, Julia Alvarez, Stephen Vincent Benét, and Truman Capote. The Conference has also welcomed Jessamyn West, Wallace Stegner, Lorrie Moore, Isaac Asimov, Cheryl Strayed, Maxine Kumin, John Irving, Toni Morrison, and scores of other poets and authors to share their insights at the Bread Loaf Mountain campus.
For More Information