Bread Loaf Restores Letterpress Operation at Historic Printer's Cabin
Watch master printer David Sellers demonstrate the newly restored letterpress printer during a workshop at the Bread Loaf Printer's Cabin earlier this summer.
RIPTON, Vt. – Fans of classic letterpress printing had reason to celebrate this summer when the Middlebury Bread Loaf School of English restarted its old presses at the historic Printer's Cabin on the Ripton campus. The presses had been dormant for the past 20 years until a group of Bread Loaf administrators proposed returning them to service in 2016.
Spearheaded by Bread Loaf faculty member Claudia Johnson, the initiative gained traction as Middlebury restored electricity to the cabin, which is located across Route 125 from the Bread Loaf Inn.
Bread Loaf graduate and historian Mark Wright supervised the first round of cleaning, removing "rotten rubber press rollers and cans of cruddy, encrusted, unsorted lead type that had to go." Meanwhile, local master printers Heather Hale '77, John Vincent, and Sally Foster worked on reconditioning the presses, while members of the Bread Loaf theater, facilities, and administrative staff helped grind the treadle, build needed shelves, and move unneeded type and mechanical parts into storage.
Fittingly, the first prints made on the newly restored letterpresses quote Robert Frost from a 1952 interview at the poet's summer home—the nearby Homer Noble Farm in Ripton. Frost identified the ability to be original and to take initiative as the greatest of freedoms, claiming, "Freedom lies in being bold."
Returning the Printer's Cabin to operational status was a painstaking process. "Setting up a new shop takes time," said Hale. "There are many pieces to procure: type and type cabinets, galley trays, spacing, leading and leading cabinet, composing sticks, chases, quoins, paper and press packing, line gauges, ink, ink plates… . We are still collecting, but almost there."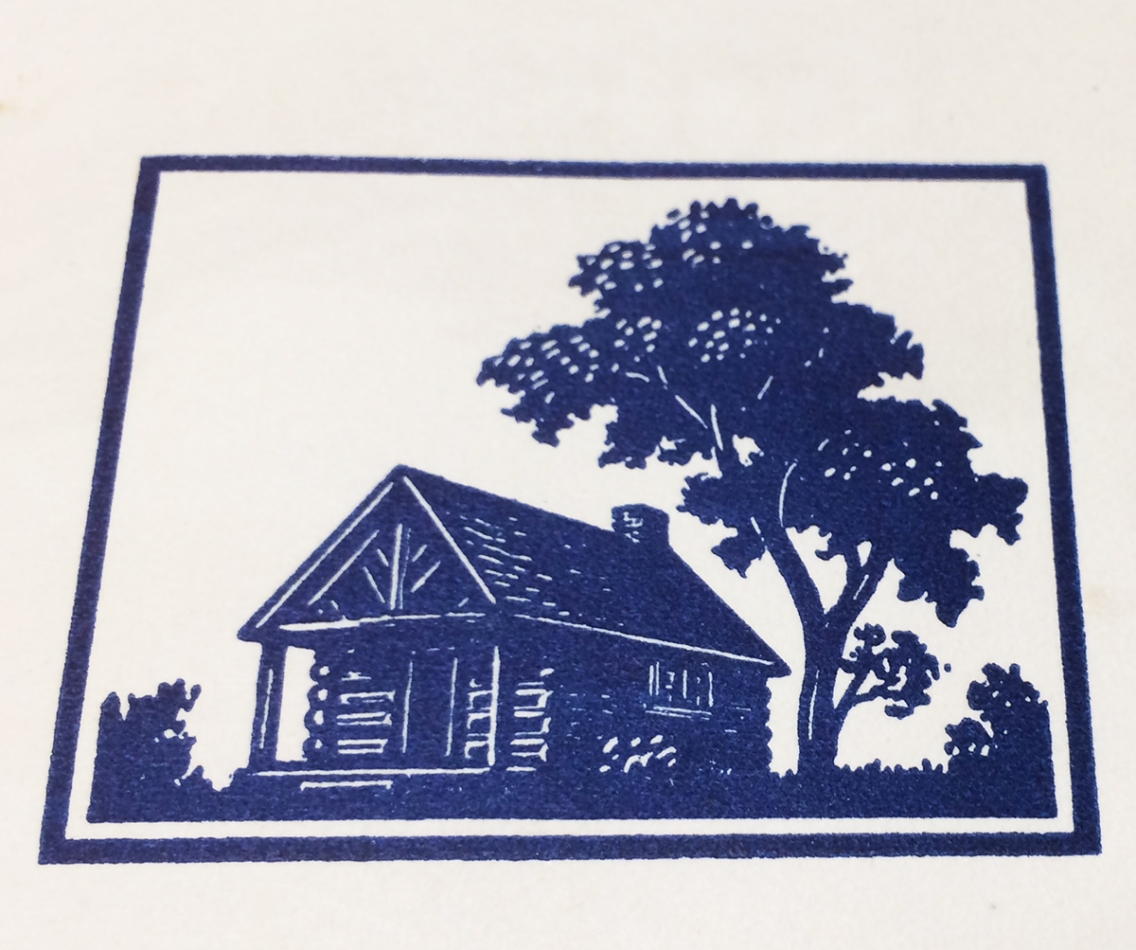 An imprint of the Bread Loaf press from Middlebury Special Collections and Archives.
Built in 1896 by Joseph Battell, the log Printer's Cabin originally printed menus for Battell's inn. The Middlebury archives hold samples of theater and commencement programs, poems, and bookplates created under the imprint of the Bread Loaf press from the inception of the Bread Loaf School of English in 1920 until about the 1960s, when the presses were moved or sold. In the late 1980s, a Bread Loaf School of English and Princeton professor, John Fleming, donated the two machines, a Chandler & Price platen press and a Vandercook cylinder proof press.
"Bread Loaf is a perfect spot for a print shop," Hale said. "There is a love of words."
This summer Bread Loaf students and faculty participated in two letterpress workshops, one led by Hale, Vincent, and Foster at Hale's shop in Stowe and the other led by master printer David Sellers in the Printer's Cabin itself. Participants learned the intricacies of design, paper, ink, and type choices as they made prints of two poems by faculty member Gwyneth Lewis.
Now that the presses are operational, students across all of Middlebury's programs will enjoy the creative freedom of letterpress printing. Bread Loaf faculty are planning to integrate the newly available printing resources into their courses in summer 2018. And Johnson is arranging weekly workshops across the session. "The curriculum is adjusting to this new resource," she said. "I'd also like to think of how we can print material of interest and value to the entire community."
Michael Collier, director of the Writers' Conferences, says that a working letterpress "will add to the discussion of publication in an immediate and physical way that I find very exciting. Writers will once again get to smell ink, feel the weight of type and the texture of paper and hear the press as it reverberates in the Printer's Cabin. In the future, the conferences can invite letterpress and art book printers to come and talk about their work and offer workshops."
The restored press will also be available to Middlebury undergraduates. Rebekah Irwin, Middlebury's Special Collections and Archives director, says her department will be incorporating the Bread Loaf Printer's Cabin into its schedule of book arts workshops that combine historical scholarship and hands-on work in bookbinding, papermaking, printing, and zine-making.
"Letterpress printing speaks to many disciplines: design, craftsmanship, math, mechanics," said Heather Hale. "It is satisfying on the deepest level to think of something you want to communicate, put the form together, print it, and immediately have it in hand."
With reporting by Dana Olsen, Bread Loaf School of English.