BOLD Women's Leadership Network Holds Inaugural Summit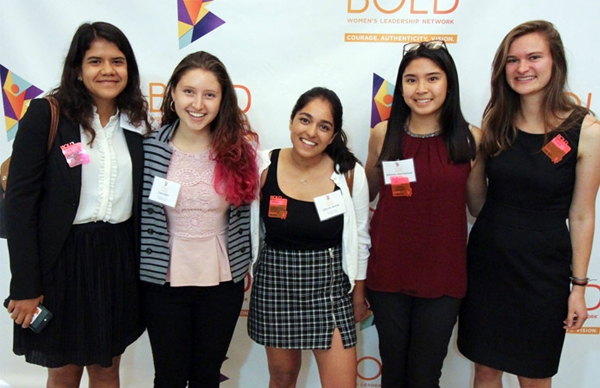 MIDDLEBURY, Vt. – Students and administrators from Middlebury College participated in the inaugural BOLD Women's Leadership Network Summit, "Cultivating Courageous Women's Leadership for Professional and Social Impact," on October 6 at Rutgers University–Newark. The summit drew a diverse, intergenerational group of women thought leaders from across the country who have shown leadership and created change within their fields, especially on issues of equity and inclusion.
"This summit was a critical conversation among women," said Elaine Orozco Hammond, Middlebury site coordinator for the program. "The group that gathered for the summit represented a cadre of inspiring professionals who are breaking the mold of traditional women's leadership, pushing boundaries and achieving uncharted success in transforming our communities and our world."
The summit included students, college presidents, administrators, and faculty; private and public sector leaders; pioneers in the arts and media, health and sciences, and law and policy; entrepreneurs; community activists; and educators of all kinds. Summit participants engaged in conversations about leadership, activism, and social change, centering on the experiences of women.
Featuring interactive panel discussions and small-group dialogues, the event included a panel discussion with presidents of the five women-led BOLD Network partner institutions: Mildred Garcia of California State University, Fullerton; Shirley Collado of Ithaca College; Laurie Patton of Middlebury; Kathleen McCartney of Smith College; and Nancy Cantor of Rutgers University–Newark, which hosted the summit.
BOLD provides scholarships to women students in their junior and senior year, along with a suite of academic and professional development activities. Middlebury announced its first cohort of 10 BOLD scholars in January 2017 and selected a second, five-member cohort (see photo above) in April. The newest cohort includes juniors Laura Castillo, neuroscience; Cece Alter, education studies and American studies; Zahrrah Ahmed, Chinese and political science; MJ Pascual, computer science and psychology double major, education studies minor; and Anna Novak, geography.
As part of their BOLD scholarship, students engage in a "campus transformation project" as a group. Middlebury's first cohort is currently in the beginning stages of their project, which will focus on allocation and access to campus resources to all first-year students. They are meeting with campus administrators to discuss their ideas and will submit a written proposal later this fall to the Pussycat Foundation to receive funding for their work.
For More Information