Middlebury College Looks to Food Waste and Manure as New Energy Source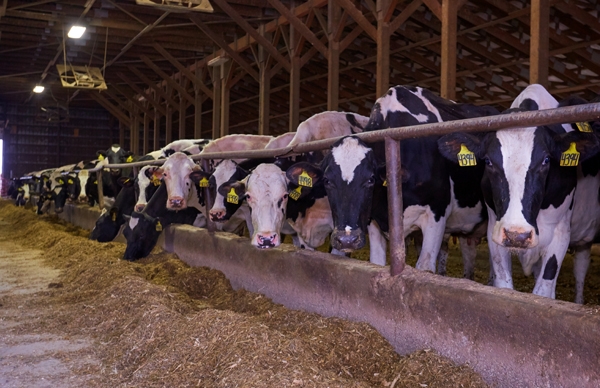 MIDDLEBURY, Vt. – Middlebury College will significantly reduce its carbon footprint thanks to an innovative partnership with Goodrich Family Farm in Salisbury, Vt., Vanguard Renewables of Wellesley, Mass., and Vermont Gas. Representatives from the four organizations involved discussed the partnership at a press briefing on November 16 at the College's Kirk Center.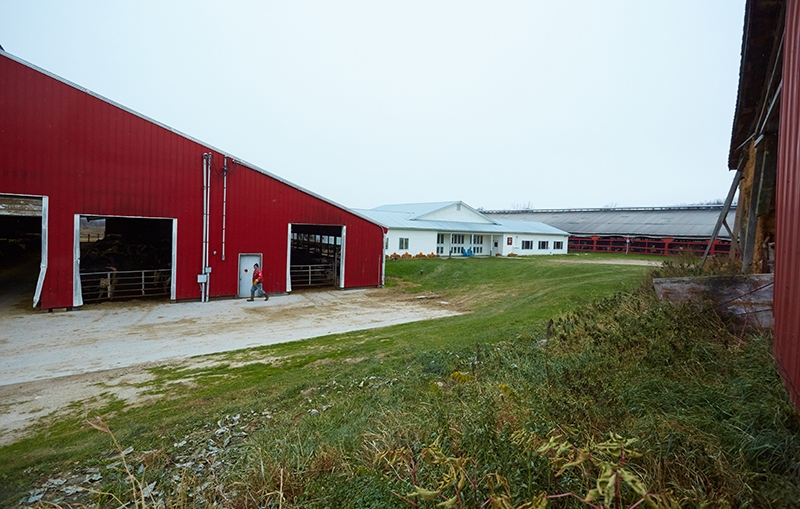 Once it is built, the digester at the Goodrich Family Dairy Farm (pictured above) will produce the largest amount of RNG of any digester in Vermont.
"The digester offers help with many of the challenges we face as farmers," said Chase Goodrich, who is among the fourth generation of his family to operate the farm. "We want to diversify our income sources and find new ways to be environmentally friendly. Here in the Champlain Valley, we're particularly aware of efforts to reduce phosphorus runoff into Lake Champlain."
The digester project is currently in the permitting phase. Once permits are in place, Vanguard will begin construction on the digester and Vermont Gas will start work on a 5-mile pipeline along Shard Villa Road that connects the farm with the company's pipeline network in Addison County.
The Goodrich Family Farm anaerobic digester will produce the largest amount of energy or RNG of any digester in Vermont. It will process 100 tons of manure from the farm and 165 tons of organic food waste per day. Vanguard plans to source the organic food waste from local and Vermont-based food manufacturers including Cabot Creamery.
Vanguard Renewables and Agri-Mark Cabot Creamery Cooperative won the 2016 American Biogas Council Agricultural Project of the Year for the Farm Powered* anaerobic digester project at Barstow's Longview Farm in Hadley, Mass.
The Goodrich Farm digester will produce 140,000 Mcf per year. (A Mcf is 1,000 cubic feet of Renewable Natural Gas.) The College will buy 100,000 Mcf of the gas from Vanguard and Vermont Gas will purchase the remainder.
Once the digester is operating, the College will use oil at its heating plant only as a back-up energy source during extreme cold weather or other emergency situations.
"We're especially excited about this project because it's our first partnership with a college and our first digester in Vermont," said John Hanselman, executive chairman of Vanguard. "Middlebury College, Goodrich Farm, and Vermont Gas are setting a new example that can be replicated across the country."
"We are thrilled to be a part of this unique and innovative project that will deliver a new, local source of renewable energy to Middlebury College and others," said Don Rendall, president and CEO of Vermont Gas. "Vermont Gas is proud to be the first local distribution company in the country to offer the choice of renewable natural gas service to our customers. A local source, hosted by a Vermont family farm, serving a world-renowned Vermont college, is a big step forward in advancing Vermont's clean energy future."
Jack Byrne, director of sustainability integration at the College, noted that the project would also offer valuable academic benefits for Middlebury students and faculty. "This is an important step for Middlebury College from an operational standpoint but it will also offer multiple educational and research opportunities for our students just as our biomass plant has," said Byrne.
*Farm Powered is a trademark of Vanguard Renewables.
About Middlebury College
Farm Benefits
Annual lease payment for land use
Reduced energy costs
Free heat for farm use
Liquid fertilizer to increase crop yields and reduce chemical fertilizer use
Separated solids for animal bedding
Phosphorus reduction
Reduced GHG emissions