Students Spend Winter Break on Silicon Valley 'Tech Trek'
MIDDLEBURY, Vt. – After a weeklong "Tech Trek" to Silicon Valley, 10 Middlebury undergraduates returned to campus for the start of spring semester with a better understanding of what it takes to land a job at Amazon, Facebook, Google, or other high-tech companies.
Organized by the Center for Careers and Internships (CCI), the students were immersed in daily job-shadowing experiences, site visits, reflection dinners, Q&A sessions, and receptions. The fully funded trek during winter recess was aimed at raising the students' awareness of what's needed to succeed in a specific industry, giving them access to leaders in the field, and positioning alumni to be advocates for qualified Middlebury students.
"You hear these stereotypes about liberal arts majors, many of which are untrue, and you become discouraged," said Anthony Turcios '20. "The alumni I worked with on the trek defied those stereotypes. I realized you can be a literary studies major, and if you also have an awesome background in software development, you can feel good about applying for a software engineering position at a place like Google."
Kailash Pandey '19 said the trip is helping him shape his career goals. "I gained an understanding of the tech industry and what it's like to work at these firms. I learned not just the culture; I learned how we can contribute to tech companies with our liberal arts education."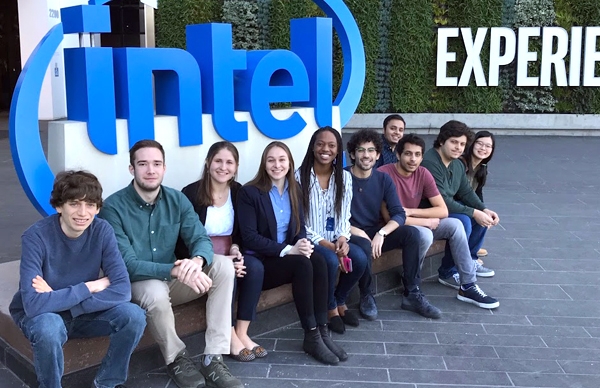 Students on the Tech Trek networked with alumni from several tech giants, including Intel. Pictured l-r are: Nicholas Mosier '20, Campbell Boswell '19, Hannah Green '18.5, Leah Bracken '18.5, Nadani Dixon '20, Tommaso Monaco '20, Joshua Ravishankar '20, Kailash Pandey '19, Anthony Turcios '20, Kristine Su '20.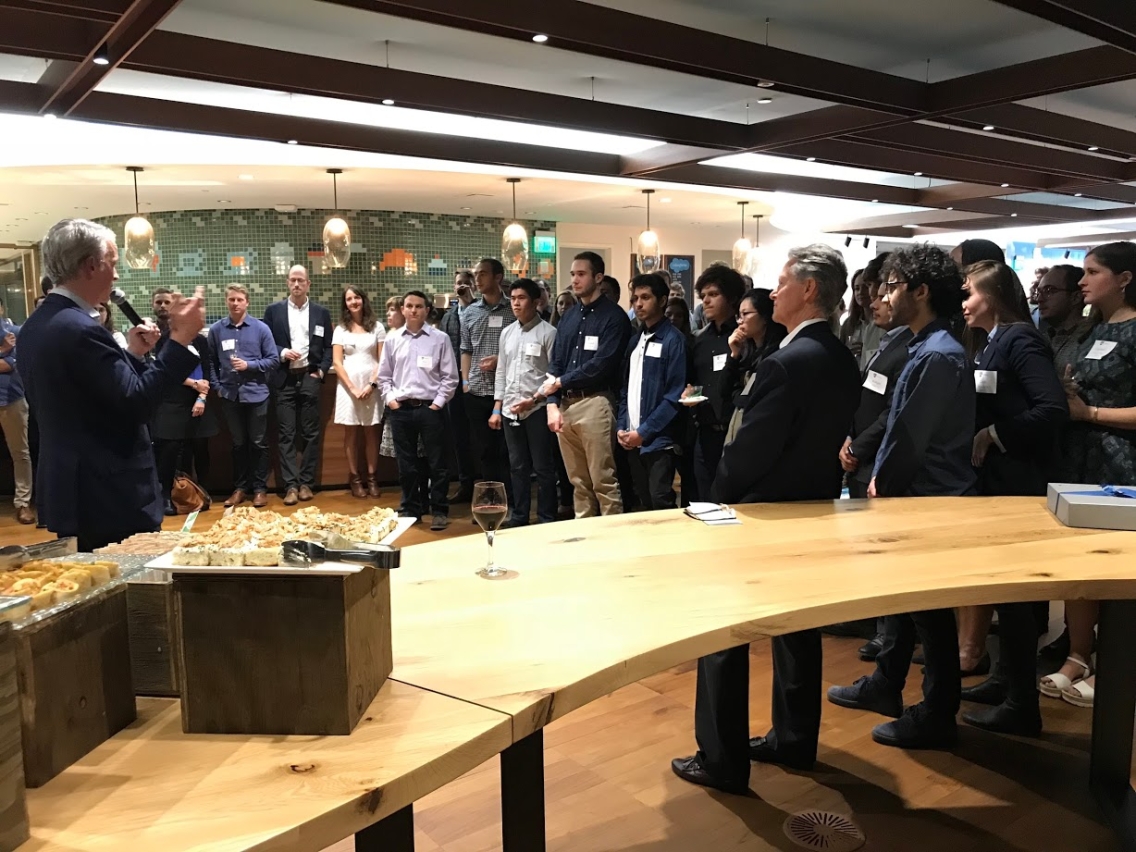 Salesforce cofounder and Middlebury trustee Parker Harris '89 hosted students and dozens of alumni in the technology sector for a reception at Salesforce headquarters in San Francisco.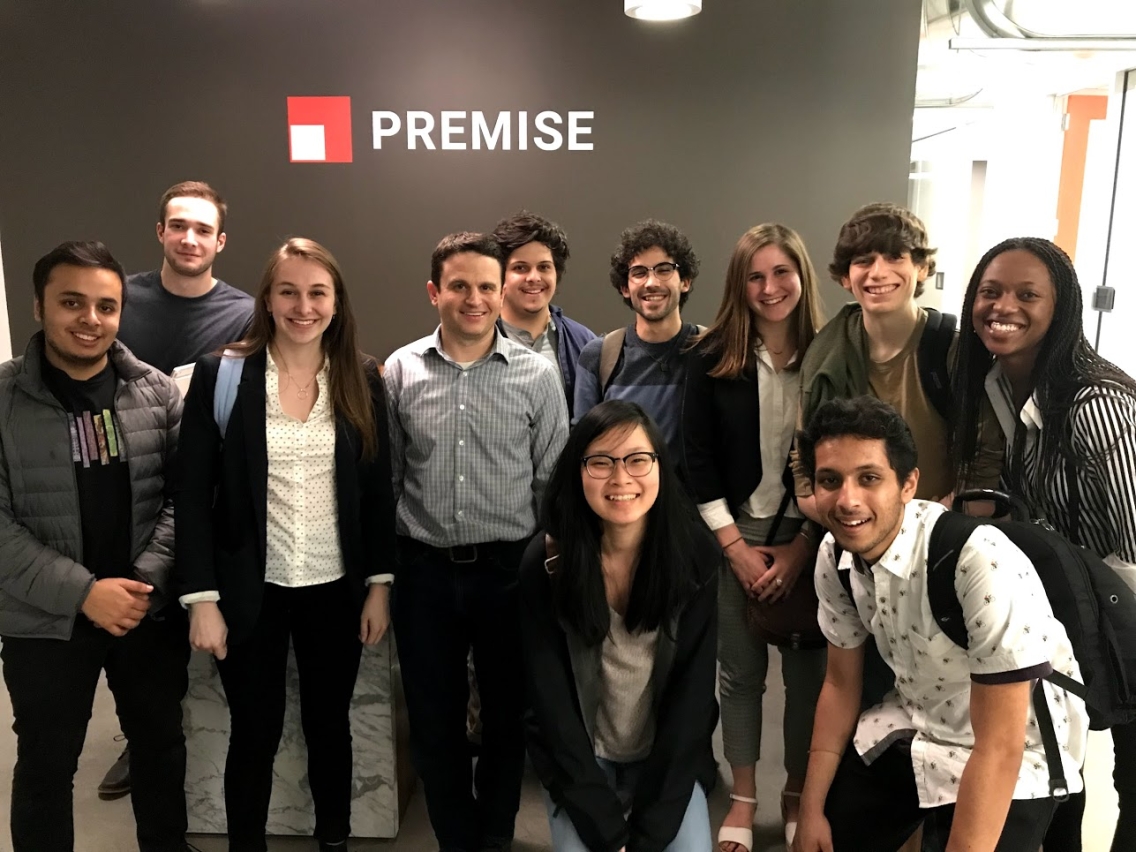 Students also visited with alumni at up-and-coming West Coast firms, including Premise Data.
Students mixed and mingled with alumni at PayPal, Salesforce, Intel, and TriplePoint Capital—in addition to industry giants Amazon, Facebook, and Google—but the week was not just about Fortune 500 companies. The undergrads also shadowed alumni and conversed with employees at up-and-coming West Coast firms like Bugcrowd, TapFwd, ThinkSmart, Premise Data, and LiveRamp.
"I have more drive and passion to continue my studies now because I feel like I know where I am going," said Kristine Su '20. "I learned so much about the tech industry, such as the importance of skills and abilities as opposed to majors and GPAs. This trip has been the highlight of my sophomore year!"
The Tech Trek was CCI's second weeklong immersion experience for undergraduates—a follow-up to last year's Los Angeles Trek into the entertainment industry. The trek model is proving a successful formula for students' career development. Each trek encompasses awareness building, access to employment opportunities, and active advocacy, said Jeff Sawyer, director of employer and professional network development for CCI. Sawyer said CCI works to "get behind the curtain and influence a company's decision-making in a way that's favorable for our students."
And where awareness building and access to opportunities are explicit benefits of a trek, active advocacy—i.e., getting alumni to advocate for Middlebury grads—requires more patience and ingenuity. That's where the Middlebury Professional Network (MPN) comes into play. Each MPN connects alumni who share professional interest to create an "active career support network" that will enhance their own development and leverage employment opportunities for Middlebury students and graduates.
The bonding between students and alumni that took place during the Tech Trek "positions the alumni to advocate for the students because they have gotten to know each other through the shadowing, site visits, dinners, and other activities," Sawyer explains.
Building those budding relationships, Audrey Lynn Nelson '08, a content strategist at Turnitin, met with undergrads at her Oakland headquarters, and Kathryn Benson '13 had a student shadow her at Salesforce in San Francisco, where she works as Quip Customer Success Manager.
"The tech industry is a behemoth that can feel intimidating to an undergrad who isn't quite sure how to find an entry point or a handhold," said Nelson. "By talking to alumni who have taken their own circuitous routes to get where they are today, it allowed students to see that there is more than one way to find success and contentment in tech."
Benson and her visiting student had a conversation about technology and ethics that reminded her "about what the liberal arts does so well, and how it brings a multidisciplinary approach to problem solving with an awareness of responsibility and what it means to be an impactful community member."
Esme Lutz '12 hosted two students at Google's global headquarters in Mountain View, where she is a program manager. "The students were surprised at how much my engineering colleagues focused on teamwork as an important engineering skill," said Lutz. "I think software engineering is often painted as a solo act, but there's a deep culture of sharing ideas and getting feedback or review from the members of your team."
The trek culminated in a tech summit and reception for students and alumni on the 27th floor of a Salesforce building in San Francisco. Hosted by Middlebury trustee (and Salesforce cofounder) Parker Harris III '89, more than 75 Middlebury College and Middlebury Institute graduates currently working in the technology sector attended the event to engage with the students and network with each other.
"Each trek is a beginning," Sawyer explained, "and not an end in itself. For many of these alumni, they realize that they want to be engaged with students and want to get more deeply involved in their Middlebury Professional Network."
The benefit to undergraduates can be immeasurable. As Nicholas Mosier '20 remarked upon his return from Silicon Valley: "When I look back in the future, I honestly feel like the Tech Trek will be the major turning point in my life."
– Photos by Mary Lothrop and Nicole Veilleux; Reporting by Robert Keren