Choir Will Tour Baltic States This Spring
MIDDLEBURY, Vt. – The Middlebury College Choir will tour the Baltic states later this spring for a concert tour of several venues. Under the direction of Jeffrey Buettner, associate professor of music, the students will perform a combination of North American music and traditional music from the countries they visit.
Departing immediately after Commencement, the group will travel for two weeks in the Baltics. In Estonia, the students' itinerary includes Saaremaa Island and Tallinn. In Latvia, they will visit Riga, Rundale, and Gauja National Park. They will wrap up the trip in Lithuania, where they will go to Vilnius and Klaipeda.
"There's a fantastic folk-singing tradition in all three countries," said Buettner. "The folk singing is a unifying cultural idiom. They have national festivals every year in which tens of thousands of people gather from many choirs to sing folk music from different regions of these countries."
Buettner, who tries to take the choir abroad every four years, says the destinations for such trips are determined mostly by student interest. Students are eager to get outside of their comfort zone, he says—perhaps to non-English-speaking countries—and an area of the world that may be new to them. This year, they considered several possible locations before settling on the Baltics. "There's a lot of recent cultural and political history in these countries that the students find interesting," Buettner said.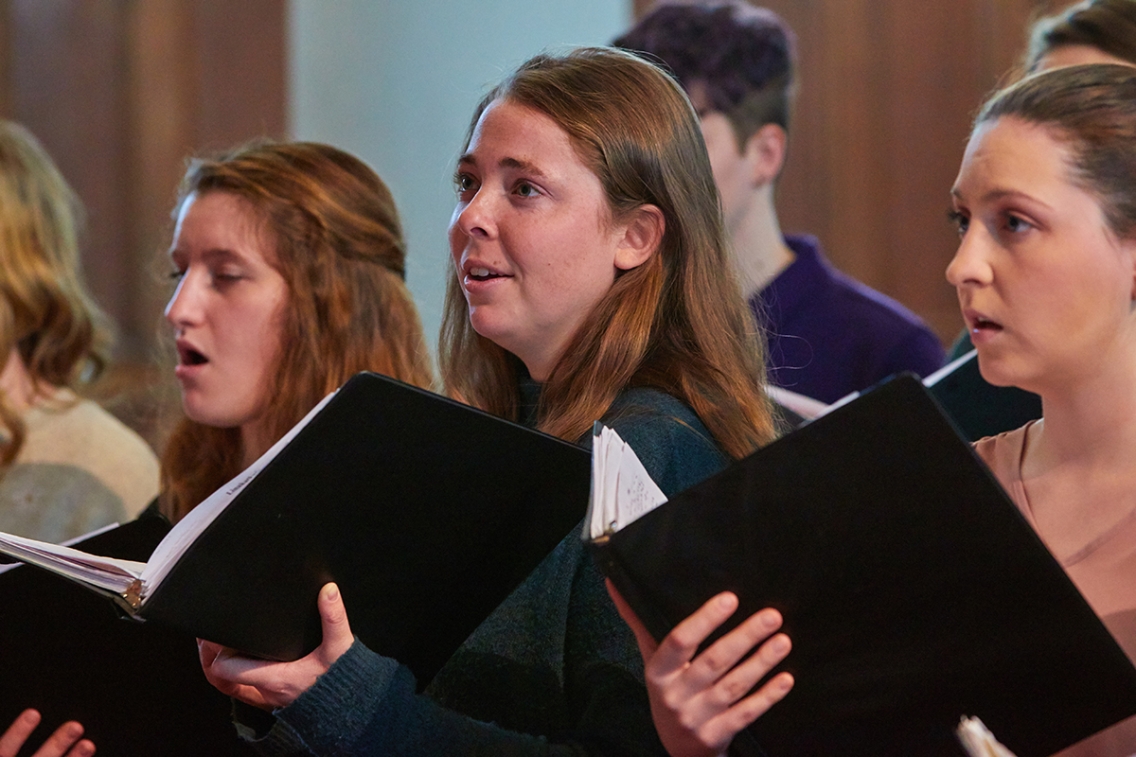 Middlebury College Choir members prepare for their concert tour of the Baltics in May, 2018.
Miranda Seixas, a sophomore from Newbury Park, Calif., says learning the tour music has been a wonderful new experience. "Because it's folk music, it uses a very different tone than the classical music that we often sing in choir," said Seixas. "It's been really neat to hear the choir come up with a different sound."
For most of the singers, the songs from Lithuania, Latvia, and Estonia present not just new musical styles but also languages they've never spoken. "Vocal music is indelibly colored by the language," said Buettner. "So the first thing we studied was pronunciation of the languages we're singing."
Additionally, Buettner set up a workshop with two musicians familiar with the distinctive musical styles of the Baltics. The coaches helped the students learn to express the music in a more authentic way, capturing the more relaxed styles of the folk tradition.
"I think it's loosened up our choir a bit!" said Seixas.
Spencer Royston, a first-year student from Chelmsford, Mass., notes that the Baltic music feels more social in nature. He says the feeling he gets from it is "a sense of music not as performance, but as identity. The Estonian and Lithuanian composers are all about the community of singing rather than the technicality."
Royston is thrilled at the opportunity to head out on this adventure at the end of his first year. "Who would have thought I'd have the chance to travel with the choir to someplace I've never been and would otherwise never go to?"