College Marks 25 Years of Public Service Leadership Awards Program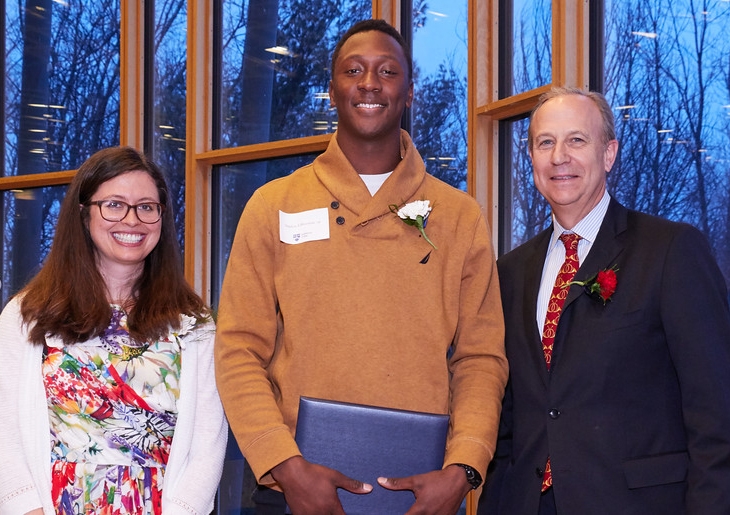 Click to View the Slide Show
[view:embed_content==572813]
MIDDLEBURY, Vt. – Middlebury President Laurie L. Patton, speaking at the 25th annual Public Service Leadership Awards dinner on April 19, said, "The thing that makes community engagement magical is the ongoing discovery of common purpose. It is the most joyful thing we can do as human beings."
Standing before a gathering of students, staff, and community leaders committed to public service, the president continued, "One of my intellectual and spiritual mentors, the civil-rights writer and theologian Howard Thurman, spoke about leadership as standing at the growing edge. And the growing edge today is inequality, it's climate change, and it's not knowing how we are going to live in such polarized times. All of you are standing and leading at the growing edge today."
The annual presentation of awards honoring undergraduates for their generous and inspiring community service was preceded by remarks from President Patton and from Patrick Durkin '79, one of the founders of the Public Service Leadership Awards and its principal benefactor; Heidi Sulis, executive director of Middlebury's Open Door Clinic; and Cinda Scott '99, director of the Center for Tropical Island Biodiversity Studies.
Durkin, the managing director of Atlas Merchant Capital, a private equity firm, spoke after Patton and said, "Laurie, I am your biggest fan out there! Thank you for grasping the importance of public service leadership and making it part of the current and future Middlebury."
"When I was a student at Middlebury," he added, "there was a big hole, and the hole was student engagement with the community. Back then, it was really hard to find something to do and only about 15 percent of the students engaged in service. The Middlebury River [i.e., Otter Creek] was a moat between the town and the College, and it felt that way."
Together with former President John M. McCardell Jr. and his wife, Bonnie McCardell (who was a special guest at the 25th anniversary dinner), Durkin recalled: "We saw that the College was recognizing students for academics, athletics, and performing arts, but not for extraordinary service. So we started to celebrate student service to the community, and that's how this event got started 25 years ago."
He concluded: "There is nothing better in life than the joy of helping another person… . All of the work you do is not only a statement about your own purpose here; it is also a statement about the character of this College" where three-quarters of the student body is engaged in community service.
The annual event also serves as an opportunity to salute the College's dedicated community partners, from the Charter House Coalition (which provides basic food and housing to families in need) to WomenSafe to the public schools and childcare centers. Representing the Center for Community Engagement's partners, Heidi Sulis of the Open Door Clinic said, "Volunteers are the cornerstone of our operation, and Middlebury College students serve our clients as medical interpreters or as bilingual administrative support staff. You play an integral role in serving our Spanish-speaking patients by allowing us to deliver care with cultural and linguistic competence."
Alumna Cinda Scott offered heartfelt remarks about her own experiences as a volunteer with the Community Friends program 20 years ago. "I connected with my six-year-old friend on so many levels. And though I was not adopted as she was, my hometown in Lexington, Massachusetts, was a tough place to be a black kid, and at times it was even tougher to understand my blackness. By being a role model and showing my community friend that she too could embrace her blackness and be proud of it, I hoped to show her that it could be okay."
To the Middlebury students in the audience who are considering a variety of career paths, Scott added: "I encourage you to use community engagement to find your passion. When you engage with others, when you truly listen to the people you serve, amazing connections are made. Teach. Learn. Understand that you are no different than anyone else… . Connections with people are paramount; they are what shapes our humanity."
Award Recipients
- The John M. McCardell Jr. Public Service Leadership Award was presented by Bonnie McCardell to Dan Adamek '18 for his service to John Graham Housing and Services in Vergennes. As a member of the board of directors and finance committee, Adamek helped raise $40,000 through the organization's annual sleep-outside fundraiser.
- The Bonnie McCardell Public Service Leadership Award was presented by its namesake to Elissa Denunzio '18 for engaging youth through her volunteerism with Community Friends and with elementary schools in Middlebury and Weybridge.
- The Dana Morosini Reeve '84 Memorial Public Service Award was presented by Will Reeve '14 to Marie Vasitas '18 for her service to the Open Door Clinic and as an EMT with Middlebury Regional Emergency Medical Services. She also translated stories told by Vermont migrant workers, published them in comic-book form, and shared them among the migrant community.
In addition, six Middlebury College Public Service Leadership Awards were conferred at the 25th anniversary dinner to the following:
- Jin Sohn '18 in recognition of her four years of involvement with the Student Government Association and her service to HOPE and the Service Cluster Board;
- Sarah Karerat '18 as one of the founders of JusTalks, as director of a new version of the play The Vagina Monologues by Eve Ensler '75, and as a volunteer with WomenSafe;
- Zach Berzolla '18 for his leadership in developing a zero-energy design for Mary Hogan Elementary School that won first place in the Department of Energy's "Race to Zero" energy-efficiency design competition;
- Thi Hoang '20 for her work with the Language in Motion program at Middlebury and her commitment to spending time with public school students across Addison County;
- Steve Bissainthe '18, a cadet in the Reserve Officers' Training Corps at the University of Vermont, for his service to the Mary Johnson Children's Center in Middlebury and in elementary schools across the county; and
- Margaret Weber '18 as president and cofounder of Middlebury First Responders, as a volunteer with Middlebury Regional Emergency Medical Services, with Community Friends, and with the Open Door Clinic.
The nine honorees received $300 each to donate to a nonprofit of their choice. The director of the Center for Community Engagement, Tiffany Nourse Sargent '79, called it both "humbling and renewing" to be among such inspiring students, alumni, community partners, and staff colleagues who exemplify the ethos of volunteerism at Middlebury College.
– With photos by Todd Balfour; reporting by Robert Keren
For More Information