Journalist Jane Lindholm Discusses "Objectivity in the Fake News Era"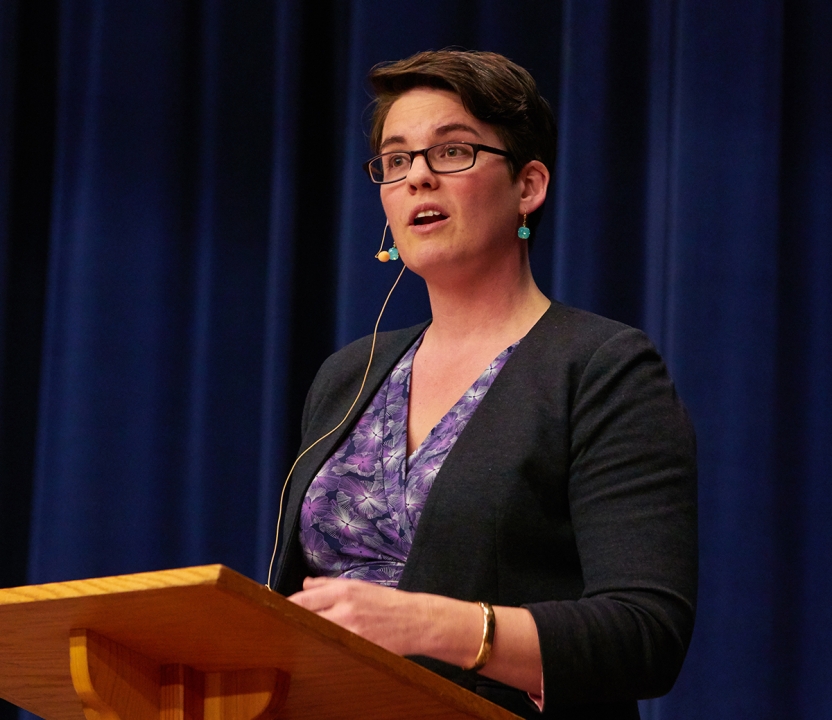 MIDDLEBURY, Vt. – Vermont Public Radio (VPR) host Jane Lindholm pushed back against the idea of "fake news" and offered ways for consumers to ensure the news they are getting is accurate, and ways for news organizations to safeguard that their reporting is fair and correct.
An award-winning journalist with 15 years of public-broadcasting experience, Lindholm addressed more than 100 students, faculty, staff, and community members on April 16 for the Robert W. van de Velde Jr. Memorial Lectureship. Her talk was titled "Objectivity in the Fake News Era."
While acknowledging that public figures "have always railed against reporting that doesn't paint them in a good light," the current tendency to "discredit news organizations or the entire news industry has now reached a fever pitch," said Lindholm. "Stories are not fake news just because people don't like them."
Lindholm cited an example of Senator Bernie Sanders and his years-long refusal to grant an interview to the Vermont weekly newspaper Seven Days. "It is not a politician's job to decide what is or is not worthy of news coverage," she insisted. "I know that reporters are doing serious and important work to shine a light on issues that are not getting a lot of coverage." For example, VPR has broadcast stories about migrant workers who don't have documentation, how federal milk pricing affects Vermont farmers, and whether policy changes can reduce the widespread misuse of opioids.
A VPR host and producer since 2007, Lindholm advises news consumers to look to the source and ask themselves whether an article posted on the Internet is trustworthy. "Seeing one dodgy headline on Facebook is probably not the best way to stay informed, and yet it resonates with people. We have real news being called fake, and fake news being called real."
Another issue is how "we have elevated our late-night comedy hosts to news-anchor status. These packages, like The Daily Show hosted by Trevor Noah, do purport to tell you the news even as they skewer it. But they don't just skewer; they skew. You can hear them say 'and this is true' when the absurd thing they are about to say is actually 100 percent factual. [They say it] because the assumption should be that the rest of what they have to say is a joke or a half-truth."
Lindholm analyzed how The Daily Show covered a recent pro-gun rally and said the program on the Comedy Central channel "does not have an obligation to present the news accurately." The rally itself was newsworthy and needed to be covered, she said, but some people only see The Daily Show's coverage of the event, and as a result are getting a skewed version of the facts.
"The Daily Show is not a news program and it does not want to be beholden to the same ethics and practices that news organizations are, nor should it be. But if that's how Americans are getting their news, then we have a problem."
The guest speaker also pointed to the April 3 shooting at YouTube headquarters where, she said, journalists tweeted inaccurate information about the unfolding event. "Anything you read on Twitter in a breaking-news situation should be considered unverified," she advised.
"Who can keep up with the facts?" Lindhom asked. "How can consumers know what's real and what's fake? Who has the time to sort through it all?" In her response, the 2001 Harvard graduate said: "This is a perilous and an incredibly important moment for journalism. We need good reporting and good reporters. And we need people to be reading and listening and keeping themselves informed.
"As audiences turn away from journalism and distrust of the media continues to grow, and as Americans turn more and more to the sources that validate their already-held opinions, it is more important than ever to have the facts. To have more intelligent analysis. To have reporters who are digging and picking at threads and speaking truth to power."
Lindholm also had some advice for news organizations, especially in light of a recent study by the Poynter Institute for Media Studies showing that 44 percent of Americans think the media is making up stories about President Donald J. Trump.
News organizations need to "buckle down and do the hard work of reporting," and they need to "do better" in terms of their ethnic, racial, geographic, political, and ideological diversity. "It is critically important for news organizations to offer different perspectives, and we can't do that if we don't have more points of view represented in the newsroom," she asserted.
The Robert W. van de Velde Jr. Memorial Lecture Series is supported by the van de Velde family. Recent speakers include Joe Klein of Time magazine, Bob Herbert and Rachel Donadio of the New York Times, David Wessel of the Wall Street Journal, and Jonathan Alter of Newsweek.