Middlebury President Laurie Patton Elected to American Academy of Arts and Sciences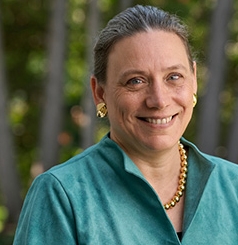 "Membership in the academy is not only an honor, but also an opportunity and a responsibility," said Jonathan Fanton, president of the American Academy. "Members can be inspired and engaged by connecting with one another and through academy projects dedicated to the common good. The intellect, creativity, and commitment of the 2018 Class will enrich the work of the academy and the world in which we live."
The academy's projects and publications generate ideas and offer recommendations to advance the public good in the arts, citizenship, education, energy, government, the humanities, international relations, science, and more.
"This class of 2018 is a testament to the academy's ability to both uphold our 238-year commitment to honor exceptional individuals and to recognize new expertise," said Nancy C. Andrews, the Chair of the Board of the American Academy. "John Adams, James Bowdoin, and other founders did not imagine climatology, econometrics, gene regulation, nanostructures, or Netflix. They did, however, have a vision that the academy would be dedicated to new knowledge–and these new members help us achieve that goal."
The new class will be inducted at a ceremony in October 2018 in Cambridge, Massachusetts, at which the newly elected members will sign the Book of Members, and their signatures will be added to the academy members who came before them, including Benjamin Franklin (1781) and Alexander Hamilton (elected 1791) in the eighteenth century; Ralph Waldo Emerson, (1864), Maria Mitchell (1848), and Charles Darwin (1874) in the nineteenth; and Albert Einstein (1924), Robert Frost (1931), Margaret Mead (1948), Milton Friedman (1959), and Martin Luther King, Jr. (1966) in the twentieth.