Street Artists Discuss the Power of Art to Build Community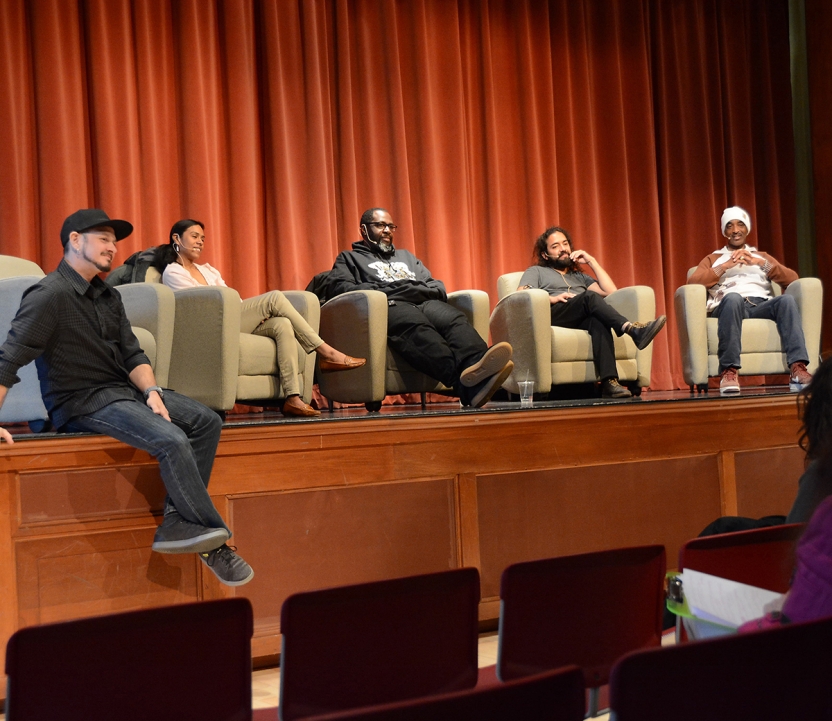 MIDDLEBURY, Vt. – Five street artists hailing from cities located between Vermont and Mexico came together on April 10 at the McCullough Student Center for a conversation about how murals can build communities.
The discussion was particularly relevant since four of the artists—Will Kasso Condry, Isaias Crow, Daniel "Pose 2" Hopkins, and Marthalicia Matarrita—were in the midst of a weeklong residency at Middlebury College to conduct hands-on painting workshops and create a new mural inside the student center.
The fifth street artist on the panel, Scottie Raymond of Burlington, Vermont, moderated the event in Wilson Hall and delivered on his promise that the conversation would be "both enlightening and highly entertaining."
For Hopkins, who was born in the Bronx and originally signed his work with the tag "Pose 2," street art serves to uplift the human spirit.
"Through this vehicle of making art, we have been gifted with the opportunity to connect with others on a really human level," he said. "Making art humbles me and it makes me a more grateful person. It also makes me want to keep making art. We are attempting to bring more beauty to the world, but what we are really doing is showing you that you are just as beautiful, and it's up to you to shine your gifts upon the world."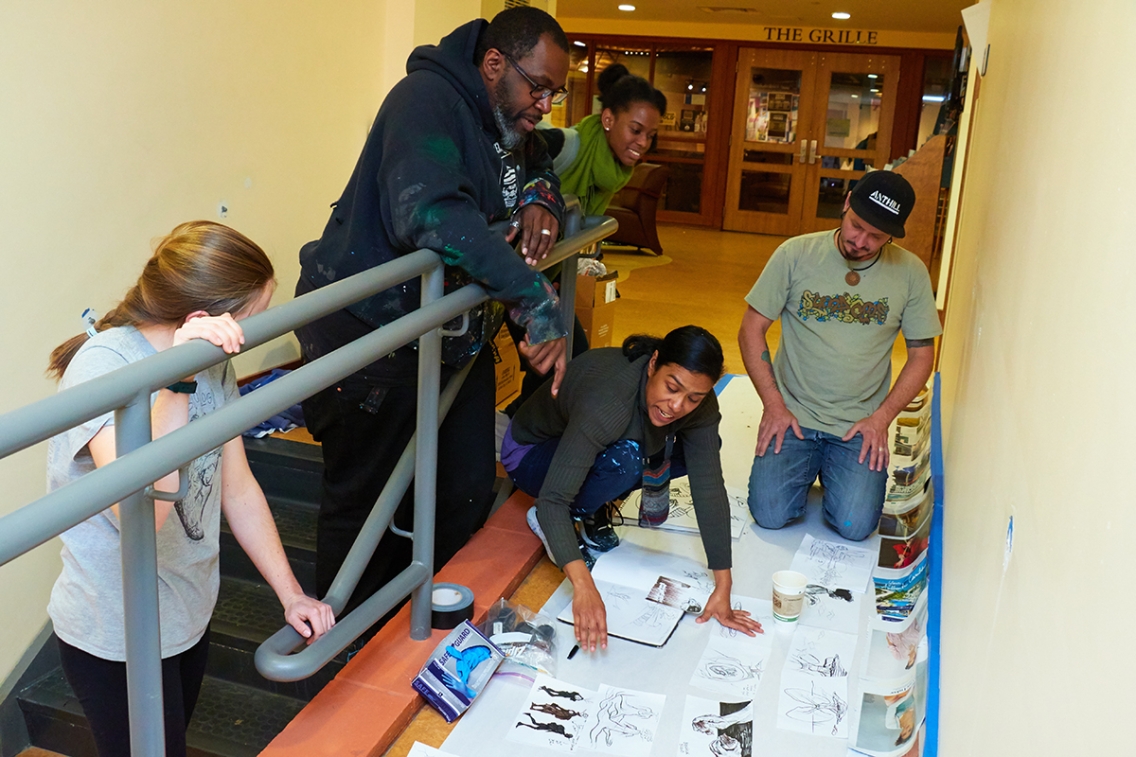 Marthalicia Matarrita, a professional artist from Harlem, helps plan out a mural to be painted on the walls in McCullough Student Center.
Hopkins, who has traveled the globe making art, talked about one project in Pakistan where no one from the neighborhood came around on day one to meet the artists. "I need connections with the community to make art, but the connections weren't there. But pretty soon children started showing up, then more children showed up, and they wanted to help us, so we made that essential connection through the children."
The artist known as "KASSO," who was a Twilight Artist in Residence at Middlebury during the 2016–17 academic year, has been a driving force behind the surge of interest in street art at the College. Seated in the middle of the panel, he said he always looks for something familiar when he comes into a new community, but he also understands that his perspective on the world might not be immediately accepted by everyone.
"If I am doing something that you don't understand, then I say, 'Let's talk about it,' because I am always open to learning something new and taking away something positive from it."
The Trenton, New Jersey, native explained, "Where I grew up, everybody was already separated because the whole community was bombed out. So instead of dividing people further, I used my art to bring people together and bring [in] other artists of like minds so we could all keep creating more art. The energy of it and the responses we got from the community and the conversations that would come up from it—that's what became the motivation."
Matarrita, who was born and raised in Harlem, said she felt pressure from an early age to be a doctor or a lawyer, but her spirit always "wanted to play with colors and crayons. How this all leads to community was a beautiful transition, but in the process, there was a lot of resistance. I had to prove that the value of creating art had meaning, and it was not enough to just say it. I had to bring it to the masses."
The artist reflected: "Creating art not only helped ground me in this world, it documented the multitude of people of various colors who felt the same way I did, and that gave me the profound feeling that there was a need for my art. The responses that I received—'Oh, you're going to make another one? Can we help? Can we participate too?—it was beautiful and inspiring and it came from their soul.
"I am here today to echo that same energy, that need to respond back to the countless number of artists who wanted to draw with crayons and not be a lawyer."
The fourth artist on the panel, Gibran Isaias Lopez, grew up on the border between El Paso, Texas, and Ciudad Juárez, Mexico, and his work often touches upon those "positive unseen forces that derive from the spirit realm." He took the name "Isaias Crow" because it represents the working relationship between himself ("Isaias") and his spirit guide ("Crow").
The muralist, author, and workshop facilitator said he was inspired to paint by his father, "who drew beautiful abstract works" but also had a severe alcohol problem. "One day I asked Dad, 'Why did you stop painting?' and he told me, 'I can't afford it. I have a big family. I gotta work.' That's when I decided to be an artist. Nothing would get in my way."
Working on the mural in McCullough alongside fellow street artists and Middlebury students has energized Crow and reinforced in him "that great feeling of being amplified. That sense that we are all creators in this space."
The Middlebury mural project and accompanying panel discussion was sponsored by the Center for the Comparative Study of Race and Ethnicity, Anderson Freeman Resource Center, Student Activities, Director of the Arts, Johnson Visual Arts Residency Program Fund, Wonnacott Commons, and Twilight Scholars Program.
Story and panel photo by Robert Keren. Inset photo by Todd Balfour.