Student Team Wins Department of Energy Competition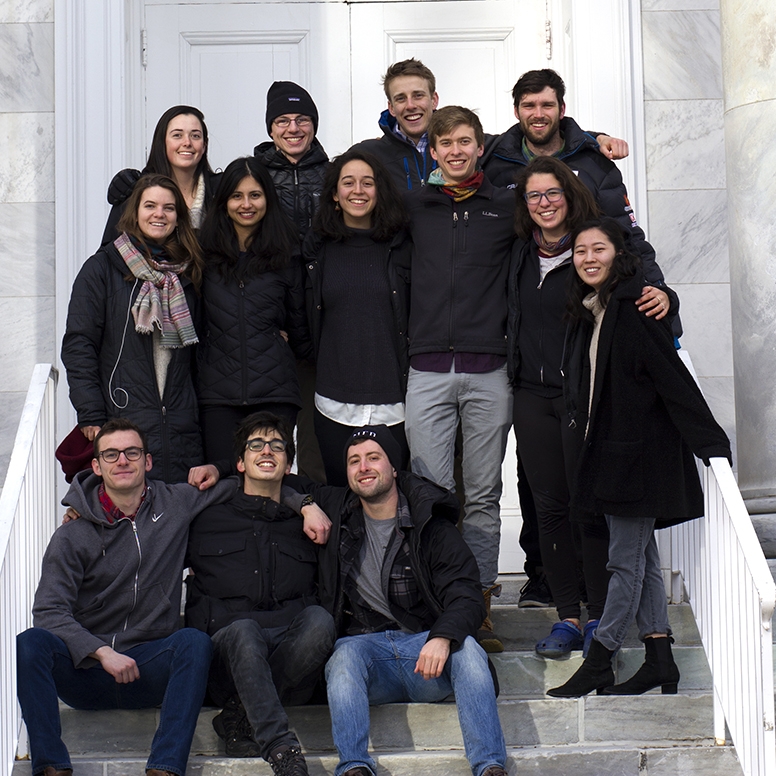 The event took place April 20–22 at the DOE's National Renewable Energy Lab in Golden, Colo., where the Middlebury team and other finalists in the category of school design presented their projects to a panel of judges. The winning plan for a 100 percent renewably powered school was the work of all the students in the January term class Zero-Energy School Design, led by Zach Berzolla '18. This year's competition was the first to feature a contest for elementary school design, in addition to four residential building categories.
"Our project's focus on visible engineering, design details, and collaborative learning helped set us apart from the other teams," said Berzolla. "The jury really appreciated that we exposed all of our mechanical systems so students can see them every day and understand how their school building works. The jury also liked how our building was designed with corrugated steel cladding to fit in with the barns and grain silos commonly found around Vermont.
"This win is a testament to the hard work, perseverance, and interdisciplinary collaboration of our team," added Berzolla. "We have spent many long hours meeting with industry advisors and striving to create the most engaging and affordable zero-energy school possible, and I am immensely proud of what we were able to accomplish."
"Because the project was entirely student-designed and driven, they were deeply invested in the outcome, not in pursuit of a grade, but in pursuit of producing something unique and creative," said Will Amidon, assistant professor of geology and the team's faculty advisor.
According to Amidon, "Zach is a truly remarkable leader who envisioned the project, assembled the team, and helped to guide their efforts across the finish line. It is rare to see this mixture of vision, leadership, and execution in an undergraduate, especially given the complex array of factors that needed to come together to win this competition."
The Middlebury students competed against a number of teams, including Virginia Polytechnic Institute, Georgia Institute of Technology, and other graduate institutions with dedicated engineering and architecture programs. Some schools had spent more than a year on their designs. A list of the winning teams is here.
Middlebury's team members represented a variety of majors across the liberal arts, from architecture, physics, and English to studio art, computer science, and environmental studies. Berzolla noted that each student was able to contribute individual expertise to help shape the plan. "This really paid off as we were able to elaborate on details such as a fun interior design and kid-engaging energy displays that made a strong case for our project," he said.
The team's extracurricular experiences contributed to the design as well. One student serves as a Middlebury volunteer firefighter, and he helped ensure that the design met the relevant fire and other building codes. Another student who had worked for a solar design firm one summer created the photovoltaic array that would power the building.
"Meeting and befriending other teams from across the world was inspiring," said team member Alex Browne '18. "It is uplifting to see so many young professionals passionate about redesigning our world's buildings for a sustainable future. If we are to achieve this goal, it will have to begin with a radical revamping of all modern building construction."
Back in Vermont, the team has engaged with the local and state community. A presentation of the design took place at Middlebury Town Meeting last month and will be part of an upcoming Addison Central School District (ACSD) school board report on the future of Middlebury Union Middle School.
For Jack Byrne, Middlebury's director of sustainability integration, the team's win has been gratifying. When he heard about the DOE's Race to Zero competition, Byrne encouraged Berzolla to think about applying. "If the present is created by the stories we are telling about the future, this motivated and inspired group of Middlebury students have given us a very proud moment—and a very hopeful future," said Byrne.
Middlebury's Race to Zero team included the following: Zach Berzolla '18 served as project manager. Architecture: Olivia Ryder '18, Emma McDonagh '19, Elliot Friedman '18, Jack Allnutt '20, Priyanjali Sinha '18, Evan Weinman '18. Energy modeling: Amanda Kirkeby '19. Financial analysis/envelope design: Max Lutzius '20. Interior design: Gigi Miller '18, Jessica Saunders '20, Thomas Wentworth '18, and Maria Abragan '18. HVAC systems: Ben Belinski '18 and Bennett Dougherty '18. Building code compliance: Alex Browne '18. Deliverables: Katie Aman '19. Story: Ry Storey-Fisher '18. Additional team members included Colleen Gair '19.5, Karen Kobayashi '18, and Meagan Tan '22.