Students Present Academic and Creative Works at Spring Symposium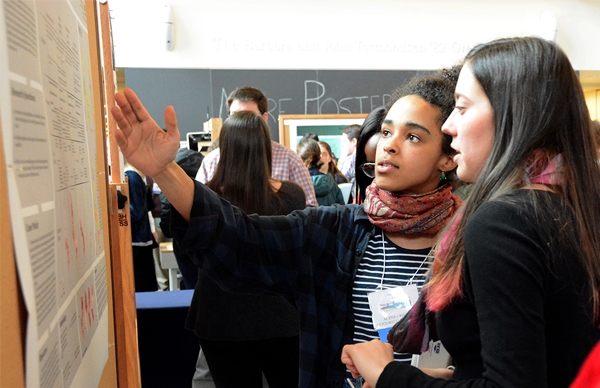 Slide Show
[view:embed_content==572330]
MIDDLEBURY, Vt. – Middlebury students gave oral presentations, created gallery exhibits, and explained their independent research through posters at the annual Spring Student Symposium at McCardell Bicentennial Hall on Friday, April 20. The annual festival of independent undergraduate research drew students out of their labs and classrooms to share their work with the campus community and general public.
President Laurie Patton welcomed the student presenters, faculty mentors, and friends to the Great Hall and thanked the many committee members and support staff who helped organize the event. Patton noted the remarkable growth of the symposium from its founding in 2006 with 60 participants to its current size of more than 300 student participants across all academic disciplines.
"In presentations, poster sessions, performances, panels, and readings, students are sharing their intellectual passions and discovering what inspires their classmates," Patton said.
At 9 a.m., the crowd quickly dispersed to classrooms and lecture halls for the first session of oral presentations. Each session was moderated by a faculty member, who held the speakers to a strict 15-minute limit, including a question and answer period. A timekeeper in each room held up brightly colored numbers to let students know how many minutes remained.
Symposium organizers look for commonalities among the vast array of research projects and develop themes for each of the hour and fifteen-minute oral presentation sessions. The academic disciplines within each session can range widely.
A session moderated by Professor Will Nash, for example, was titled "Express Yourself." One student speaker talked about her research on changing practices of texting abbreviations, while another spoke about healing and the black music tradition. A third explored the adaptation of Italian language and dialects as identity and the fourth student spoke on philosophy and ethics.
The symposium featured two poster sessions—mid-morning and mid-afternoon—when the crowds converged on the Great Hall to speak with students about their research, which were interpreted on large posters. In addition to the activities at Bicentennial Hall, more than 50 students participated in art exhibits at Johnson Memorial Building. The six exhibits included Senior Independent Study Studio Class, Oil Painting and Ceramics, Advanced Drawing, "Pictures in Space", Photography NOW, and Intaglio Prints.
"The spring student symposium is a fabulous opportunity for the Middlebury community to learn about the projects, thesis topics, research, and creative works our students pursue," said Lisa Gates, associate dean of research and fellowships and co-chair of the symposium committee. "I was also really pleased to see so many projects supported by the undergraduate research office this past year and what a difference that research support makes."
A full list of presenters with short descriptions of their projects is available here
Reporting by Stephen Diehl; Photos by Robert Keren