Language Schools Conclude 104th Summer at Commencement (video)
MIDDLEBURY, Vt. — The Middlebury Language Schools conferred 114 Master of Arts degrees and three Doctor of Modern Languages degrees at the Language Schools Commencement on Friday, August 17, at the Mahaney Center for the Arts.
Middlebury's 104th consecutive summer of intensive language instruction drew to a close as the degree candidates, dressed in cap in gown, processed into Robison Hall led by marshals Cecilia Chang and Kazumi Hatasa, the directors of the Chinese and Japanese schools, respectively.
President Laurie L. Patton, Dean of Language Schools Stephen B. Snyder, and guest speaker Rachel Donadio addressed the degree candidates, prior to the awarding of their academic degrees.
The president saluted the soon-to-be graduates for their adherence to Middlebury's Language Pledge during summers in the Language Schools. "You have been thinking and dreaming and planning and joking and arguing and persuading and dancing and running and signing and playing and hoping in another language—a language other than English.
"You have succeeded in achieving what you might have feared at times was impossible when you first began this journey with your new nourishing mother [i.e. alma mater] and your new Language Schools fellow travelers. With your cohort, because and through each other, you have changed… And what is at the heart of your change? I believe it is the Language Pledge and its power, the power of association."
The 2018 graduates of the Language Schools will go out into the world and "create new communities, literally new forms of association, in helping other people remember. Your work in languages is the work of healing that the world needs most today," Patton concluded.
Dean Snyder said Commencement is a special occasion "to honor the efforts and achievements" of the graduates. "You have made the commitment necessary to attain advanced language fluency and cultural understanding in your area of study, and beyond that you have begun creating the knowledge in your chosen field that will nourish and support the next generation of learners.
"We believe that your deep knowledge of other languages and peoples will allow you to lead in a more intelligent, open-minded, and humane fashion than would be possible without that knowledge," the dean said. "We are deeply honored to have accompanied you on this journey and enormously proud of your achievements."
Rachel Donadio, center, accepted an Honorary Doctor of Letters from President Laurie Patton and Trustee Russell Leng '60.
The afternoon's third and final speaker, Rachel Donadio, grew up in Middlebury and attended the School of French in her teens. Now a Paris-based writer and European correspondent for The Atlantic after serving 13 years on the editorial staff of the New York Times, Donadio dedicated her remarks to the late Huguette Knox, who taught French at Middlebury for 35 years.
That Madame Knox and her family lived in Vermont but spoke French all the time "was something exotic and enticing" to the teenage Donadio. "It seemed to give them access to worlds far beyond Middlebury." And by the end of that summer, after many hours "in total concentration" in the language lab, and with no distractions and no Internet, Donadio too could speak French. "I went back to high school and felt different, as if I had access to something that eluded others. It was empowering and isolating, as knowledge can often be," she said.
"Knowing many languages means the possibility of having many linguistic and even spiritual homes. It's not the easy path and it can be quite confusing at times, but the rewards are very rich, as you language graduates and scholars know."
Donadio lamented that U.S. enrollments in modern-language courses have been declining for years, and she catalogued reasons why it's critical for Americans to understand other languages and cultures, including: "If the postwar order as we know it is unraveling, then learning a language, today more than ever, is an act of resistance against isolationism. If current developments are pushing the U.S. farther and farther away from meaningful links with the rest of the world," she declared looking out at the graduates, "then it's up to all of you to push back against that, to do your own personal diplomacy."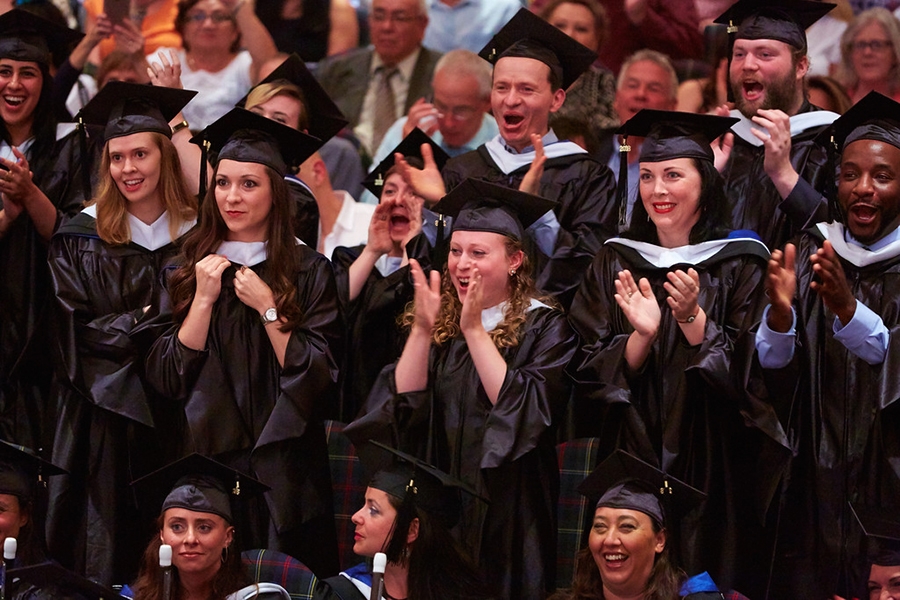 Language Schools students cheer each other on during their Commencement at Robison Concert Hall in the Mahaney Center for the Arts. (Click on photos to enlarge.)
Following a musical interlude—one of five performed by Language Schools students and members of the local community during the ceremony—the president, dean, and directors of the Language Schools conferred Master of Arts degrees to candidates in Chinese, French, German, Hebrew, Russian, and Spanish. (The MAs in Arabic and Italian had been awarded previously on August 9 at the Language Schools' West Coast campus at Mills College in Oakland.)
Middlebury also conferred Doctor of Modern Languages degrees to the three candidates who combined their graduate-level proficiency in two foreign languages with a mastery of the literature, linguistics, and culture associated with both languages.
Trustee and Professor Emeritus Russell Leng '60 conferred an Honorary Doctor of Letters to the Commencement speaker, Ms. Donadio, in recognition of her journalism here and abroad.
The ceremony concluded with a salute to Kazumi Hatasa, who is stepping down after 15 years as director of the School of Japanese. Said Dean Snyder, "Kazumi expanded the scope of the Japanese curriculum by recognizing that it should reflect the diversity of today's multicultural and technologized society." He also made the school "a place of excitement, a nexus of intellectual vibrancy, and an environment for learning Japanese that is second to none."
— Photography by Todd Balfour
For More Information