College Celebrates Faculty and Staff Articles and Creative Works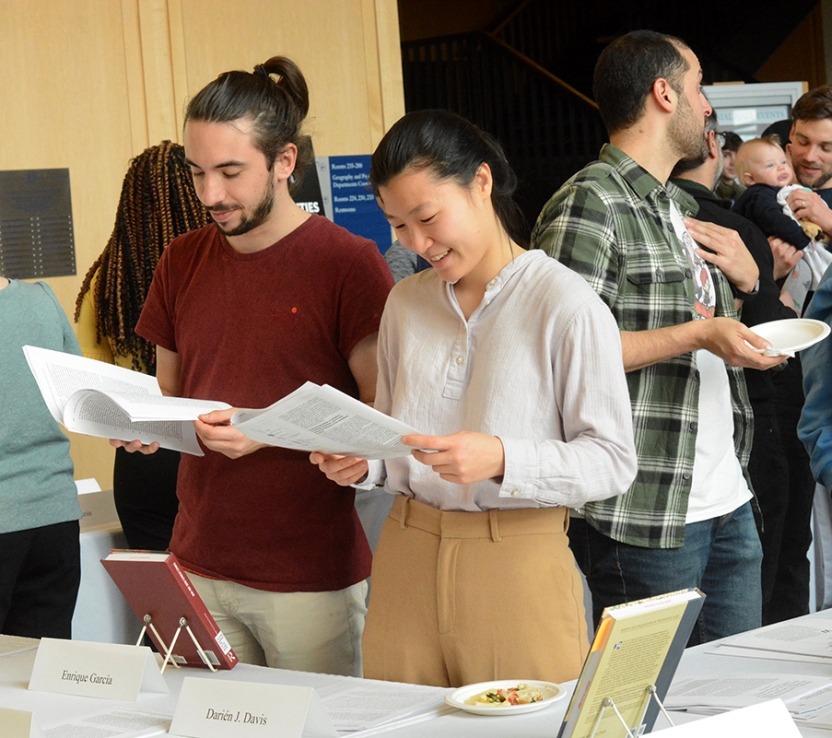 MIDDLEBURY, Vt. – The campus community gathered for a reception on Tuesday, March 19, celebrating published articles and creative works produced by faculty and staff over the past year. The annual exhibit in Tormondsen Great Hall featured the work of 62 faculty and staff members.
A lot of the work academics do is hard to capture, noted Amy Morsman, professor of history and interim dean for faculty development and research. "What we do as teachers, the interactions we have with students, the intellectual and emotional growth we foster in them is often hard to measure. It happens in their heads and hearts and sometimes it's not even realized until they're gone from this place."
Scholarly activity, on the other hand, yields a finished product that can be shared, Morsman said. "Perhaps it's an enlightening experience for others to behold in the arts or a new answer to an important question, a new piece of evidence, something to stir others' hearts and minds, something to contribute to a larger community of understanding. So, we celebrate that today with this reception."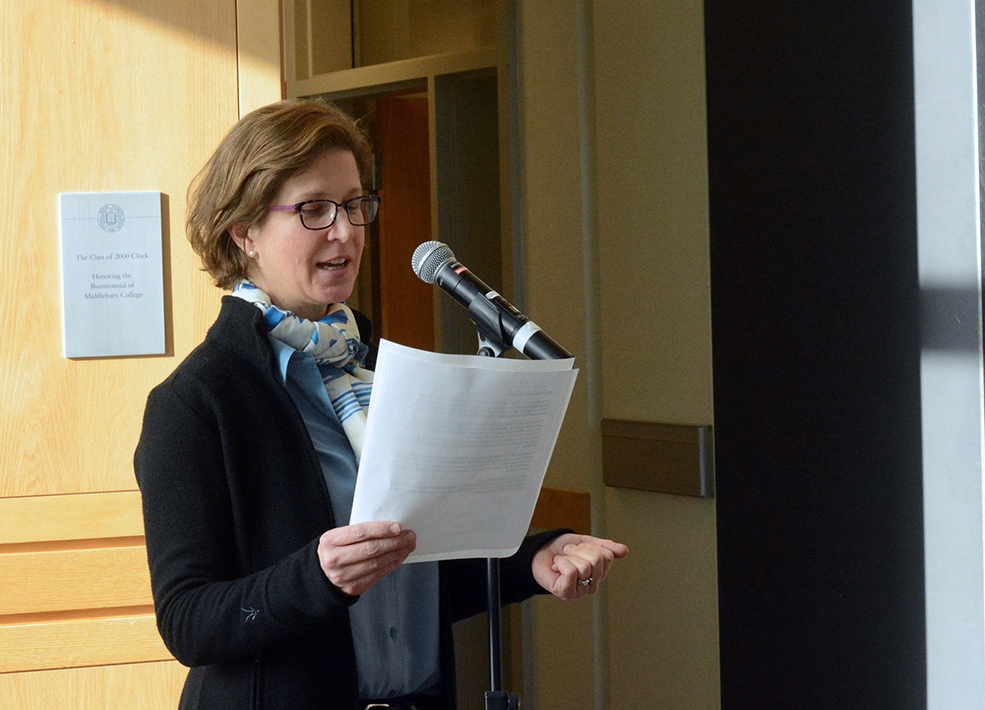 Amy Morsman, professor of history, welcomes faculty, staff, and students to the annual faculty and staff articles and creative works reception on March 19.
President Laurie Patton also greeted the scholars and guests. "These receptions are some of my favorite events at Middlebury because we see the real fruits of our labors," said Patton. "I love the fact that articles are part and parcel of the kind of creativity that we think about. I think we sometimes focus on the huge, big project rather than the incremental, smaller projects that are actually way more significant for us intellectually."
The exhibit featured 91 articles from journals and essays from books. Several creative works, including theatre directing, choreography, music performance, studio art exhibitions, costume design, film production, and videographic essay were represented on bulletin boards and through multimedia.
"I'm more and more convinced, the more time I spend with this faculty, that the real vibrancy of research and the vibrancy of creative work in the arts is going to live on better in the American tradition at places like Middlebury and small liberal arts colleges than it will at research universities," said Patton.
Read a full list of the featured articles and creative works here.