Senior Receives Keasbey Scholarship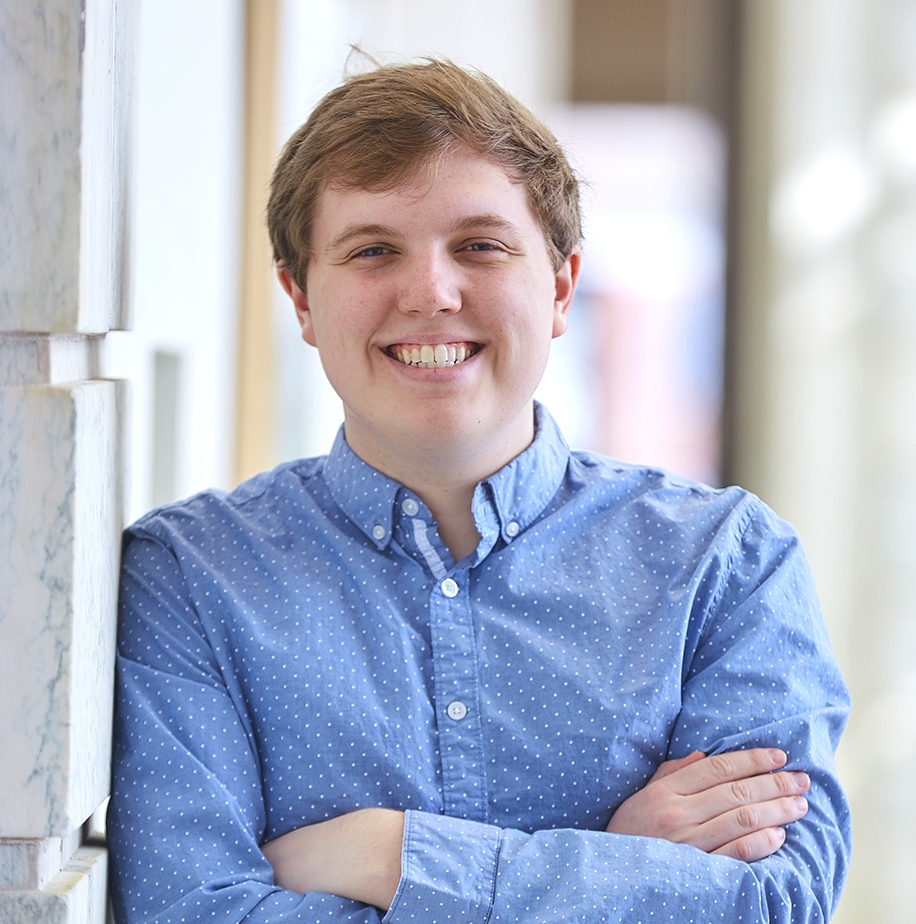 Will DiGravio '19 has received a Keasbey Scholarship for post-graduate study at the University of Cambridge.
MIDDLEBURY, Vt. – Senior Will DiGravio has received a Keasbey Scholarship, which provides funding for post-graduate study at select British universities. DiGravio, a film and media culture major and English minor, will pursue an M.Phil in film at the University of Cambridge starting in the fall of 2019.
"I am thrilled that Will has this chance to study at Cambridge through the Keasbey scholarship," said Lisa Gates, associate dean for fellowships and research. "The experiences made possible by nationally competitive fellowships can be life-changing for students and alumni. I am confident Will's engagement with film studies in the UK and immersion in the academic and community life at Cambridge will vital in shaping his future work in this field."
A Plymouth, Mass., native, DiGravio says that he did not watch many movies as a child. In fact, it wasn't until his junior year at Middlebury that a class screening of Alfred Hitchcock's classic Rebecca ignited his passion for film studies.
"I felt as though I had run a marathon," DiGravio wrote about that experience in his Keasbey application. "My brain, heart, and lungs were racing; I had never been so intellectually stimulated and moved by a work of art. Rebecca is a film about redemption, pain, loss, betrayal, life and death. It is an honest portrayal of the darker sides of humanity and makes the case for living despite them."
DiGravio later turned his fascination with Rebecca and Hitchcock into the basis for his senior thesis, visiting the Academy of Motion Picture Arts and Sciences Margaret Herrick Library in Los Angeles and poring through memos and scrapbooks left by Hitchcock. His California research was funded by a Kellogg fellowship he received last spring.
For his thesis work at Cambridge, DiGravio plans to look at the portrayal of Italian-Americans in film after World War II. He will focus "primarily on the performances of Frank Sinatra, the different personas he carried both on screen and off, and what it says about Italian-American masculinity in Hollywood."
At Middlebury, DiGravio has focused much of his academic work on the relatively new field of videographic criticism, which allows scholars to engage their work using the same media as the filmmakers themselves—images and sounds.
"Videographic criticism allows those of us who study film to make the case for our art form on its own terms, and for our argument to be as poetic and aesthetically rich as the films themselves," said DiGravio.
DiGravio has served as editor of The Middlebury Campus for the past academic year and has interned at two newspapers and a magazine—his byline popped up frequently at the Burlington Free Press last summer. He hopes the Keasbey experience will position him well for his future plans, which may include a career in academia. In the meantime, he is looking forward to a new adventure after Middlebury.
"It will be a fun and exciting challenge to dive deep into film study and for the first time dedicate myself solely to the subject I am most passionate about," said DiGravio. "Cambridge has a centuries-old tradition of humanistic inquiry and incredible resources. I have also never been to Europe, so I am excited to explore all that England and Europe have to offer."
American students who receive a Keasbey fellowship are awarded up to two years of full funding, including tuition, fees and living expenses, either to read for a second undergraduate degree or to attend a graduate program at one of the universities with which the Keasbey Foundation is affiliated in the UK. Middlebury is part of a select group of colleges and universities eligible for the Keasbey Memorial Scholarship. For more information, contact the Office of Fellowships.