Upcoming Talks, Info Sessions Offer Students a Taste of Monterey Study Opportunities (video)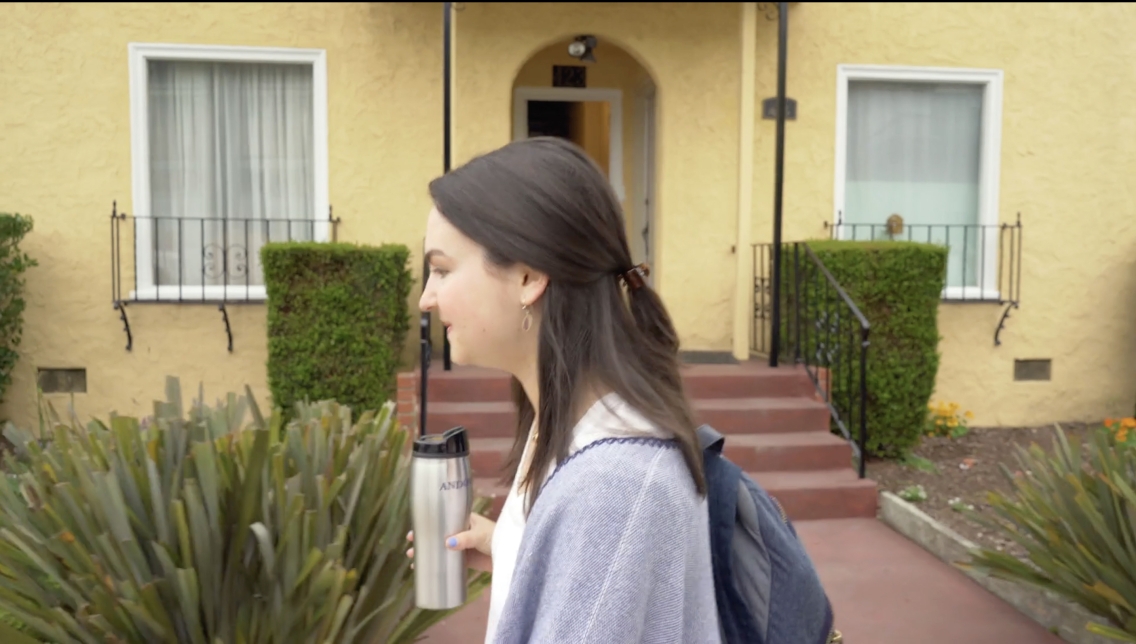 Rae Aaron '19.5 walks to class during her semester at the Middlebury Institute in Monterey. Aaron is an international politics and economics major.
MIDDLEBURY, Vt – A series of events scheduled in Middlebury this fall, including talks by internationally recognized experts, will help undergraduates envision the possibilities of a semester or year studying at the Middlebury Institute of International Studies in Monterey.
Deputy director of the Institute's James Martin Center for Nonproliferation Studies (CNS) Jessica Varnum will lead the way with a lecture on September 18. Varnum will offer a window into one area of the Institute with her talk titled "Ripped from the Headlines: How CNS Experts Use New Tools to Investigate Nuclear and Missile Programs around the World."
Later in September, Philipp Bleek, associate professor of nonproliferation and terrorism studies and a fellow at CNS, will give a talk titled "Biological Jihad: Iranian Threat Perceptions May Be Driving Offensive Development."
The Study Away program gives students an opportunity to learn side-by-side with graduate students at the Institute across a wide range of fields. Some Middlebury students use the experience to further hone their language skills and gain practical experience that will complement their liberal arts degrees. For others, the program also gives them a head start on their master's degrees.
"While some of our graduate students are pretty fresh out of college, many are mid-career professionals who have decided to return to school for a master's degree," said Susan Parsons, assistant director of international programs. "They bring a great deal of personal and professional experience to classroom discussions, from which our students really benefit. It can seem intimidating initially to be an undergrad in a class full of graduate students, but that quickly fades once Middlebury students see how welcoming MIIS students are, and how much they can learn from their newfound peers."
Rae Aaron '19.5, an international politics and economics major from Phoenix, Ariz., spent a semester at the Institute and quickly adapted to graduate-level studies. "It's less getting accustomed to a topic and more jumping right in and really getting to the nitty-gritty," said Aaron. "I've gotten to dive into the Middle East as a region and learn about the different dynamics related to international security, which is a major interest of mine."
Aaron says spending time at MIIS during her senior year felt like a good transition as she looked to what her future held after Middlebury. "There are so many connections between what I've been studying at Middlebury and what I've been doing at MIIS that I kind of can't imagine just having left Middlebury with a general knowledge and not the more in-depth experience I've gotten at MIIS," said Aaron.
Undergraduates studying "away" at MIIS can choose graduate-level courses from several academic areas, including international education management, international environmental policy, international policy and development, public administration, international trade and economic diplomacy, linguistics and language teaching, and nonproliferation and terrorism studies.
Students who want to learn more about the opportunities of Study Away at MIIS can start by attending the Study Abroad Fair on Thursday, September 19, from 2–5 p.m. at the Axinn Center. Students especially interested in Study Away at the Center for Nonproliferation Studies in Monterey should come to information sessions hosted by Jessica Varnum on September 19 from 6:15–6:45 p.m. and 6:45–7:15 p.m. A general Study Away information session will be held on Thursday, October 3, from 6–7 p.m. in Sunderland, Room 130. More information is available online.