Hannah Blair '17 Named Schwarzman Scholar
January 6, 2023
Hannah Blair, a Middlebury graduate from the Class of 2017, has received a Schwarzman Scholarship for graduate study in China. Blair is one of 151 students to receive the prestigious scholarship, which funds a one-year master's degree at Tsinghua University in Beijing. She is part of the eighth class of Schwarzman Scholars, which includes students from 36 countries and 121 universities.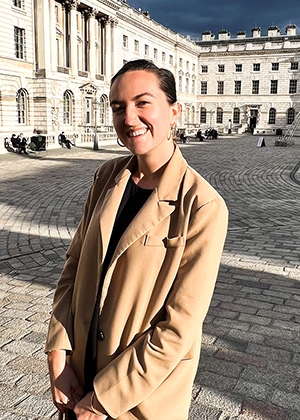 "Over the past few years, as my career evolved, I began working on global environmental and energy policies––specifically UN environmental conventions––and witnessed the role China plays in these negotiations and decisions," said Blair. "I applied for Schwarzman to gain a deeper understanding of China's perspective and priorities in the global environmental sector, but also to grow myself as a leader in this sphere. In the world today, understanding China will open doors no matter where you work or what you do." 
Blair, of Breaux Bridge, Louisiana, majored in international and global studies with a focus on Latin America and global health at Middlebury. During her undergraduate career, she studied abroad at the Middlebury School in Argentina and in Arusha, Tanzania. She also held internships at Gardens for Health International, Global Brigades, and the U.S. Embassy in El Salvador, and she conducted research with the Middlebury Anthropology Department in Ethiopia.
After graduating from Middlebury, Blair was awarded a Princeton in Africa Fellowship and spent two years in Botswana, working with Youth Impact on HIV-prevention programs. Blair is a manager at Collaborative Labeling and Appliance Standards Program (CLASP) East Africa, where her team develops and supports climate change mitigation policies in more than 70 countries. She focuses on United Nations environmental conventions, ensuring an equitable global transition to clean energy.
"This is an exciting chance for Hannah to further her understanding of China, refine her professional goals, and hone her leadership skills," said Lisa Gates, associate dean for fellowships and research at Middlebury. "The Schwarzman Scholars program allows scholars to study China in-country, and to learn from an international cohort, program faculty, and guest speakers, who are leaders in civil society, the arts, and business. As our past scholars attest, it's a terrific learning experience and opens doors to new directions in their work and professional goals."
As a Schwarzman Scholar, Blair will pursue a master's in global affairs, engaging in cultural immersion, personal and professional development, and internships. The program's core studies focus on three pillars: leadership, global affairs, and China. According to Schwarzman Scholars, the curriculum "equips students with a well-rounded understanding of China's changing role in the world, critically important to leadership in any field in the 21st century."
Schwarzman Scholars was founded by Blackstone chairman, CEO, and cofounder Stephen A. Schwarzman, who personally contributed $100 million to the program and is leading a fundraising campaign to raise an additional $350 million from private sources to endow the program in perpetuity. Inspired by the Rhodes Scholarship, which was founded in 1902 to promote international understanding and peace, Schwarzman sought to create a program to meet the challenges of the 21st century and beyond.
For more information: