Historic Marker Honoring Frederick Douglass's 1843 Visit to Middlebury Unveiled at Court Square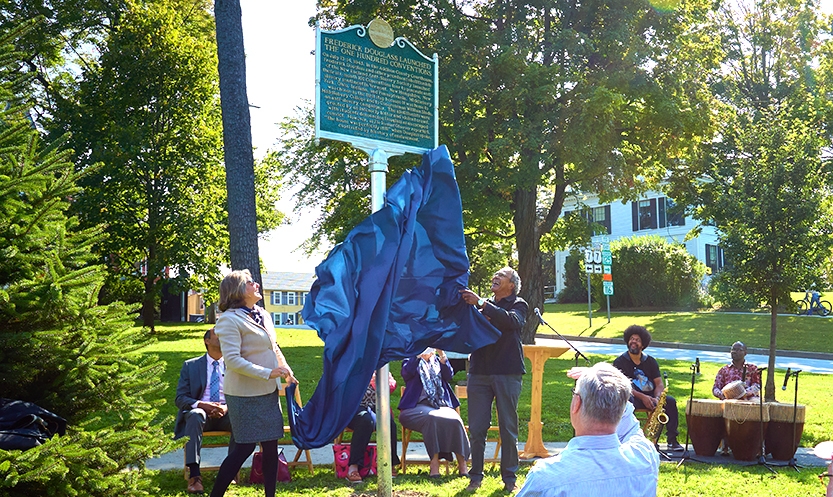 The Town of Middlebury and Middlebury College unveiled a historic marker at Court Square on September 22 honoring Frederick Douglass's visit to Middlebury in 1843.  
The visit by the legendary abolitionist, orator, and author was the first stop on the renowned "100 Conventions" tour to spread the message of abolition to six states in the Northeast. Organizers believed they would receive a warm reception due to Middlebury College's reputation as a "chief seat of learning" and the bold anti-slavery stance of Congressman William Slade who spoke publicly on the floor of the House of Representatives against slavery.
"They were dead wrong," William B. Hart, professor emeritus of history, told those in attendance at the ceremony, adding that Douglass described his reception in his autobiography as initially "intensely bitter and violent," thanks in large part to Middlebury College students. The tenor of the crowd later shifted once Douglass began speaking, but the reaction to his appearance was so significant that Douglass later wrote about it.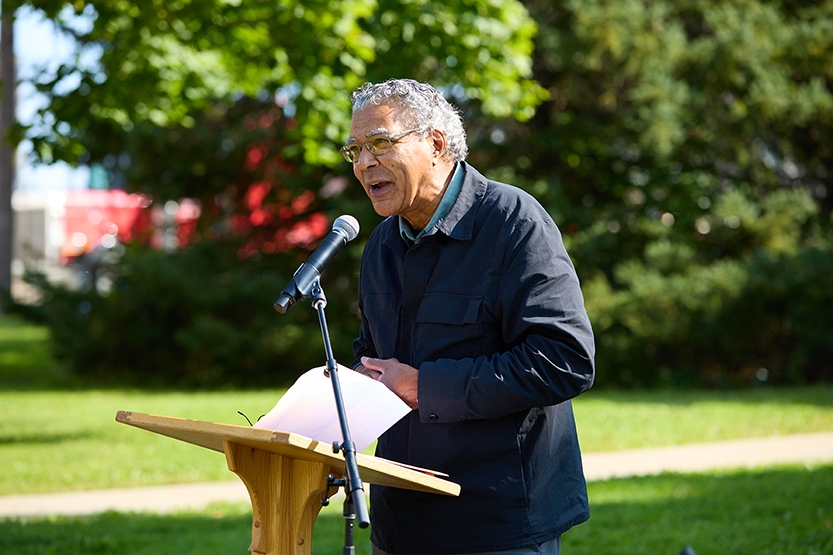 The installation of the plaque was part of the 2023 Clifford Symposium commemorating the 200th anniversary of Alexander Twilight's graduation from Middlebury College as the first documented person of African descent to earn a degree from an American college.
Middlebury College President Laurie L. Patton quoted Douglass directly when addressing the College's role in derailing what could have been a proud moment for the institution.
"Yet as Douglass further relates, our students did not do the institution proud," said Patton. "He (Douglass) wrote: 'In advance of our arrival, the college students had very industriously and mischievously placarded the town with violent aspersions of our characters and the grossest misrepresentations of our principles, measures, and objects. I was described as an escaped convict from the state prison'— a reference to Douglass's act of self-emancipation in 1838 at age 20 — 'and the other speakers were assailed no less slanderously.'"
Known as one of the greatest orators of the 19th Century, Douglass silenced the hostile crowd with words about his life of enslavement. "To draw upon the theme of this year's Clifford Symposium—a moment for us to reckon with, indeed," continued Patton. "Yet, even that night, there were shifts in attitudes. It was reported that when Douglass spoke of his enslavement, "the house was perfectly still." 
Also during the event, Khuram Hussain, Middlebury's vice president of equity and inclusion, associate professor of education studies, challenged audience members to imagine what Douglass would say if among them for the dedication.
"I imagine he would call us to task," said Hussain, "pulling us in to take responsibility for our democracy and make sure that with every beautiful remembrance of his dignity and agency, we seek to know and love the dignity and agency of Black people and marginalized people today."
"May this remembrance of Douglass be a call-in to ourselves, that we belong to one another, and we owe ourselves and everyone in this Middlebury community and the wider community of Vermont a sense of belonging, where everyone feels seen. This is our shared journey that we must take together. I am grateful to be on that journey with you."
Hart, who is responsible for making the marker a reality, thanked the Middlebury Selectboard for hearing his request and Town Manager Kathleen Ramsey for collaborating on the event; Laura Trieschmann, officer with the Vermont Division for Historic Preservation, for arranging a foundry in Ohio to manufacture the physical marker; Sen. Ruth Hardy (D-Addison) for guidance; and Bill Kernan of Middlebury Parks and Recreation and his team for installing this marker.
"It's often said that if we don't understand history, we are doomed to repeat it," said Hardy. "So, I hope that this historic maker will remind the people and visitors of Middlebury, the town and the college, that we must do better if we want to live up to the vision and promise of the great Frederick Douglass and the good-hearted, open-minded, anti-racist people he had expected to find here."
Damascus Kafumbe, professor of music, Edward C. Knox Professor of International Studies, and Matthew Taylor, assistant professor of music, closed the event with a moving musical piece in honor of Douglass' visit.