Campus Energy Conservation
Middlebury intends to reduce energy consumption on its core campus by 25 percent by 2028.
The reduction will come from changes to campus infrastructure, including renovating and updating several large academic buildings, as well as behavioral changes. The plan also calls for improved energy-use monitoring across campus. 
Middlebury is considering the introduction of an internal carbon price on certain activities with a high carbon impact. The carbon price would fund conservation projects and encourage more thoughtful consumption behavior.
Moving Beyond Carbon Neutrality
While the challenge of reducing energy consumption at the main campus by 25 percent is very ambitious, Middlebury is well-prepared after its successful 10-year campaign to become carbon neutral by 2016.
Focusing on energy sources and consumption was key to that campaign, and the shift from being carbon conscious to energy conscious was a natural one. A lot of conservation and efficiency work was done to get to carbon neutrality, including 123 efficiency projects with an annual savings of $942,300 and a simple payback of 2.5 years. For instance, new insulation on a section of underground steam pipes cost $17,000 and reduces heat loss equivalent to $5,800 a year.
Other achievements include the following:
We reduced consumption of electricity and fuel annually by 6.1 million kilowatt hours.
We avoided carbon emissions of 3,500 tons.
Our carbon neutrality is supported by carbon credits from the permanent conservation of our forest lands at the Bread Loaf campus.
Cutting consumption by 25 percent means reducing energy usage in real terms and using fewer credits from the Bread Loaf project.
How Are We Doing?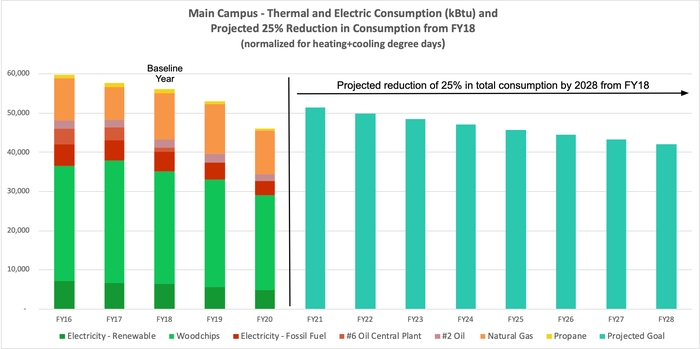 This graph shows thermal and electrical energy sources beginning in the 2016 fiscal year. Energy sources in shades of green are from renewable sources. Those not in green are from non-renewable sources that we plan to phase out over the next few years; for example by replacing non-renewable natural gas with renewable natural gas from the Goodrich Family Farm. The graph also shows our projected total energy consumption declining by 25% by 2028, as defined by Energy2028. Some projects involved in this work include: