Imani Winds and Catalyst Quartet
–
Mahaney Arts Center, Olin C. Robison Concert Hall
72 Porter Field Road
Middlebury, VT 05753
View in Campus Map
Free
Open to the Public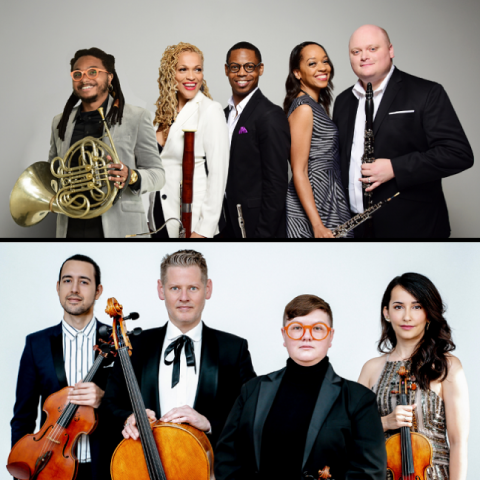 Originally scheduled for April of 2020, the Imani Winds and Catalyst Quartet join forces for a special program entitled (im)migration: music of change. The highlight of the evening is the Vermont premiere of Jessie Montgomery's new work for nine musicians, Sergeant McCauley,* which brings together spirituals and work songs that reflect her great-grandfather's route from Mississippi through the West, north to the Dakotas, and eventually back to Georgia. 
The program also includes the Imani Winds playing an arrangement of Mongo Santamaría's Afro Blue, the Catalyst Quartet with Florence B. Price's Negro Folksongs in Counterpoint, and both ensembles together for Roberto Sierra's Concierto de Cámara. 
Includes 1 intermission. Vaccinations and masks required. Additional health and safety information here. Performance subject to change. 
–—
This live event is free; no ticket required. (You will also be given access to the stream.)
If you wish to view the concert at home…
Get a FREE streaming ticket!
48-hour access to the performance stream, starting September 24 at 7:30 PM.
–—
This free event is made possible thanks to the Sunderman Family Concert Endowment Fund, in memory of Dr. F. William Sunderman Jr. and Dr. Carolyn Reynolds Sunderman.  
*The Middlebury Performing Arts Series co-commissioned Montgomery's composition through its membership in the national consortium Music Accord which commissioned the work in conjunction with the Sphinx Organization. 
"The [Imani Winds'] hot rapport churns with conviction throughout…"—Gramophone 
"Like all great chamber groups, the Catalyst Quartet is beautiful to watch, like a family in lively conversation at the dinner table: anticipating, interrupting, changing subjects."—The New York Times 
Sponsored by:

Performing Arts Series