Music from Copland House and Susan Graham, Mezzo-Soprano
–
Mahaney Arts Center, Olin C. Robison Concert Hall
72 Porter Field Road
Middlebury, VT 05753
View in Campus Map
$25/20/10/5
Open to the Public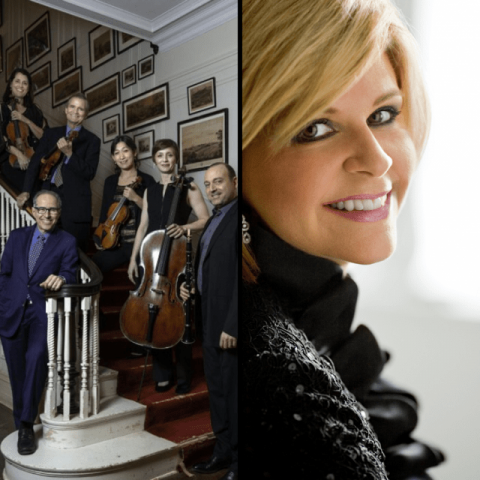 Middlebury is honored to present the New England premiere of A Standing Witness,* written by Grammy-winning composer Richard Danielpour and Pulitzer Prize-winning author and former U.S. Poet Laureate Rita Dove. Performed by acclaimed Music from Copland House ensemble and "America's favorite mezzo" Susan Graham (Gramophone), this cycle of 13 songs is a sweeping retrospective on pivotal historical events and moments in the U.S. over the past half-century. This series of musical snapshots traces the trajectory of American civilization since 1968, and invites us to bring forth what Lincoln called "the better angels of our nature." The program also includes works by Pierre Jalbert and John Harbison. 
Part One of the work begins in 1968—a watershed year of political, societal, and cultural turmoil that saw the assassinations of Martin Luther King and Robert F Kennedy, the climax of the Vietnam War, and the violence at the Democratic National Convention. Part Two revisits the moon landing, Jimi Hendrix at Woodstock, the Watergate scandal and collapse of the Nixon Presidency, and the end of the Vietnam War. Part Three journeys through recent decades, from the AIDS epidemic of the 1980s and to the cataclysm of 9/11, the seminal advent of America's first African American president, and the political upheavals of in recent years.  
Includes 1 intermission.
Tickets: $25 public, $20 Middlebury faculty/staff, alumni, and emeriti; $10 youth; $5 Middlebury College students. Vaccinations and masks required. Additional health and safety information here. Buy tickets online here.
This event is additionally made possible with generous support from Olin C. Robison.  
*The Middlebury Performing Arts Series co-commissioned Danielpour and Dove's work through its membership in the national consortium Music Accord

"Excellent musicians in vital performances…[Aaron] Copland would have been proud of all of them."—The Chicago Tribune 
"Susan Graham was in top form… Her gorgeous mezzo timbre and marvelous technique shone…"—Opera News

Sponsored by:

Performing Arts Series