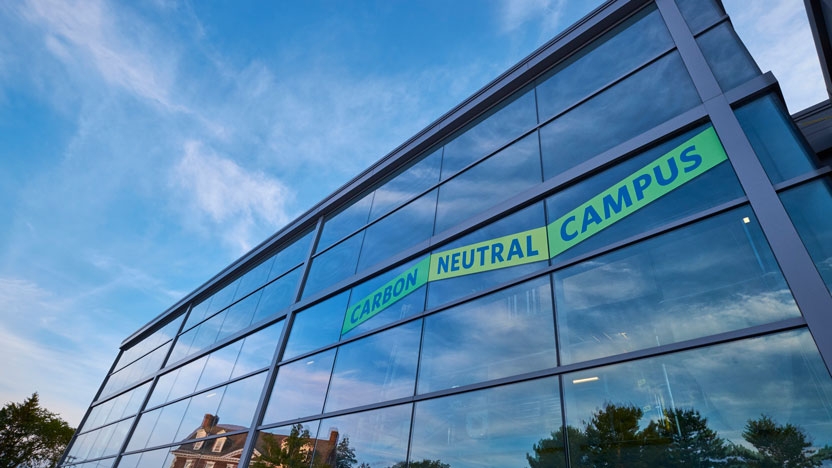 Climate change poses a very real and present threat to our planet. By reducing carbon emissions on campus, we limit our own contributions to this problem and also hope to inspire others to do the same.
Middlebury began reducing its carbon footprint in 2001. Its first major step was a resolution to lower all carbon emissions to 8 percent below 1990 levels by 2012 based on a major report produced by a J-term class for the Environmental Council. When that goal was within sight, the board approved a student-driven proposal to achieve net carbon neutrality by 2016. 
Among its many efficiency projects on campus, Middlebury completed construction of a biomass gasification plant in late 2008. The biomass plant, which burns locally sourced wood chips, meets most of the heating and cooling needs on campus and cogenerates 15 to 20 percent of our electricity all while remaining carbon neutral. Switching from fuel oil to biomass cut Middlebury's carbon footprint by 40 to 50 percent.
In 2014 the trustees approved a plan to conserve 2,100 acres of Middlebury's Bread Loaf campus in perpetuity. Blue Source, a carbon accounting company, assessed the land and quantified carbon credits based on the amount of carbon dioxide sequestered and stored by the Bread Loaf and Champlain Valley forests. A portion of these carbon credits was used to offset the remaining portion of our carbon footprint after biomass and other carbon-reducing changes on campus. 
The Path to Carbon Neutrality
2001
Middlebury College's Environmental Peak Report recommends adopting a carbon neutral goal.
A student conducts the Middlebury's first emissions inventory as an internship and senior thesis in collaboration with Clean Air-Cool Planet.
2002
The Environmental Council (EC) proposes the Carbon Reduction Initiative (CRI).
EC forms a subcommittee, the CRI Working Group, to explore carbon neutrality.
2003
Winter term course maps out possible strategies for becoming carbon neutral in a report titled "Carbon Neutrality at Middlebury College."
CRI working group recommends a preliminary goal of reducing greenhouse gas emissions by 8 percent below 1990 levels by 2012.
2004
Board of Trustees endorses initial carbon reduction goal proposed by CRI Working Group.
2005
Winter term course holds climate change conference at Middlebury.
​​​​​​​The student environmental activists group, the Sunday Night Group, forms with a focus on climate change.
2006
Board of Trustees approves proposal for biomass plant.
Students propose new goal of carbon neutrality by fall 2016.
​​​​​​​Sustainability Office develops a standardized annual greenhouse gas inventory and reporting system with assistance from students.
2007
Trustees adopt resolution for Middlebury to become carbon neutral by 2016.
President Liebowitz signs American College and University Presidents Climate Commitment (now known as the Carbon Commitment).
Construction begins on biomass gasification plant.
2008
Biomass gasification plant completed; test burning begins.
2009
Carbon neutrality plan adopted by president's staff council.
​​​​​​​Biomass plant begins full operation.
2010
Middlebury establishes agreement with Integrated Energy Systems to explore use of biomethane on campus.
2011
First test of willows in biomass plant completed to determine the fuel source's feasibility.
2012
Middlebury College welcomes the Class of 2016, the class that will see carbon neutrality become a reality.
143 kW AllEarth Renewables solar farm power purchase created on Route 125.
2013
Facilities creates the position of energy and technology manager to assist with carbon neutrality efforts.
​​​​​​​Biomass facility has most successful year to date, helping to cut Middlebury carbon emissions by 60 percent in fiscal year 2013.
2014
500kW solar array power purchase created on South Ridge, increasing solar power to 5 percent of total energy sources on Middlebury's core campus.
​​​​​​​2,100 acres of forested land at Bread Loaf permanently conserved through easement.
2016
Middlebury begins process of quantifying carbon credits on Bread Loaf lands.
500kW Wilber Solar power purchase created, bringing solar power to 8 percent of total energy.
​​​​​​​With the approval of the Bread Loaf carbon credit, Middlebury achieves carbon neutrality.
Tracking Our Progress
Each year, Middlebury's Office of Sustainability Integration conducts a greenhouse-gas inventory, tracking emissions from five sources: heating and cooling, College-funded travel, waste, electricity, and College-owned vehicles.