Franklin Environmental Center at Hillcrest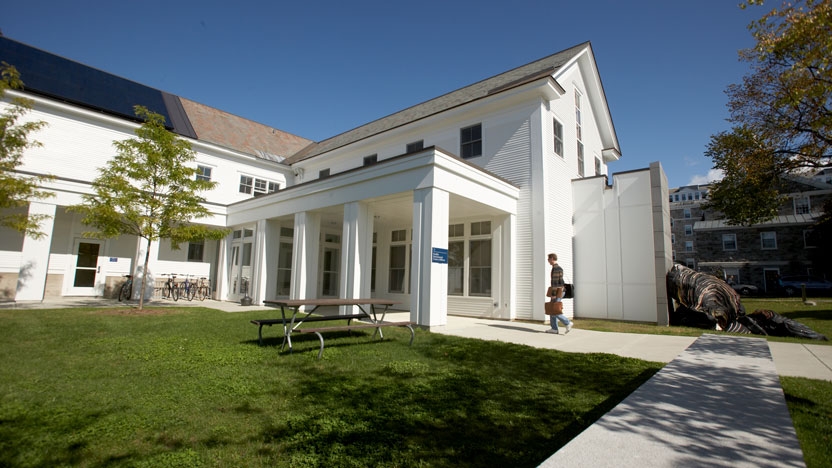 Completed in June 2007, the Franklin Environmental Center at Hillcrest serves as the center of environmental leadership and learning at Middlebury. 
During the project, Middlebury created an exciting model of resource conservation and energy efficiency through the adaptive reuse of a historic 1875 Vermont farmhouse.
In 2008, the Center received LEED Platinum certification from the U.S. Green Building Council, the highest designation awarded for Leadership in Energy and Environmental Design. This was the first building in Vermont to achieve LEED Platinum, and seventh in the nation under LEED NC 2.2 standards.
Rethinking Energy
The Franklin Environmental Center uses 47 percent less energy than a standard building of the same size. Chlorofluorocarbon (CFC)-free insulating foam, energy-efficient windows, and air locks ensure that the building envelope is extremely tight and energy efficient. Additional efficiency features include appliances that use less energy, like an "on demand" hot water system and an Energy Star refrigerator.
To minimize electricity use and decrease greenhouse-gas emissions associated with conventional air conditioning, only essential spaces at the Center are cooled using a geothermal exchange system. Cold water from an underground well cools fluid that circulates through the building, cooling the air for the Orchard lecture hall and two offices.
Thirty-eight solar panels are installed on the roof and can produce a maximum of 8.5 kilowatts (225 watts per panel). With the installation of these panels, the Center is able to reduce its carbon emissions and long-term energy costs.
Going Local
Middlebury sourced numerous materials within the state of Vermont.
Slate for floors and roofs from the Poultney area
Stone for the foundation and stone walls from nearby Panton
Granite from Barre
Limestone from Isle LaMotte
Forest Stewardship Council-certified hardwood trim and flooring from College-owned forests
Middlebury commissioned Vermont furniture makers to construct desks, chairs, tables, and study carrels made from local wood, which in most cases was also certified by the Forest Stewardship Council:
Chairs by Cotswold, located in Whiting
Tables and desks with surfaces made from sunflower husks by Neudorfer, from Waterbury
Cabinets from Business Interiors in Burlington
Sofas from Pompanoosuc Mills in East Thetford