Food Studies Professor uses abroad experience in Mexico to strengthen classroom instruction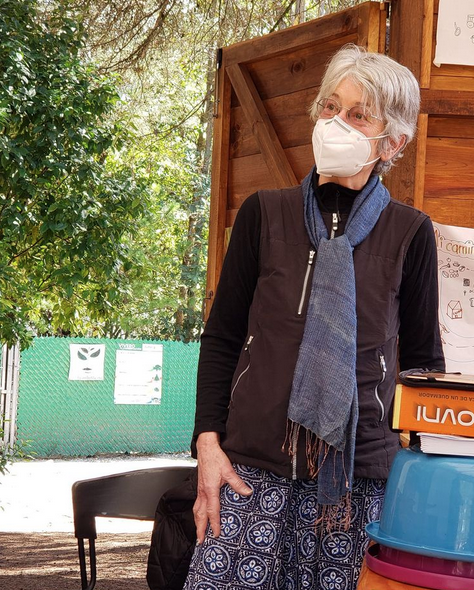 Even after teaching about agroecology for more than 20 years, Molly Anderson, the William R. Kenan Jr. Professor of Food Studies at Middlebury, continues to seek innovative ways to enrich her teaching and provide her students with firsthand experiences. One way that Anderson recently has achieved these goals is via her 10-week project in Mexico, where she gleaned real-life insight into the future of food system transformation.
Anderson's project was supported by a grant received from the Marion and Jasper Whiting Foundation. The Marion and Jasper Whiting Foundation (M&J Whiting Foundation) is a charitable foundation in Boston, Massachusetts. The foundation aims to enhance classroom instruction by engaging and broadening the minds of teachers from New England colleges and universities. Specifically, these grants are used for faculty members to study or conduct a project abroad— or at some location that the teacher is not closely associated with—and cover travel and travel-related expenses.
Over the years, Middlebury's awarded grants under the M&J Whiting Foundation have tackled a variety of multifaceted subjects—from studying Japanese Mountain Cartography to exploring how Sicilians have learned to co-exist with plate tectonics hazards. Anderson, who was awarded the grant in 2020, added to that diverse pool of awardees by tackling a food studies project.
Anderson's project was titled "Agroecology as a Pathway to Food System Transformation in Mexico:  Farmers' Practices, Current Research, and Policymakers' Perspectives." Agroecology is the study of the relationship between plants, animals, people, and the environment within agricultural systems and practices. Anderson has directed the Academic Program in Food Studies at Middlebury since 2015. In this role, she has taught about hunger and food security, fixing food systems, and sustainability via independent study programs and undergraduate classes like "Hunger, Food Security & Food Sovereignty" and "Food, Power, and Justice."
"Agroecology has the potential to overcome most of the environmental and health problems caused by industrialized agriculture and can give farmers better incomes because they are not purchasing external inputs," explained Anderson. "I have been interested in agroecology as the most promising alternative to the industrialized food system for several years and have recognized that it is most advanced in Latin America."
In the last decade, agroecological practices, such as sustainable or organic farming, have emerged as positive alternatives to the industrialized food system prevalent in the United States. Despite this, agroecology receives little to no government support. Instead, according to Anderson, officials support industrialized practices, which have been proven to degrade soil, water, and air quality; lead to the depopulation of rural areas; and contribute to the unhealthy diet responsible for more than half of the deaths each year in the U.S before COVID. The government also has layered and complex associations with agrichemical companies, which sell items that agroecological farmers do not use, such as synthetic fertilizers and herbicides.
Latin American farmers and researchers have been advancing agroecology practices for decades and have aided social movements that support it, such as La Via Campesina. Mexico also has passed laws that align with agroecological practices, such as restricting entry of genetically modified corn and gradually withdrawing glyphosate, a herbicide widely used on U.S. farms to kill broadleaf weeks, but which poses health hazards to people, plant life, and animals.
"In the United States, where industrialized agriculture is widely practiced, farmers plant large fields with single crops and apply pesticides regularly.  …Pesticides have harmful impacts on human and ecological health," said Anderson. "Agroecology promotes diversity within and between fields and synergies between crops (such as planting nitrogen-fixing plants and nitrogen-loving plants together.)  This helps to discourage pests; but in addition, agroecological farmers use natural pest control practices that don't kill beneficial insects such as pollinators".
For six weeks in 2021, Anderson worked with faculty and students at the Colegio de la Frontera Sur (ECOSUR) in Mexico, a center for agroecological research and teaching, to gain on-the-ground experience of Mexico's agroecology practices. Anderson sought to not only learn more about Mexico's practices but also how much confidence farmers have in them. Anderson also met with representatives from civil society organizations to better understand their views on agroecology as well as the opportunities or barriers in transforming Mexico's food system.
Additionally, Anderson prepared for her trip by participating in both Middlebury's intensive summer language program and a language program at the Instiuto Jovel to improve her Spanish.
This allowed Anderson to directly speak with farmers, civil leaders, and students. She also shadowed agroecology courses at ECOSUR that focused on the impact of diet and agroecology markets during COVID. In return, Anderson provided agroecology lectures in Spanish for ECOSUR's graduate classes, which focused on how food justice differs between Mexico and the United States.
Currently, Anderson is seeking ways to share what she has learned about agroecology in Latin America with Middlebury students.  One promising possibility is taking students to Peru, to study at the Andean Alliance for Sustainable Development (AASD) near Cuzco.  AASD works closely with an agroecological farmer and teaches students about Andean history and culture in addition to agroecology.
"I believe that professors must be able to 'do' the things that they teach about to explain why positive alternatives are not widely adopted," said Anderson. "The more grounded experience a professor can bring to the classroom, the more compelling will be the lessons."