Middlebury professor will debut two original performances in spring semester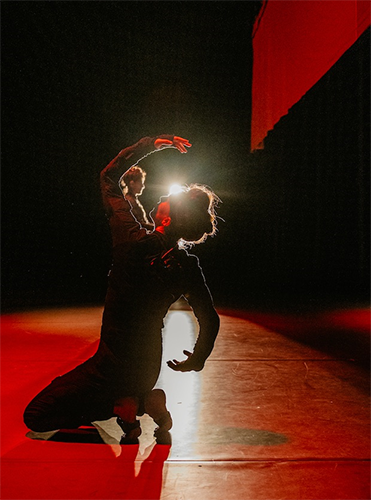 Using worldwide changes as a creative catalyst, Middlebury College dance professor Laurel Jenkins is re-imagining how dance can transform trauma into resilience. Now, like an ode to her research, Jenkins will share such themes in two original performances. Those performances (Tiger, Tiger, Burning Bright, and The Wilds) were developed this winter in Paris at the Institut Français.
The Institut Français is a cultural institute funded by the French government. Its purpose is to promote French culture via the arts, such as dance, painting, architecture, and film. Its Cité Internationale des Arts is an artist residence in Paris, where local and international artists can meet and pursue creative work or research projects.
As one of the Institut's 2022 grant recipients, Jenkins was in residence at Cité Internationale des Arts from January to April 2022. She was the only American selected for its residency. Jenkins has been an Assistant Professor at Middlebury College since 2017. She received this grant to collaborate with local artists on new choreographic projects titled Tiger, Tiger, Burning Bright, and The Wilds.
Tiger, Tiger, Burning Bright is an original dance/theater performance with projections that engage with the body as a site of transmogrification, the process of change. The project was inspired by worldwide events: COVID-19, violence, and major political upheavals.
According to Jenkins, such events put art programs on hold and impacted the body and each individual's nervous system. This encouraged many artists like Jenkins to re-consider one's relationship to the body.
"The dancing body is an imagining body," said Jenkins. "The dancer has embodied knowledge that is specifically relevant to this historical moment where adaptation and transformation are necessary for our survival and evolution."
To develop Tiger, Tiger, Burning Bright, Jenkins rehearsed at Cité Internationale des Arts with local actress Pauline Cheviller and Parisian documentary filmmaker, Ania Gruca, who captured the process of developing and performing this work. At Cité Internationale des Arts, Jenkins met artists from around the globe including Croatian projection artist Nives Sertić, who became a collaborator on the project, too.
Jenkins and Cheviller collaboratively developed the work by playing with mirroring so that actions would repeat, expand, shrink, and change. They engaged the voice by repeating text. These games allowed the artists to identify how a movement or phrase began and then over time morphed into something new.
"The effect on the audience is that we start off with one identity and end the work in a completely new place. We are grunting in our duet and then Pauline goes up to a balcony and sings an aria. We are catching the audience totally off guard," Jenkins said.
Throughout her experience, Jenkins explored key questions, such as intensity of presence, vulnerability, identity, trauma, change, as well as the balancing act of making art and parenting.
"One of my personal goals is to integrate parenting and art making so that they both enhance each other," said Jenkins, whose three-old son, six-month-old daughter, and husband joined her at the residency. "Parenting is a huge challenge. Making dances is a huge challenge. In my time at this residency, I had to make choices so that my family and art practice could flourish. I had to work with limitations, and this resulted in finding new ways to make."
When her collaborators weren't available Jenkins engaged in a daily solo movement practice where Jenkins developed choreography for a second project titled The Wilds. The Wilds is a new mixed reality performance experience where movement instantly becomes music as emerging technology allows dancers to create an immersive journey of sound, light and visual media in real-time. Part mythology, part utopian vision, The Wilds fuses live dancers with motion capture technology and real-time animation inspiring a profound bond of a shared, collective experience. The Wilds will premiere at the Lied Center for Performing Arts this fall in Lincoln, Nebraska. Starting in October. The premiere can be viewed at this link: https://www.liedcenter.org/event/wilds
The Wilds was created by Jesse Fleming, Laurel Jenkins, and Lewis Pesacov. It was commissioned and developed by the Lied Center for Performing Arts at the University of Nebraska-Lincoln in partnership with the Johnny Carson Center for Emerging Media Arts.
During her residency, Jenkins and her team performed Tiger, Tiger Burning Bright twice at Cité's Open Studios. However, thanks to the Performing Art Series and the Performing Arts Council at Middlebury College, Jenkins will also bring Tiger, Tiger Burning Bright to Middlebury College in Spring 2023. In addition, in Spring 2023, Jenkins will teach a first-year studies class at Middlebury College entitled "Collaborating Across the Arts" as well as "Introduction to Dance." Students will view these performances and meet the collaborators. Free workshops will be offered to the Middlebury community on interdisciplinary collaboration and global exchange, too. 
"The underlying principle that I am interested in sharing with Middlebury students is that by engaging in creative processes with people who have different lived experiences, skills, and aesthetic interests, we can expand our own artistry and worldview," Jenkins said.