New undergraduate course examines the philosophies underlying Jorge Luis Borges's literature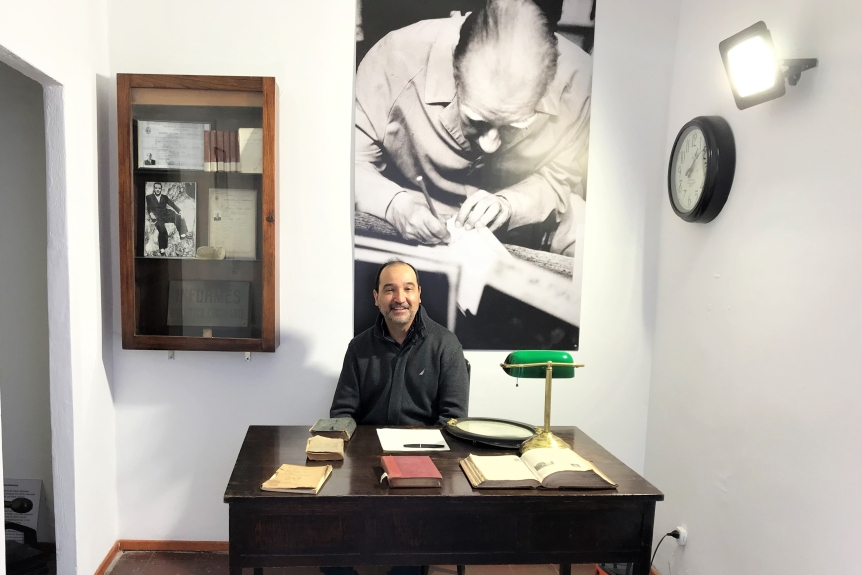 What is chaos? What is order?
How does the human mind differentiate and make meaning out of these two concepts?
These are just some of the questions that Middlebury College Professor Mario Higa will pose and explore in his new undergraduate seminar, "Jorge Luis Borges: Chaos and Order." The seminar was inspired by Higa's recent summer research on Argentina and Borges, which was funded by the Marion and Jasper Whiting Foundation.
The Marion and Jasper Whiting Foundation (M&J Whiting Foundation) is a private foundation in Boston, Massachusetts that aims to enhance classroom instruction by engaging and broadening the minds of teachers from New England colleges and universities. The awarded grants allow faculty members to study or conduct a project abroad.
Throughout the years, Middlebury's Office of Grants and Sponsored Programs (OG&SP) has helped many Middlebury faculty members develop and submit grant proposals to the M&J Whiting Foundation for a variety of complex subjects—from studying Greek food to exploring how Germany uses psychology to increase sustainability. Many of these grants have been used to either cultivate better perspectives for current subjects/courses or to create entirely new courses at Middlebury College. Since 2015, OG&SP has submitted 64 grant proposals to the M&J Whiting Foundation and has been awarded 38 of those grants.  
Professor Higa was one of the awarded recipients.
Since 2009, Mario Higa has been professor at Middlebury College, where he teaches Portuguese and Luso-Brazilian literature/culture. One year, he was also the Department Head of Luso-Hispanic Studies. His cultural classes tackle popular and multifaceted subjects, such as the history of soccer in Brazil or the global impact of bossa nova. In addition to teaching Portuguese, Higa also occasionally teaches courses in Spanish. In Winter Term of 2020, for instance, he taught a course on the Argentinian writer Jorge Luis Borges and Borges's short story collection, Ficciones (19401). Ficciones includes thirteen stories that address different philosophical and ethnic questions but are unified by a reoccurring theme: a labyrinth.
"Borges was one of the most influential 20th century writers. He was the first Latin American author to be recognized as a world-class writer by the European community of scholars and critics. Before Borges, Latin American literature was either overlooked or underestimated," Higa explained. "Borges changed the status of Latin American culture and prepared the ground for the emergence of the so-called 'Latin American Boom,' which revealed authors like Gabriel García Marquez, Mario Vargas Llosa, Julio Cortázar, Carlos Fuentes, and Jorge Amado."
Higa's interest in Latin America literature has existed for years. On a personal level, it is part of his family history; his maternal grandfather was born in Buenos Aires and then immigrated to Brazil. But it is also a focal point in Higa's own academic studies and published writing. For example, in Higa's undergraduate and doctoral studies, he compared and analyzed writers from Brazil, Mexico, and Chile. Additionally, in 2009, Higa co-translated The Invention of Argentina by Nicolas Schumway, which explored the cultural history and identity of Argentina.
Despite his personal history and studies, though, Higa never visited Argentina. That is why, during summer 2021, Higa used his M&J Whiting Foundation grant to fund a three-week trip to Argentina. This allowed Higa to glean a firsthand experience of the country's culture and the impact of Borges. Specifically, he explored Borges's birth city of Buenos Aires, referred to frequently in his written works.
Throughout this experience, Higa sought ways to connect this new insight to hermeneutical questions. Hermeneutics is the art or study of interpretation—its philosophies and principles— and how interpretation changes a text. While it is a term often used to refer to how one interprets biblical scripture, it can also apply to literary texts, such as Borges Ficciones. Hermeneutics asks questions, such as: What is meaning? How do we derive that meaning?
Now, Higa's new course, "Jorge Luis Borges: Chaos and Order" is set to debut at Middlebury College soon. The class will be the culmination of Higa's research and the intersection between Higa's major interests: Borges, literature, language, and hermeneutics. The course may be taught in English or Spanish.
"What fascinates me the most in Borges is the way he succeeds in creating an elusive and permeable discourse in which literature becomes philosophy, and philosophy, literature: the marriage of thought and beauty," Higa said. "I want to invite my students to re-evaluate the concept of meaning at an interpretive, metaphysical, and linguistic level. The re-evaluations will be done by scrutinizing the literary text from a philosophical viewpoint."