Gandhi's Gujarat: Vibrant Diversity
The Center for Conflict Studies is excited to announce its first book publication, "Gandhi's Gujarat: Vibrant Diversity," by Pushpa Iyer.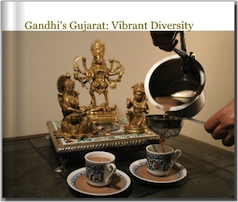 The book is an outcome of a two-week field research course titled "Journey through Gandhi's Land" for eight students of the Middlebury Institute of International Studies. This "tea table book" features photographs taken by course participants on a variety of topics ranging from cultural sites to poverty, development and women.
"This book is in keeping with the… commitment to give a voice to the voiceless marginalised people of Gujarat and is an attempt to invoke curiosity in readers about a conflict that receives little attention from the international community." – Pushpa Iyer, Director, Center for Conflict Studies
The book is available for $75.00 plus shipping and handling. A portion of the proceeds from the sales of this book will benefit the Mother Theresa's Home for the Dying and Destitute in Ahmedabad, India. Please complete this form to order the book or email us at ccs@miis.edu for more information.