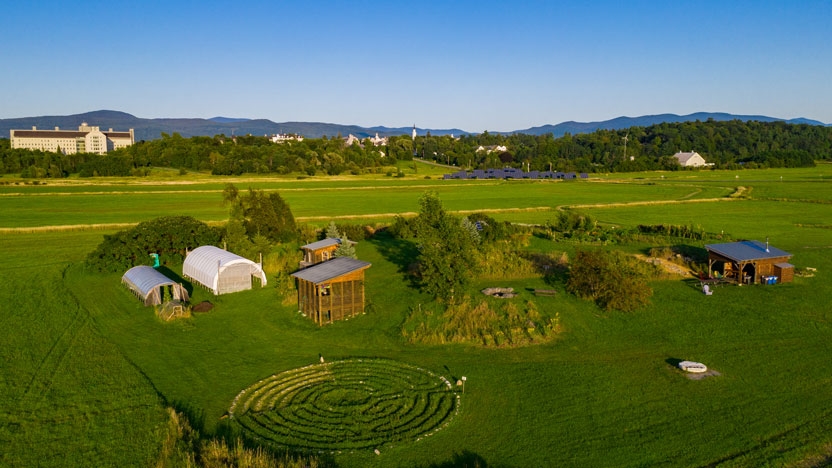 The Middlebury College Knoll explores food as a medium to cultivate well-being in people, places, and the planet.
Our goal is to have people interact in different ways at the Knoll. We have three main program areas: the Educational Garden, the Outdoor Kitchen, and the Serenity Garden. These are used by faculty, staff, students, and our local community for classes, research, and events.
The Educational Garden serves as a place for students to learn about gardening and agriculture through research and hands-on experiences. We grow food for Midd Dining and each year we contribute about a thousand pounds of produce to our robust local gleaning program coordinated by

HOPE

, a local nonprofit. Students enrolled as in-person learners can join us for Volunteer Hours led by garden staff. Since fall 2020, students can attend four two-hour sessions to receive physical education credit. We also support paid internships for current students during spring, summer, and fall.
The Outdoor Kitchen is a space to cultivate community. In a typical year, we host pizza nights and help co-host celebrations for campus partners. Interns learn to cook with the wood-fired oven and make pizzas with vegetables from our gardens. (Please note that the Pizza Oven is closed for fall 2020 until further notice.)
The Serenity Garden is a plot of land on the western slope of the Knoll. This garden is a collaboration with the Scott Center for Spiritual and Religious Life. In 2012, His Holiness the Dalai Lama blessed a large round marble bench. We also constructed a labyrinth to celebrate 15 years of the Knoll in September 2017. This is a space in progress.
Environmental Affairs oversees the Knoll in collaboration with the Middlebury College Organic Farm (MCOF) student organization. 
The Knoll promotes awareness of issues surrounding food production and offers instruction and hands-on learning. We also host events, speakers, farm visits, and screenings related to topics in food, agriculture, and food justice.
Check out the intern-run blog!
Visit the Knoll
Per the College's COVID-19 guidance for spring 2021, the Knoll section of the TAM and the rest of campus are open only to students enrolled as in-person learners.
Please note, as always, the Knoll operates as a three-season space. No amenities (restrooms, handwashing station, snow removal, driving access, trash receptacles) will be available until the final week of March 2021.
The physical address of the Knoll is 152 Vermont Route 125, Cornwall, VT.
For spring 2021, we will welcome student volunteers starting (tentatively) 3/29/21. Volunteers must sign up in advance; more information will be forthcoming as we approach the spring season.
To drive, head west down the hill on College Street (Route 125) for a half-mile. Take a right at the wooden sign for the farm. If you are driving, you can leave your car at the sign and walk the short dirt road to the farm.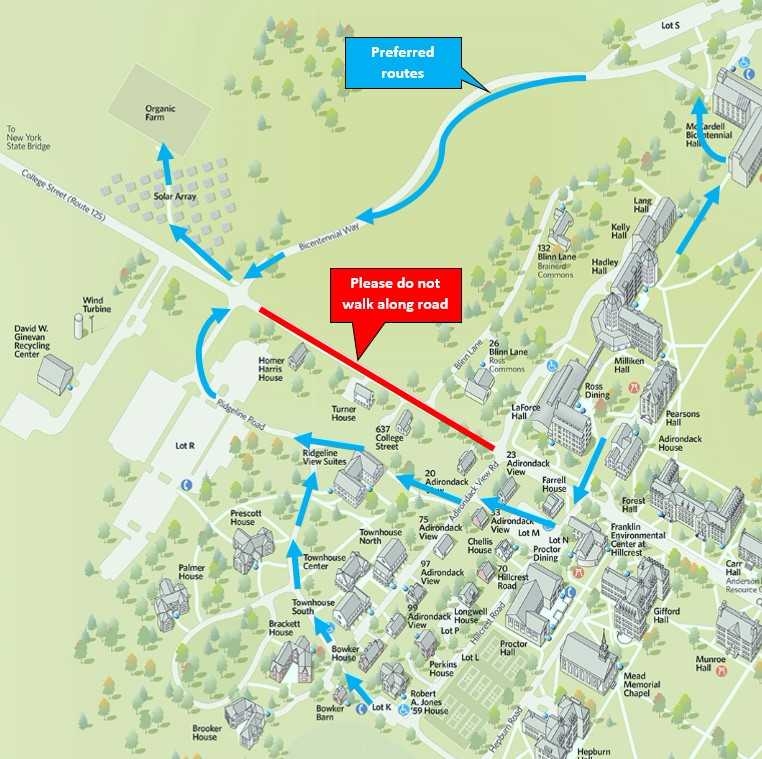 Please be respectful of our few rules while visiting:
Please keep dogs on leashes
Stay on paths
Leave the harvesting to us
Please pack out what you pack in
Please wear your mask and abide by all other Campus Health Pledge guidance
Learn more about hosting an event at the Knoll.
Please note that we will be hosting a limited number of events for student groups only in Spring 2021 in accordance with all COVID-19 guidance. 
The Knoll Crew
Staff from Environmental Affairs oversees The Knoll in collaboration with the Middlebury College Organic Farm student organization.
Megan O. Brakeley '06, Food and Garden Educator
Megan manages the educational garden, supports interns, and helps organize events at the Knoll. At Middlebury, Megan studied Spanish and Environmental Studies. She holds a Master of Environmental Management from the Yale School of Forestry and Environmental Studies. She is also a third-year Posse mentor. Megan is passionate about the power of observing and listening to the natural world, and she enjoys bread baking, flower arranging, skiing, and exploring with her young family. mbrakeley@middlebury.edu
Sophia Calvi '03.5, Director of Programs, Franklin Environmental Center 
Sophie works closely with students, faculty, and staff, as well as the broader community, on numerous sustainability initiatives. She has a master's degree in Food Culture and Communications from the University of Gastronomic Sciences in Italy and a BA in International Studies from Middlebury College. As a student at Middlebury, she started a children's garden at The Knoll. She then ventured out into the wider world of food and wine, where she has worked for wineries and various garden, farm, and food organizations. sessercalvi@middlebury.edu 
Jay Leshinsky, Former Farm Manager and Educator
Jay has advised The Knoll since its beginning. He has a master's degree in Education and Human Development from the University of Maryland. There, he began an organic market garden, and after moving to Vermont in 1975, he continued to expand the market garden business and combine it with his work for private and public educational programs. He has collaborated with foundations and schools to develop programs for school gardens, agriculture-centered curriculum, and staff training to more effectively use local food products in Head Start nutrition programs. Jay retired at the end of the 2017 growing season after 15 years. 
Seasonal Interns
From starting seedlings in the spring to harvesting in the fall, the farm staff is dependent on student volunteers and interns. Volunteers and interns help with the production and sale of food crops as well as participating in regular farm visits to learn more about our local food community. 
Local Resources
Middlebury's integrated commitment to sustainability means that we support local, environmentally committed vendors whenever possible. Here are a few Vermont-based organizations that share our vision for the future.