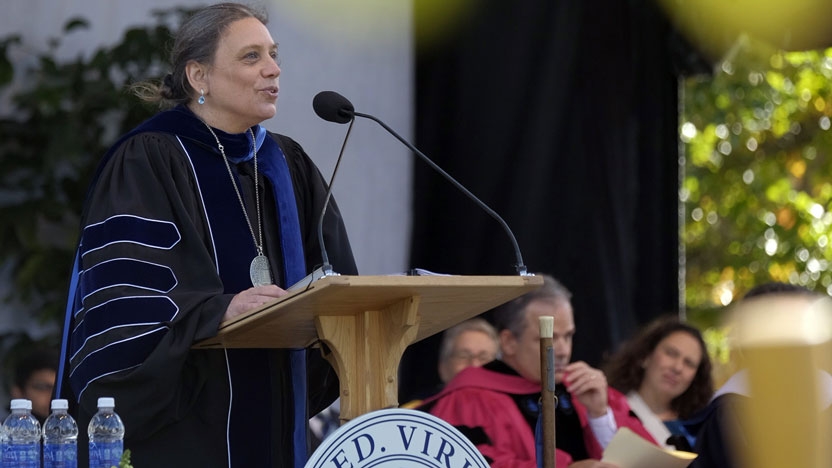 Under brisk blue skies and surrounded by spectacular fall foliage, Middlebury inaugurated Laurie L. Patton as its 17th president on Sunday, October 11, 2015.
Overview
The inauguration ceremony featured poetry readings by United States Poet Laureate Natasha Trethewey, musical performances and literary readings by students and faculty, greetings from numerous distinguished guests, and a keynote talk by Duke University President Richard Brodhead.
The ceremony followed a weekend of festivities that included academic panel discussions, an outdoor concert, and fireworks.
More than 70 delegates from other colleges, universities, and learned societies joined the celebration on Sunday, processing in academic regalia on a route from Old Chapel up Storrs Walk to the inauguration site adjacent to McCullough Student Center.
News Coverage
Middlebury Newsroom
Schedule of Events
Sunday, October 4
Inaugural Symposium
Middlebury Institute of International Studies at Monterey
The Challenge of Translatability: 21st Century Practices, Policies, and Possibilities
Irvine Auditorium · 499 Pierce Street
6–8 p.m. Keynote Talk: President Laurie L. Patton
Symposium: A roundtable discussion with moderator Jeff Dayton-Johnson, Vice President for Academic Affairs and Dean of the Institute
8–9:30 p.m. Reception
---
Saturday, October 10
A Festival of Learning: Academic Panel Discussions
Middlebury, Vermont
Wilson Hall · McCullough Student Center
American Sign Language interpretation will be available
10 a.m. Race, Gender, and Inequality
Moderator: Tara Affolter, Assistant Professor in Education Studies
Panelists: David Simon, Baltimore-based journalist, author and television producer, and creator of "The Wire;" Gyanendra Pandey, Arts and Sciences Distinguished Professor in the department of history at Emory University; Ruby Lal, professor of South Asian studies at Emory University; and William Darity, the Samuel DuBois Cook Professor of Public Policy at Duke University.
1:30 p.m. Scientific Exploration and the Boundaries of Life
Moderator: Eilat Glikman, Assistant Professor of Physics
Panelists: John Grotzinger, chief scientist and head of strategic planning for the Mars Rover Mission and Fletcher Johns Professor of Geology at the California Institute of Technology; Mohamed Noor, the Earl D. McLean Professor and Chair of Biology at Duke University; and Pat Marsteller, professor of practice in the biology department at Emory University.
3:30 p.m. The Ethical Dimensions of Reading Classical Literature
Moderator: Timothy Billings, Professor of English and American Literatures
Panelists: Wendy Doniger, Mircea Eliade Distinguished Service Professor in the History of Religions at the University of Chicago; James Romm, the James H. Ottaway Jr. Professor of Classics and director of the Classical Studies Program at Bard College; Karen Stolley, professor of Spanish at Emory University; and Luke Bretherton, professor of theological ethics and senior fellow at the Kenan Institute for Ethics at Duke University.
7 p.m. Middlebury Community Concert
Outdoors on the Main Quad (Rain location: Peterson Family Athletics Complex)
La Bottine Souriante – Traditional French Canadian folk music with a modern twist.
Taylor Watson, singer songwriter
Brad Corrigan '96 – Cofounder of Dispatch
9:45 p.m. Fireworks
Fields behind Peterson Family Athletics Complex
11 p.m. DJ Dance Party
Wilson Hall · McCullough Student Center
---
Sunday, October 11
Presidential Inauguration
Outdoors on the Main Quad (Rain location: Peterson Family Athletics Complex)
American Sign Language interpretation available
9:45 a.m. Inauguration Procession Line-up
10:30 a.m. Presidential Inauguration Ceremony
Community luncheon to follow on Proctor Terrace. (Rain location: Pepin Gymnasium.)
Inauguration Committee
David Donahue '91, Co-Chair, Special Assistant to the President
Caitlyn Knowles Myers, Co-Chair, Associate Professor of Economics
Lisa Ayers, Director of Event Management
Laura Burian, Associate Professor of Chinese, Interpretation, and Translation, Middlebury Institute of International Studies at Monterey
Stephen Diehl, News Director
Elizabeth Karnes Keefe, Assistant Dean of Language Schools and Schools Abroad
Alanna Shanley '99, Director of Donor Relations
Past Presidents
2004 - 2015 Ronald D. Liebowitz
1991 - 2004 John Malcolm McCardell, Jr.
1990 - 1991 Timothy Light
1975 - 1990 Olin Clyde Robison
1963 - 1975 James Isbell Armstrong
1943 - 1963 Samuel Somerville Stratton
1921 - 1942 Paul Dwight Moody
1908 - 1921 John Martin Thomas
1885 - 1908 Ezra Brainerd
1880 - 1885 Cyrus Hamlin
1875 - 1879 Calvin Butler Hulbert
1866 - 1873 Harvey Denison Kitchel
1840 - 1866 Benjamin Labaree
1818 - 1839 Joshua Bates
1810 - 1817 Henry Davis
1800 - 1809 Jeremiah Atwater