Our Founder: Kathryn W. Davis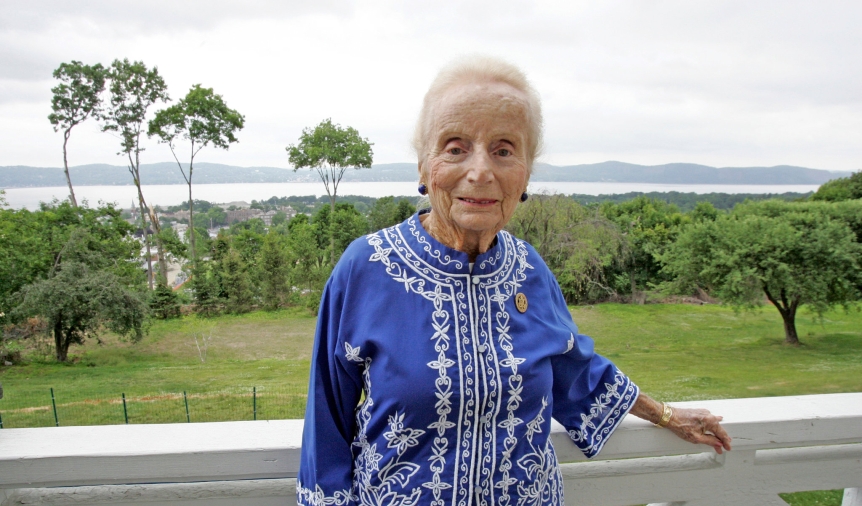 "My challenge to you is to bring about a mindset of preparing for peace, instead of preparing for war." (Kathryn W. Davis, 2007)
Champion of Peace
Kathryn W. Davis challenged today's students, whom she referred to as "the real movers and shakers," to do what previous generations could not—to work effectively toward lasting peace in the world. 
After the terrorist attacks of 2001, Davis turned her philanthropic mission toward her vision for world peace and, in recognition of her efforts, received the 2006 Woodrow Wilson Award for Public Service from the Wilson Center in Washington, D.C., and the EastWest Institute's Peace and Conflict Prevention Award conferred in Potsdam, Germany. That same year, looking ahead to her 100th birthday in 2007, she created 100 Projects for Peace to increase global understanding and promote peace. 
"There will always be conflict," she noted. "But I'll remind you that love, kindness, and support are also part of human nature. My challenge to you is to bring about a mindset of preparing for peace instead of preparing for war."
Lifelong Philanthropist
Her other philanthropic investments included: scientific research in genetics, glaucoma, and regenerative medicine; education for recent immigrants at community colleges; Planned Parenthood; master's programs at the American Museum of Natural History and Future Generation's Graduate School; and numerous organizations in the communities where she lived.
Although she wrote and lectured on her travels throughout the world, Russia and the Soviet Union remained a lifelong passion. In 1996, this passion was memorialized when Harvard's Russian Research Center was named in honor of her and her late husband, Shelby Cullom Davis.
In 2006, Middlebury College named the Russian School, part of its renowned Language Schools, for Kathryn Wasserman Davis. That same year, Davis created the Fellowships for Peace program at Middlebury, to cover the full cost of attendance in the Middlebury Language Schools.
Davis was a member of the Council on Foreign Relations, the Council of American Ambassadors, the New York Stock Exchange, and the Visiting Committee of the Davis Center at Harvard. She was a Wellesley College trustee for 18 years and later a trustee emerita.
In addition, she served as a distinguished trustee at the United World College-USA, an honorary trustee at the Heritage Foundation, trustee emerita at The Youth Foundation, on the advisory board of Seeds of Peace, and as a decades-long officer and trustee of the Women's National Republican Club.