Public Service Leadership Awards Celebrate Student Service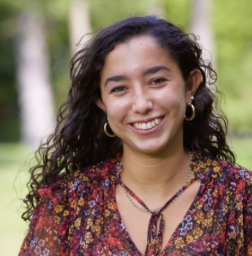 MIDDLEBURY, Vt. – Student leadership and partnerships in public service took center stage at the 28th annual Patrick J. Durkin, Class of 1979, Public Service Leadership Awards ceremony, hosted by the Center for Community Engagement (CCE) on April 28.
"These are such challenging times, and they've created new urgency and new hurdles for public service," said President Laurie Patton in her greeting to the Zoom gathering. "But our students' unwavering commitment to helping others; to building community; to sharing their intellect and creativity; to forging human connections; to offering kindness and support; to making our communities stronger and more humane—continues to inspire us at a time when we all need inspiration."
Keynote speaker Helena Van Voorst, executive director of United Way of Addison County, lauded the nimbleness and creativity of students, staff, faculty, and community members in responding to evolving community needs during the pandemic. "When Midd kids show up, things get done," she said.
The ceremony also served as a poignant tribute to Patrick J. Durkin, a member of the Class of 1979, who founded the Public Service Leadership Awards 28 years ago. Durkin, who died by suicide last summer, felt that students who dedicated themselves to service should receive the same recognition as those who achieved excellence in academics, athletics, or the performing arts. Over the decades, he helped Middlebury to celebrate civic leadership, nurture character development and personal growth, and collaborate with local, national, and international communities.
In Durkin's honor, the awards were officially renamed the Patrick J. Durkin, Class of 1979, Public Service Leadership Awards, Patton announced. Durkin's wife, Kristen Durkin, spoke at the award ceremony, asking the audience to "serve others generously, but make sure to take care yourselves. Your families and your communities need you. I hope the lessons of [Patrick's] both exuberant, generous life and sudden, tragic death can help guide you on your journey."
With support from the Durkin Fund, the CCE will make $500 donations on behalf of each award winner to a nonprofit organization of their choice. The Durkin Fund supports these awards and other CCE programs that foster student public service leadership. As of this year, the CCE will have recognized a total of 229 students through these awards and distributed $70,900 to nonprofit organizations designated by the student award recipients.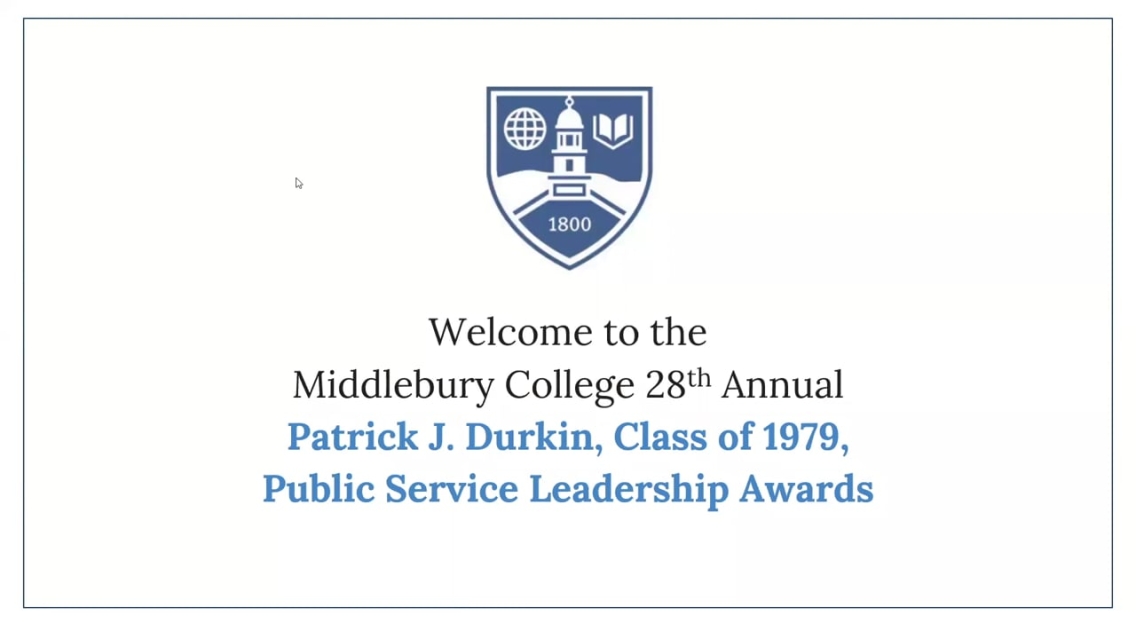 The following students were award winners recognized at the 2021 Patrick J. Durkin, Class of 1979, Public Service Leadership Awards. The first four awards are named in honor of individuals with special relationships to Middlebury College. The remaining six awards recognize students for their distinct commitment to and leadership in public service, and encourage continued pursuits of their engagement well after graduation and throughout their lives.
The John M. McCardell Jr. Public Service Leadership Award was presented to Van Barth '21 for his service in the Town of Middlebury's Energy Committee. In his role, he focused on various initiatives to promote energy efficiency and greenhouse gas reduction in Middlebury. His dedication connected the College and town in a meaningful way.
The Bonnie McCardell Public Service Award went to a student who exemplifies outreach in youth and family services, literacy, and the special needs of young people. As president of Nutrition Outreach and Mentoring (NOM), Mollie Ockene '21 redesigned NOM programming from being entirely reliant on in-person programming in schools to being virtual and COVID-19-safe. She helped college students maintain connections with Mary Hogan Elementary School children and families via accessible and remote nutrition and cooking classes.
The Dana Morosini Reeve '84 Memorial Public Service Award was presented to Alex Burns '21.5 and Olivia O'Brien '21.5 for their commitment to migrant justice. In addition to their commitments to Juntos and the Privilege & Poverty Academic Cluster (respectively), they co-led a virtual Middlebury Alternative Break (MAlt) Trip focused on immigration education and advocacy in the United States, in partnership with RIACES. They introduced a new group of students to their work at the Texas border supporting migrants seeking asylum and experiencing detention, and will continue this commitment through a Projects for Peace grant this summer.
The Tiffany Nourse Sargent '79 Engaged Partnership Award honors an educational partnership between Middlebury College and a community organization to address community needs. Johanna Miller, the energy and climate program director for the Vermont Natural Resources Council, won the inaugural award for her long-term engagement with the ENVS0401 Environmental Studies Community-Engaged Practicum. Johanna's partnerships have addressed not only the urgency of needed climate and energy transitions but also the necessity that these transitions happen in a just and equitable manner. These projects have illuminated the range of paths that social change can take for partnering students, such as introducing legislation, organizing communities, advocating, and beyond.
Izzy Hartnett '21 was recognized for her commitment to advancing justice through democratic engagement and advocacy. Izzy was instrumental in launching the MiDD: Middlebury Does Democracy! voting initiative in the 2020 national election. Organizing student athletes to help get out the vote for the 2020 election, she led the way to reaching 100 percent voter registration for 29 of the 31 Middlebury College athletic teams. Izzy spent much of the past year as an intern with the American Civil Liberties Union (ACLU) of Vermont as well.
Trishabelle Manzano '21 was recognized for her leadership in cultivating a safe space for individuals to connect and engage in self-reflection through Project PUSO (Pilipinx/- Unity, Solidarity, and Outreach), a start-up organization that empowers the Pilipinx-American community against anti-Asian racism.
Flor Fernández Montes '21 was recognized for advancing the work of the Addison County Parent Child Center through her proactive leadership in researching and integrating anti-racism and equity practices throughout the organization over the past year. She is also recognized for her contributions to the Middlebury Alternative Break (MAlt) program as a participant, co-leader on trips, and co-chair of this year's MAlt with Linh Tran.
Melynda Payne '21 was recognized for her commitment to bringing members of the Middlebury community together for service. She has planned valuable community service events that connect Middlebury students to the rest of Addison County through her leadership in MiddVolunteers, and has committed to deepening her own understanding and commitment to civic causes through training workshops that explore effective community service and advocacy.
Benjy Renton '21 was recognized for his work informing and educating the community, demonstrated through his heavy involvement in the local and state's COVID-19 response. He has written and disseminated a digestible and accessible compilation of COVID-19-related scientific facts and policy analysis called "Where We Stand with COVID-19." In addition, Benjy has been a steady, welcoming presence in the town and across campus through his formal and informal involvement across our many communities (e.g., Privilege & Poverty Academic Cluster, Middlebury College Access Mentors, The Middlebury Campus newspaper).
Mai Thuong '22 was recognized for her dedication to community building by delivering culturally-informational presentations and diligently volunteering with Language in Motion, Page One Literacy Project, and MiddVolunteers, and co-leading a Middlebury Alternative Break (MAlt) Trip.
If you or someone you know is experiencing mental illness, please seek support from Middlebury Counseling and MiddTelehealth, or the National Suicide Life Line and the Crisis Text Line.