Season 1 Ep. 8 - Why We Need Environmental Justice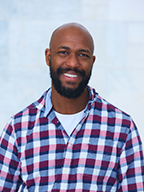 As the US Environmental Protection Agency notes: "The environmental justice movement was started by individuals, primarily people of color, who sought to address the inequity of environmental protection in their communities." What type of inequities in community protection gave rise to the movement? How did such inequities arise and how acute was the danger which stemmed from them? What impact did this US-born movement have on similar situations beyond US borders? And what might be done to promote greater environmental justice for all? In this episode Mark Williams seeks answers to these and other questions from political scientist Kemi Fuentes-George, whose research has examined environmental conservation, biodiversity, environmental justice and other topics.
Kemi Fuentes-George is associate professor of Political Science at Middlebury College, and a faculty fellow at Middlebury's Rohatyn Center for Global Affairs. In his capacity as a faculty fellow, he helps oversee the Center's program on "Security and Global Affairs." A man of many hats, Doctor Fuentes-George also directs the programs on International and Global Studies, and Global Environmental Change. He's written extensively about international environmental policy, environmental conservation, biodiversity, the Green Economy, and environmental justice in a variety of journal articles, book chapters, and his own book—Between Preservation and Exploitation (MIT Press).  
Rohatyn Center for Global Affairs
Robert A. Jones 59 House
148 Hillcrest Road
Middlebury, VT 05753