Faculty and Staff Authors of Books Recognized at Reception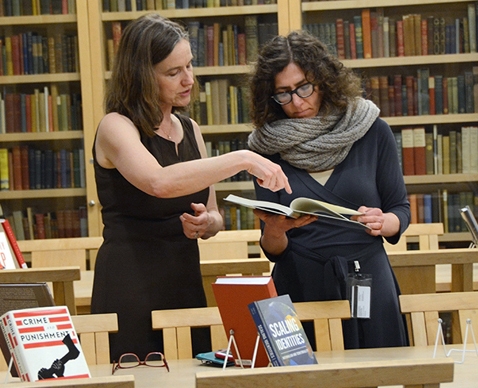 MIDDLEBURY, Vt. – Middlebury College honored 24 faculty and staff authors of new books at a reception in the Special Collections Room of the Davis Family Library on April 12.
With all of the books arranged on tables, each of the authors spoke for a few minutes about their writing, their research, or their experiences in the world of book publishing.
Associate Professor Marybeth E. Nevins, an anthropologist, discussed the publication of Worldmaking Stories: Maidu Language and Community Renewal on a Shared California Landscape (University of Nebraska Press, 2017), and said royalties from her book are going toward research in modern languages.
Michael R. Katz, the C.V. Starr Professor Emeritus of Russian and East European Studies, said his translation of Dostoevsky's Crime and Punishment (Liveright Publishing, 2017) "took three and a half years [to write] and I would expect anyone here to take that long to read it."
Benjamin F. Wissler Professor of Physics Rich Wolfson presented the third edition of his textbook Energy, Environment, and Climate (W. W. Norton, 2017) and explained that nearly every graph and number has to be revised with the publication of each new edition.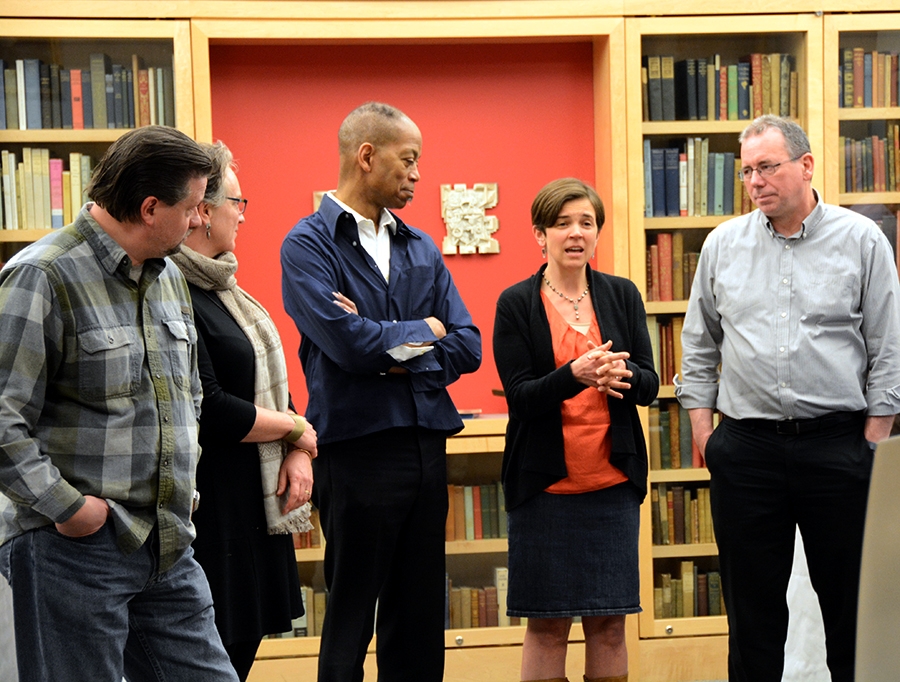 Sarah Stroup discussed the publication of her book. Also shown from left: James Calvin Davis, Andrea Lloyd, Don Wyatt, the author, and Jeff Cason.
Sarah Stroup, associate professor of political science, discussed the writing of The Authority Trap: Strategic Choices of International NGOs (Cornell University Press, 2017) and the challenges and joys involved in coauthoring a book.
Several other faculty spoke amid an atmosphere of gratitude, accomplishment, and collegiality. For a complete listing of all the newly published authors and their works, click here.
The late-afternoon event was hosted by Dean of Faculty Development and Research James Ralph, who observed that authors exhibited "the qualities of vision, artistry, analysis, and organization, and especially perseverance, in bringing each of these books to fruition. You all had something to say and you put yourself out there to say it, and you cared enough about seeing your books to publication that you were willing to risk rejection and frustration."
"On behalf of Middlebury College and President Laurie Patton," Professor Ralph added, "all we want you to do today is hear our applause."