Humanities during Covid-19
A list of articles, blogs, and other media about humanistic inquiry and the COVID-19 pandemic.
View the gallery in a new window.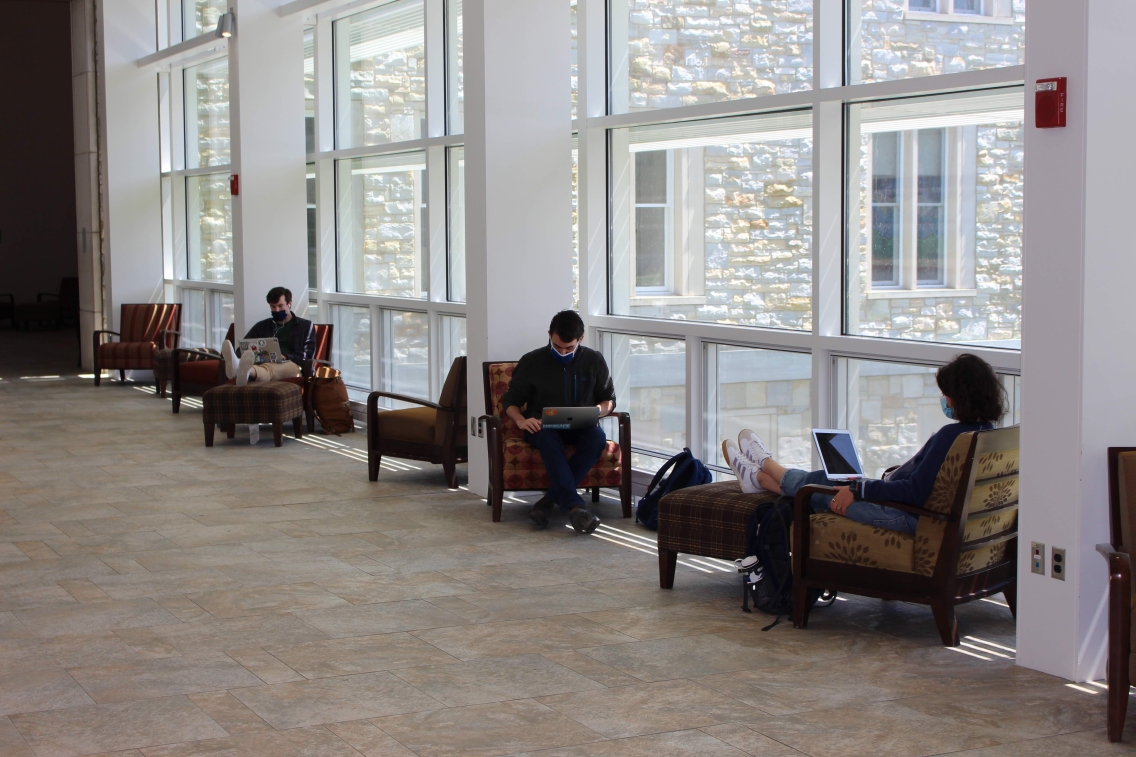 Axinn During COVID-19
Poetry in a time of pandemic: Local women of color find voice in COVID
August 11, 2020 –
Model D - Discusses the relevance and strength of poetry during the pandemic for women of color. 
Can online classes during the pandemic bring back an endangered language?
October 12, 2020 –
Middlebury Language Schools Blog -  A reflection on the virtual Abenaki Language School of summer 2020 and a examination on how virtual teaching can broaden language learning. 
Why a Roman philosopher's views on the fear of death matter as coronavirus spreads
March 12, 2020 –
The Conversation - An examination of Lucretius, a first-century Roman poet, and philosopher, views death and health as an increasingly deadly Covid 19 pandemic spreads. 
In some states, coronavirus measures are effectively banning abortion
March 31, 2020 –
The Washington Post - With the covid-19 pandemic straining health-care resources, antiabortion groups are working to redefine abortion as nonessential. 
COVID-19 in Latin America: Growing Challenges in the World's Most Unequal Region 
June 19, 2020 –
Council on Hemispheric Affairs - A look into the impact of the Coronavirus in Latin American countries and communities. 
October 29, 2020 –
The Chronicle of Higher Education - Two leading scholars discuss the virus, the future of knowledge, and the state of humanistic inquiry.
April 1, 2020 –
Allegra Laboratory - A collection of recorded diaries from journalists around the world amidst the Coronavirus pandemic. 
Science Alone Can't Solve Covid-19. The Humanities Must Help
June 4, 2020 –
Undark Magazine - Scholars of society, language, and culture will be integral to addressing the broader issues raised by the pandemic
Montaigne Fled the Plague, and Found Himself
June 28, 2020 – 
New York Times - As disease and war-ravaged the nation, 16th-century author Michel du Monaigne left town and invented the essay.
Rereading Arrowsmith in the COVID-19 Pandemic
June 26, 2020 – 
Journal of the American Medical Association - Examines the ongoing relevance of Sinclair Lewis' 1925 novel Arrowsmith to unresolved questions of research, treatment, prevention, and mitigation of the 2020 COVID-19 pandemic.
Pride and Prejudice in a Pandemic
June 25, 2020 – 
United Nations Foundation - The intersecting identities of LGBTQI, BLM, and COVID-19
As Museums Get on TikTok, the Uffizi Is an Unlikely Class Clown
June 24, 2020 – 
New York Times - The art museum in Florence was one of the first to use the social media platform, posting unusually irreverent videos that challenge its dignified reputation.
Saying Goodbye During the Coronavirus Pandemic in "The Last Call"
June 11, 2020 – 
The New Yorker - A new documentary follows the experience of one family to show the grief behind the death toll, and how the virus has changed the care and consolation at the end of a patient's life.
Oedipus and the Coronavirus Pandemic
June 9, 2020 – 
Journal of the American Medical Association- Drawing lessons from Sophocles' classic tragedies Oedipus Rex and Oedipus at Colonus about the limits of medicine and the importance of community in the midst of the coronavirus (COVID-19) pandemic.
How Will We Remember the Pandemic? Museums Are Already Deciding
May 25, 2020 – 
New York Times - Wanted: Artifacts that show how Americans navigated the Covid-19 crisis. The trick is determining what's historically valuable.
An Update on Journal Publishing and a Plea for our Discipline in the Time of Pandemic
May 22, 2020 – 
Journal of the American Academy of Religion - A discussion on how COVID-19 has exposed the gender, racial, and class privileges in the cultural construction of religious studies. 
Can You Gather With God Over Zoom?
May 22, 2020 – 
New York Times - Quakerism goes virtual, offering an intimate window into silent worship.
The Germs that Transformed History
May 22, 2020 – 
Wall Street Journal - For eons, epidemics have caused mass deaths and social upheaval, with far-reaching effects on politics, trade, migration, colonization and conquest.
The Case for Music in Times of Loss
May 21, 2020 – 
New York Times - Hospice chaplain Chris Sikora on how music can help us through periods of mourning. 
May 20, 2020 – 
New York Times - In lockdown and through our screens, we're reminded of all that's special and strange about group reading: a solitary, private act made public.
How Women Are Getting Squeezed by the Pandemic
May 20, 2020 – 
New York Times - The virus has exposed gender fault lines in myriad ways. Nahla Valji, senior gender adviser at the UN, unpacks them.
Mozart is the New Kanye — and Other Surprising Book, Movie and Music Trends During the Age of Coronavirus
May 18, 2020 – 
Market Watch - While live concerts, movie releases are on hold amid the COVID-19 pandemic, Americans are ditching mainstream sources of entertainment for timeless classics.
Poem: "In Quarantine, I Reflect on the Death of Ophelia" by Elisa Gonzalez
May 18, 2020 – 
The New Yorker - "The only possible epiphany is that the ending of a thought is never such."
May 17, 2020 – 
The Atlantic - Their grandparents may have gone to church. But today, many Americans turn elsewhere to meet their spiritual needs.
A Ramadan and Eid in Isolation
May 16, 2020 – 
The Atlantic - Novelist Uzma Jalaludin tries to help her family find their own special connection to the holy month this year. 
Looking at Albert Camus's "The Plague"
May 15, 2020 – 
New York Times - In 1948, Stephen Spender wrote for the Book Review about Albert Camus's "The Plague," a novel about an epidemic spreading across the French Algerian city of Oran.
May 15, 2020 – 
The New Yorker - Why do we crave fables of sickness when so many of us are sick, or devising ingenious ways to remain non-sick?
Busting Myths and Misinformation During a Pandemic
May 14, 2020 – 
University of California Irvine Webinar - Two UCI professors of philosophy discuss the origins and spread of misinformation as well as tips for discerning what is credible information in this free, half-hour webinar. 
The 1798 Poem That Was Made for 2020
May 13, 2020 – 
The Atlantic - "The Rime of the Ancient Mariner" is taking on new meaning during the coronavirus pandemic.
Pandemics Go Hand in Hand with Conspiracy Theories
May 13, 2020 – 
The New Yorker - For more than a century, America didn't know that yellow fever was transmitted by mosquitos. Much remains unknown in medicine, creating fertile ground for fear.
After Surviving Wars, Pestilence, Religions Use Technology to Beat Pandemic
May 12, 2020 – 
Reuters - As religious centers close their doors due to the pandemic, confessions via Skype, Zoom seders, and Facebook Koran recitations are becoming the new normal. 
Historian Draws Parallels Between The 1918 Spanish Flu And Today's Coronavirus Pandemic
May 11, 2020 – 
WBUR - Author and historian Kenneth C. Davis spoke with WBUR's All Things Considered about his book on the 1918 outbreak, "More Deadly than War," and the coronavirus pandemic hitting the nation today.
COVID-19 and Health Equity- A New Kind of "Herd Immunity"
May 11, 2020 – 
JAMA Network - Dr. David Williams of Harvard's T. H. Chan School of Public Health provides insight into the disproportionate impact of COVID-19 on communities of color and outlines ways to flatten the curve of racial disparities in healthcare
May 10, 2020 – 
New York Times - An infectious outbreak can conclude in more ways than one, historians say. But for whom does it end, and who gets to decide?
What Shakespeare Actually Wrote About the Plague
May 7, 2020 – 
The New Yorker - In the works of the playwright, who lived his entire life in the shadow of bubonic plague, epidemic disease is present as a steady undertone, surfacing most vividly in everyday exclamations of rage and disgust.
The Coronavirus Is Rewriting Our Imaginations
May 1, 2020 – 
The New Yorker - What felt impossible has become thinkable. The spring of 2020 is suggestive of how much, and how quickly, we can change as a civilization.
May 1, 2020 – 
The Times Literary Supplement - Georgetown University Japanese history professor Jordan Sand analyzes the cultural differences between the United States and East Asia with respect to mask-wearing and historical understandings of disease. 
Coronavirus Escapism: Book Sales Surge During Lockdown
April 30, 2020 – 
World Economic Forum - With much of the world's population in lockdown, many people are getting back into reading.
The Spiritual Implications of the COVID-19 Pandemic with Greg Reichberg and friends
April 28, 2020 – 
The Absolutes - This episode features the podcast host Greg Reichberg in a conversation with two friends, Trond Bakkevig and Henrik Syse, about the spiritual implications of the coronavirus pandemic. The conversation took place in Oslo on Saturday of Easter week, with the friends in their respective homes, due to social distancing requirements.
Germany Enlists Humanities Scholars to End Coronavirus Lockdown
April 26, 2020 – 
World Economic Forum - The German government has worked with philosophers, historians, theologians and jurists for guidance on loosening lockdown restrictions.
Family Diaries Kept During Spanish Flu Give Ohio Descendants Hope During Coronavirus Pandemic
April 26, 2020 – 
NBC News - "While a global pandemic shuttering schools and businesses feels like new territory, many of our families still bear the scars of the 1918 influenza pandemic," Amy Patterson says.
Tiger King: Lurid Netflix Smash Can Illuminate Southern Queer Cultures (If You Look Closer)
April 26, 2020 – 
History News Network - John Howard, a Professor of Arts and Humanities at King's College London and author of several books on Southern queer culture, examines the intersections of sexuality, class, and region in Netflix's Tiger King. 
TikTok in the Time of Coronavirus
April 26, 2020 – 
The Guardian - The sublime and the serious, the silly and the strange: how TikTok has become the perfect platform for these times.
Infectious Disease Outbreaks, Pandemics, and Hollywood—Hope and Fear Across a Century of Cinema
April 24, 2020 – 
JAMA Network - An examination of the overlapping themes in 80 films about pandemics from various times in cinematic history. 
Streaming Community: How #QuarantineLife is Connecting Us Through Our Watch List
April 23, 2020 – 
University of California Irvine Webinar - Television scholar Victoria E. Johnson sits down with Tyrus Miller, dean of the UCI School of Humanities, to discuss how streaming is building a sense of community and more in this free 25-minute webinar. 
The History of Cultural Resistance Against Masks
April 22, 2020 – 
Maclean's - Why medical masks evoke such panic in North America
Why We Should All Be Keeping Coronavirus Journals
April 21, 2020 – 
Time - Historian Katherine Sharo Landdeck discusses the importance of journals as a means for future historians to understand individual perspectives and sentiments during a time period.
Embracing the Chaotic Side of Zoom
April 20, 2020 – 
The New Yorker - In a time of social distancing, our background noises, bathrobes, and other bloopers can be unexpected sources of connection.
What Historians Will See When They Look Back on the Covid-19 Pandemic of 2020
April 15, 2020 – 
New York Times - Universities and institutions are inviting the public to share their experiences during the 2020 coronavirus pandemic and its aftermath.
Black Skin, White Masks: Racism, Vulnerability & Refuting Black Pathology
April 15, 2020 – 
Princeton University Webinar - Princeton African-American Studies professor Ruha Benjamin delivers a free, half-hour webinar about the disproportionate burden people of color bear with respect to COVID-19, as well as the myriad ways communities of color are engendering justice and joy in this difficult time. 
How Smithsonian Curators Are Rising to the Challenge of COVID-19
April 15, 2020 – 
Smithsonian Magazine - In a nation under quarantine, chronicling a crisis demands careful strategy.
Quarantine in Nineteenth-Century New York
April 14, 2020 – 
The New York Academy of Medicine - Lorna Ebner, a historian at Stony Brook University, describes historical attempts to mitigate disease in New York City. 
Jawdet and Huda Fakhreddine, Lebanon & USA
April 13, 2020 – 
Warscapes Corona Notebooks - Former Middlebury professor Huda Fakhreddine – now Assistant Professor of Arabic Literature at the University of Pennsylvania – translates the Pandemic Poetry of her renowned poet-father: Jawdet Fakhreddine.
What Do the Humanities Do in a Crisis?
April 11, 2020 – 
The New Yorker - Crises are, at least while they are happening, not educational opportunities. But there are still things to learn.
April 10, 2020 – 
BBC - Balconies have always been designed to captivate and inspire the masses. But amid the coronavirus pandemic, they've taken on a newfound importance.
King Lear Under COVID-19 Lockdown
April 10, 2020 – 
JAMA Network - Reimagining an iconic Shakespearean work's relevance in the time of coronavirus, from the Journal of the American Medical Association. 
How Can We Save Black and Brown Lives During A Pandemic? Data From Past Studies Can Point the Way
April 10, 2020 – 
Science Magazine interviews UMD public health expert Sandra Crouse Quinn about the outsized impact of a pandemic on communities of color. 
April 10, 2020 – 
A joint project by Blog Medical Anthropology / Medizinethnologie, Curare: Journal of Medical Anthropology, Global South Studies Center Cologne, and boasblogs.
Love Your Neighbor: Islam, Judaism, and Christianity Come Together Over COVID-19
April 9, 2020 – 
World Economic Forum - Religious leaders from the Abrahamic faiths are turning to religious texts for guidance in these uncertain times. 
Coronavirus and Islam: Coming to Terms with the Pandemic
April 9, 2020 – 
Middle East Eye - As Covid-19 continues to spread, policymakers in Muslim-majority countries should look to Islam
Structural Racism is Exacerbating the Coronavirus Epidemic for Black People- Especially for Black Women
April 9, 2020 – 
Ms. Magazine outlines the roots of the racial disparity in coronavirus deaths.
What Can We Learn from the Art of Pandemics Past?
April 8, 2020 – 
New York Times Style Magazine - From the playground game ring-around-the-rosy to the short stories of Edgar Allan Poe, the scars of illnesses throughout history are still visible today.
The Novel Coronavirus is Devastating Black Communities. This Was Predictable.
April 8, 2020 – 
New York Magazine examines the outsized impact of coronavirus on Milwaukee's black community through tracing Wisconsin's long history of systemic racism.
Eating In: A Series from the Counter
April 8, 2020 – 
A series of short essays about how COVID-19 has changed everyday life in the US and how those changes are manifested in food.
How to Live in the Face of Fear: Lessons from a Cancer Survivor
April 5, 2020 – 
New York Times - Kate Bowler is a religion scholar and best-selling author who is sharing daily reflections on Instagram.
Staying Inside Guide: Art History for All Ages
April 3, 2020 – 
The Wall Street Journal - Even though schools and museums are shut down, curious kids can still engage with the arts. The Wall Street Journal has collected a variety of online resources to introduce children (and adults) to art history. 
Personal Risk and Societal Obligation During COVID-19
April 3, 2020 – 
Journal of the American Medial Association - A physician with preexisting health conditions contemplates the morality of self-isolation during a period when doctors are expected to put their patients first.
National Center for Transgender Equality COVID-19 Guide
April 3, 2020 – 
A guide for trans folks and allies on preparing for COVID-19 that includes resources on finding affirming medical care, housing, and mental healthcare, as well as mutual aid funds that support the trans community.
April 3, 2020 – 
Financial Times - Novelist Arundhati Roy on how coronavirus threatens India and what the country-and the world- should do next
April 3, 2020 – 
Middle East Monitor - A Timely Look at the Ottoman Experience of Epidemics.
Challenged by COVID-19, LGBTQ Communities Plan Worldwide Digital Pride Celebrations
April 3, 2020 – 
Time Magazine - With many in-person events cancelled, LGBTQ people around the world will celebrate Pride with online events this June. 
Tiger King and a Bloody Mary: Hilary Mantel, Simon Armitage, and Other Writers on Lockdown Life
April 3, 2020 – 
The Guardian interviews writers on their coping strategies for living under quarantine.
March 30, 2020 – 
The New Yorker - "Breath can be both instinctive and controlled."
Performers on Lockdown Turn to Their Smartphones
March 30, 2020 – 
The New Yorker - In a time of fear and strained feeling, creative people are doing what they can for us from their living rooms.
Community Care: An Indigenous Response to Coronavirus
March 30, 2020 – 
Yes Magazine - Jade Begay, a Yes Magazine contributor of Diné and Pueblo descent, writes about the necessity of decolonizing from individualism and reconnecting with ways of community care. 
Learning from Echoes of Past Plagues, Poxes, and Flus
March 30, 2020 – 
Medical Express Blog - A history professor traces the history of various pandemics and examines what can be learned from these tragedies. 
A Jewish Amulet Against Plague
March 29, 2020 – 
Feminism and Religion - Interpreting a 19th century Hebrew amulet for protection against cholera.
COVID-19, The Exponential Function, and Human the Survival
March 27, 2020 – 
CounterPunch - Anthropologist Peter Cohen writes on what COVID-19 has revealed about the growth economy. 
Modern Heroes with No Poets to Tell of Their Courage
March 24, 2020 – 
Cabinet Magazine - Dedicated to nurses and doctors across the world.
Viral Hive Knowledge: Twitter, Historians, and COVID-19
March 23, 2020 – 
History of Knowledge - How social media has become a forum for historians looking to put the COVID-19 epidemic in perspective. 
On Being Voices of Prudence in Times of Pandemic- #Corona, Allegra Laboratory
March 23, 2020 – 
An article on the role of anthropologists during the coronavirus.
How are Major Religions Responding to the Coronavirus?
March 19, 2020 – 
Council on Foreign Relations - How COVID-19 has altered religious practices around the globe.
The Coronavirus is a Disaster for Women's Rights
March 19, 2020 – 
The Atlantic describes how pandemics magnify existing gender inequalities.
There's a Glaring Blind Spot in Our Society's Coronavirus Response
March 18, 2020 – 
Thrive Global - How the COVID-19 crisis highlights the need for more female representation in legislatures.
Gasping for Air in the Time of COVID-19
March 18, 2020 – 
Sapiens Magazine - The coronavirus has cleared the air in many of China's polluted industrial centers, but can this trend be maintained?
Fasting from Communion in a Pandemic
March 17, 2020 – 
Public Orthodoxy - An Orthodox priest examines the reasoning behind the belief that the coronavirus cannot be transmitted through holy communion. 
What Coronavirus Means for Food Insecurity
March 17, 2020 – 
The Hill - Daphne Hernandez, a nursing professor and food insecurity researcher at UT-Houston, outlines the problems that COVID-19 could pose for people who struggle with food insecurity, and offers several possible solutions. 
Women's Domestic Burden Just Got Heavier with the Coronavirus
March 16, 2020 – 
The Guardian - The bulk of household chores in heterosexual couples is already borne by women – a situation exacerbated by the huge dislocations of the pandemic.
Black Lives Matter Global Network Responses to COVID-19 Ethnicity Data
April 9, 2020 – 
Black Lives Matter -  Response to COVID-19 data and assertion that "The CDC must aggregate and provide nationwide data about the coronavirus' impact on Black people." 
Pandemics from Homer to Stephen King: What We Can Learn From Literary History
March 16, 2020 – 
The Conversation - A reading list of pandemic-related books, from classics to contemporary novels.
The Shift Americans Must Make to Fight the Coronavirus
March 12, 2020 – 
The Atlantic - Essayist Meghan O'Rourke on how America's individualistic culture has contributed to the rise of coronavirus. 
#CoronavirusSyllabus from the American Anthropological Association
March 12, 2020 – 
A crowd-sourced primer for those interested in teaching or learning about COVID-19 
from the perspective of human & social sciences. 
Sh*t's Getting Real: A Cultural Analysis of Toilet Paper" from Grant Jun Otsuki's blog
March 11, 2020 – 
Examines the cultural significance of toilet paper as a source of psychological security in the United States. 
Reading Albert Camus' The Plague in the Time of the Coronavirus
March 8, 2020 – 
LA Review of Books - Author Colin Marshall on reading a 1947 novel about the sudden resurgence of a modern-day bubonic plague while living in South Korea during COVID lockdown.
How the Coronavirus is (and is not) Affecting the Environment
March 5, 2020 – 
NASA's Earth Observatory Blog explains the subtle environmental changes that have happened in China since the beginning of the COVID-19 crisis. 
March 3, 2020 – 
The New Yorker - Yale History of Medicine professor Frank M. Snowden examines the cultural and political implications of epidemics.
February 25, 2019 – 
The New Yorker explores how medical policies in the criminal justice system may contribute to epidemics in correctional facilities.
Axinn Center for the Humanities
Axinn Center at Starr Library
Middlebury, VT 05753