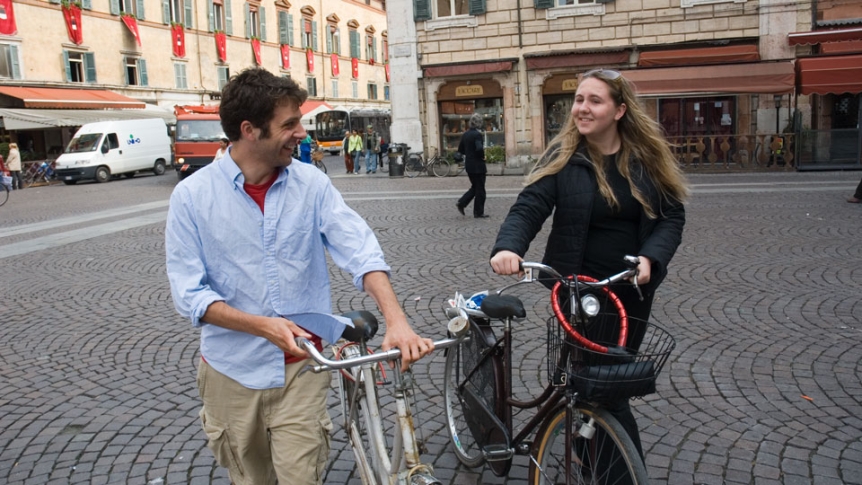 The health and safety of our faculty, staff, and students while abroad is of utmost importance to us. Faculty, staff, and students are required to elect and register for certain types of insurance before going abroad.
Coverage Overseas
Obtaining medical treatment and hospital care while traveling abroad can be expensive and U.S. medical insurance and the health plans of most other countries are generally not accepted outside of the country of origin. It is ultimately the traveler's/employee's responsibility to ensure that he or she has adequate coverage while abroad. If your insurance does not cover you abroad, it is a good idea to consider purchasing a short-term policy that will do so. There are health insurance policies that are specifically designed to cover travel.
Types of medical coverage available for non-U.S. based employees varies greatly depending on the laws and norms of the specific country of operation as well as the individual's employment status. Many countries have some form of national health system which covers all or most citizens. Details must be determined on a case-by-case basis.
This grid shows the various Middlebury-affiliated options, which are described in greater detail below.
|   | Worldwide Travel Assistance | CIGNA | CIGNA-MBA | Global Rescue | GeoBlue |
| --- | --- | --- | --- | --- | --- |
| Employee (Benefits Eligible) |               X  |     X |       |       X |   |
| Employee (Non-Benefits Eligible) |   |   |            |       X |   |
| Dependents of Benefits Eligible Employees |              X |    X |   |    |   |
| Non-U.S. Based Employees |   |   |        X    |       X |   |
| Schools Abroad Students |   |   |            |       X |       X |
| Middlebury Student Abroad |   |   |            |       X | Option to purchase |
| MIIS Student |   |   |            |       X | Option to purchase |
Worldwide Travel Assistance
Employees on the standard U.S. benefits program are covered by the Assist America worldwide travel assistance program offered through UNUM. This benefit provides pre-trip assistance, and immediate 24/7 attention for emergencies including translation and interpretation services, locating legal services, assistance with stolen baggage, document replacement, referrals for local medical providers, emergency medical evacuation, assistance obtaining replacement prescription, etc. Eligible employees can contact Human Resources for an ID card, call the program directly at 800-872-1414 (in the U.S.) or 609-986-1234 (outside of the U.S.) or email directly at medservices@assistamerica.com in the event of an emergency.
CIGNA
The standard U.S. medical plan (CIGNA) will pay for covered services incurred outside of the U.S., however in almost all cases the participant will need to pay for the claims directly and then file for reimbursement from CIGNA. A detailed receipt, including: patient name, date of service, type of service, provider's name, and cost must be provided with the claim form. If the original receipt is not in English a translation must be submitted with the claim.
Middlebury employees enrolled in CIGNA medical plan are automatically part of the Global Benefits (CIGNA) program and are covered by the International SOS Emergency Medical Evacuation benefit. This program provides immediate 24/7 attention for emergencies, including emergency evacuation, family travel arrangements, repatriation, etc. Eligible employees can contact Human Resources for information or log onto the CIGNA Envoy secure web portal to create an account.  The CIGNA Envoy site can help you find a doctor and submit and track claims, as well as download claim forms in 16 languages, access online medical advice, print replacement ID cards, etc. For issues with the CIGNA Envoy login, employee should call Cigna directly. The contact numbers are printed on Middlebury College ID Card-MBA.
CIGNA - MBA
Employees who are based outside of the U.S. and are enrolled in non-U.S. medical plans may be eligible for the Medical Benefits Abroad (MBA) program through CIGNA. This program is designed to provide wrap-around coverage for international business travel. It is intended to supplement, not replace the employee's domestic health coverage.
Overseas staff who are full-time employees of Middlebury College and are traveling outside of their country of residence or permanent assignment for no more than 180 consecutive days per one trip are covered under the Medical Benefits Abroad (MBA) plan. The international travel must be for Middlebury business outside their country of residence or permanent assignment. The policy covers employees for unexpected injuries and illnesses that may occur while they're traveling outside their country of residence or permanent assignment.
This MBA plan does not cover for non-emergent care. For example, it would not cover an employee for preventive care or a doctor's office visit for non-emergent purposes. If someone falls ill with Covid while traveling this would fall under "emergent" care, so there would be coverage and care provided. Please note, the medical insurance will not cover Covid quarantines.
The employee should complete the Envoy Registration process before they travel outside their country of origin. For details, please refer Middlebury College MBA-Envoy Registration Guide.
Global Rescue
Middlebury College has an agreement with Global Rescue for medical and security advisory and evacuation services for Middlebury and MIIS students on Middlebury-sponsored activities abroad, as well as faculty and staff traveling on college business. Global Rescue is available to assist travelers affected by medical and security emergencies while studying, working, or traveling abroad. They are available to consult and ensure appropriate medical treatment or safety measures are being taken. 
In addition, Global Rescue will arrange for the provision of health information services through their operations team and Johns Hopkins Medicine to include medical advice, case monitoring, hospital and clinic referrals, and evacuation services. This consultation service comes at no cost to the traveler. Any costs associated with treatment, transportation, or evacuation will be the traveler's responsibility. 
Travelers in need of either of these services can contact Global Rescue at operations@globalrescue.com or (617) 459-4200 and identify themselves as a Middlebury/MIIS traveler. Download the membership card. 
Our partnership with Global Rescue also provides travelers with access to an intelligence platform (GRID) that ensures that you are well informed and prepared before and during your travels. This allows you access to Destination Reports that outline medical and security risks in your host country and other countries you may visit. Through GRID, you are also able to view alert notifications for events that are happening around the world. In addition, while abroad, you will automatically receive health, safety, and security reports based on your destination, along with expert analysis and advice.
Before a program begins, travelers will receive user login information and instructions directly from Global Rescue in order to access this resource. This email is not junk; please save it. If you have access to a smartphone/mobile device while abroad, we strongly recommend that you also download the Global Rescue GRID application which is available at the Apple Store (iOS 5 and above), Google Play (Android 4.4 and above), and BlackBerry App World (10.2 and above).
Through this application, you will be able to reach out directly to Global Rescue in an emergency situation via its in-app emergency call button as well as run Destination Reports, view event alerts, and "Check-In" if there is a crisis (or even a sketchy situation) in your host country, and you want to notify key staff members of your whereabouts. This check-in feature should not be used if you are in a real emergency situation, and need immediate assistance, unless you're asked to do this by your resident staff. In cases of emergency, please contact your resident staff or contacts that they will give you during orientation, and if that fails, then Global Rescue.
Employees with localized benefits may have other coverage; refer to your benefits documentation for details.
GeoBlue
Students studying at a Middlebury School Abroad are automatically enrolled in a study abroad health insurance plan through GeoBlue for the duration of the program. This coverage is mandatory and cannot be waived. This insurance plan provides up to $250,000 medical coverage (accident/sickness) with zero deductible. There is also medical evacuation and repatriation coverage. In addition to the benefits listed above, these insurance plans provide emergency service with 24-hour, worldwide, telephone assistance. This service can aid students in a variety of emergency situations, such as providing help in obtaining physician and hospital referrals. This insurance plan does not cover students when they are in the U.S.  Middlebury and MIIS students pursuing other international experiences supported (financially or academically) through Middlebury, are eligible to purchase the GeoBlue plan. Enrollment information can be found here. 
Other Resources
Forms, Policies, and Resources
Global Operations
Sunderland Language Center
College Street
Middlebury, VT 05753