Ask-A-Librarian Zoom Drop-In Hours for Faculty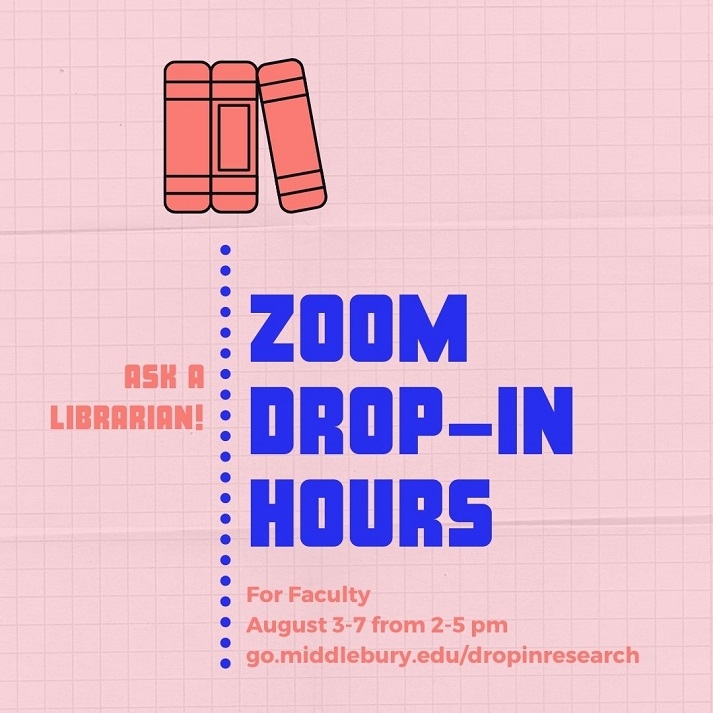 Librarians are always available via email and chat at go.middlebury.edu/askus, but we know that sometimes, it's easier to talk.  So, mark your calendars! We'll be available via Zoom for drop-in questions about the library and research support every afternoon in the first week of August.
Where and When?
Ask-a-Librarian Zoom Drop-in Hours for Faculty
Monday, August 3 - Friday, August 7
2-5 pm Eastern
Library Research Desk Zoom Room  (go.middlebury.edu/dropinresearch)
What Will I Ask a Librarian?
Ask us about anything library-related! Building access and hours, paging requests for books and DVDs, digital access to videos and e-books, purchase requests, interlibrary loan, remote access to databases, reserves, Open Educational Resources, Special Collections, one-on-one research help for students, research workshops for classes, research assignments for remote instruction, online instructional materials to help students learn how to to library research… and more!
Which Day Should I Choose?
You may drop in on any day of the week! But in case you want to pick a day based on your specific interests, here is our librarians' schedule:
Monday, August 3, 2-5 pm
Amy Frazier
Film & Media Librarian
Librarian for American Studies, Comparative Literature, Dance, Film and Media Culture, Luso-Hispanic Studies, Theatre  
Leanne Galletly, User Experience & Digital Scholarship Librarian
Librarian for Classics, Creative Writing, English and American Literature, French, Italian, Literary Studies, Russian, Studio Art
Tuesday, August 4, 2-5 pm
Amy Frazier
Film & Media Librarian
Librarian for American Studies, Comparative Literature, Dance, Film and Media Culture, Luso-Hispanic Studies, Theatre  
Leanne Galletly, User Experience & Digital Scholarship Librarian
Librarian for Classics, Creative Writing, English and American Literature, French, Italian, Literary Studies, Russian, Studio Art
Wednesday, August 5, 2-5 pm
Brenda Ellis
Senior Research Librarian
Librarian for Black Studies, Environmental Studies, Gender, Sexuality and Feminist Studies, History, Political Science, International and Global Studies, Professor of the Practice
Carrie Macfarlane
Director of Research & Instruction
Librarian for Chinese, Japanese, Neuroscience, Psychology, Writing and Rhetoric
Thursday, August 6, 2-5 pm
Ryan Clement
Data Services Librarian
Librarian for Anthropology, Economics, Geography, Linguistics, Philosophy, Sociology
Wendy Shook
Science Data Librarian
Librarian for Biology, Chemistry, Computer Science, Environmental Studies, Food Studies, Geology, Molecular Biology and Biochemistry, Physics 
Friday, August 7, 2-5 pm
Carrie Macfarlane
Director of Research & Instruction
Librarian for Chinese, Japanese, Neuroscience, Psychology, Writing and Rhetoric
Ryan Clement
Data Services Librarian
Librarian for Anthropology, Economics, Geography, Linguistics, Philosophy, Sociology